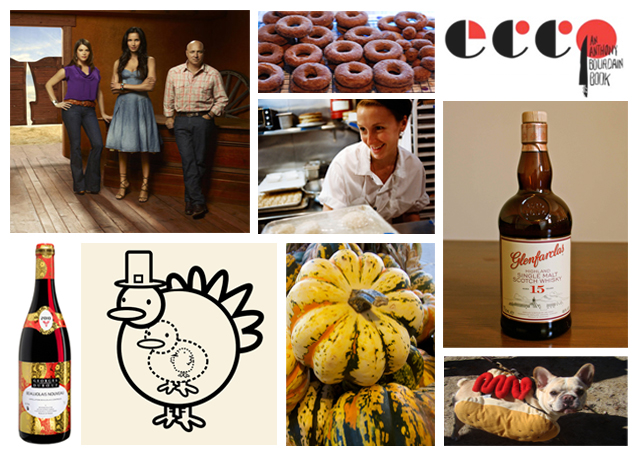 Ah, fall. In the seasonal parts of the US, it means cooler temperatures, heavier clothing and a whole lotta butternut squash. For those of you in SoCal and South Florida, we don't wanna hear about how warm it is there. Besides, we actually like the onset of autumn, the changing leaves and crisp air and apple picking and all that.
So how do we define fall? Well, it's kind of already started here in NYC, where temperatures are only reaching highs in the 60s this week. For the purposes of this food and drink–oriented guide, let's say it's now through Thanksgiving. That's one more thing we like about fall: it all ends with a big feast. Throw on your best sweater and take a look at this comprehensive list, compiled by Food Republic's Jess Kapadia, Richard Martin, Matt Rodbard and Eleanor West:
Meatball Shop cookbook Since chef Daniel Holzman opened a restaurant devoted to meatballs with his best friend Michael "Meatball Mike" Chernow on New York's Lower East Side, the pair have been elevated to legitimate baller status in the clubby NYC restaurant world. Why? Because they ball—some damn fine meatballs, served with a side of downtown scene. On November 1, they release a book of 100 recipes featuring sauces, sides, salads and 20 versions of their meaty orbs. Think Bolognese, Buffalo chicken and the excellent jambalaya ball. Or if you can't wait, check out Holzman's Mediterranean Lamb Meatballs recipe on Food Republic.
Art and food crossovers Mario Batali buddy Jennifer Rubell is among the food-obsessed artists featured in Acquired Taste: Food and the Art of Consumption, running Oct. 29-Dec. 8 at the Begovich Gallery at Cal State Fullerton University. Also, Food Republic co-founder Marcus Samuelsson participates in a talk with Mos Def and the artist Sanford Biggers, tied into Biggers' solo show, at the Brooklyn Museum of Art Oct. 13.
Chowder New England (white) or Manhattan (red): Choose your delicious, briny poison and slurp away. Don't forget the oyster crackers!
Top Chef Texas For the 9th season of sputtering cooking realty show Top Chef, Tom, Gail and pre-fabricated kitchen drama heads to the Lone Star State. We've pledged to tune in to this season simply due to our fondness for Hill Country-style barbecue. And stay tuned—we're creating a drinking for the debut in November. Sample: Every time Padma says everything is bigger in Texas, take a shot of Tito's. We're going to get really drunk this fall.
Momofuku Milk Bar cookbook We most certainly do not hide our love for Momofuku pastry chef Christina Tosi. This summer she did pretzel cake truffles at NYC's Noodle Bar—three balls coated with white chocolate and "crumbs." The cake portion is a molasses batter made moist with butter, eggs and buttermilk. It blew our mind. Her first book—due on October 25—will feature Milk Bar classics like crack pie and compost cookies, as well as savory dishes like kimchi croissants with blue cheese.
Brown spirits weather Before we were of drinking age, we would call the long-awaited early fall "sweater weather." Now, all done grownup, it's known as brown spirits weather. So bring on the Elijah Craig, Jameson, Auchentoshan, Makers Mark and Glenfarclas.
Anthony Bourdain, bookworm The busy traveler not only launches a new TV show, The Layover, on Travel Channel Nov. 21, but he'll don his reading glasses and choose three to five books a year to publish on HarperCollins' Ecco label. We're hoping for a bromance novel about two chef dudes, Tony and Eric (as in Ripert), who are obsessed with shouting each other out on twitter.
Eating, not reviewing, cereal We like cereal. But not this much. Also: Honey Bunches of Oates is the greatest cereal ever created by man.
The new New York Times critic When Sam Sifton announced he was leaving his position as New York Times Dining Critic to join the National Desk as editor, we were a little bummed out. Sifton had grown on us with his left-field musical references (Fairuz and Counting Crows) and front-and-center views of Brooklyn (he's a fan, as are we). And like when Frank Bruni left the post two years prior, there is GREAT interest in who will replace him. As we've been told, there are currently a number of tryouts taking place before the decision is made in a couple weeks. Sifton's final review, as the man has written, will name the city's Best Restaurant. Period. We're placing bets it's Per Se. We'll all know Oct. 12.
Beaujolais nouveau On the third Thursday in November, people who like wine get all giddy about the "release" of the new Beaujolais. You can count us as the giddy ones.
Mid-Atlantic road trip In a couple weeks we'll be hitting the road to visit three of the Mid-Atlantic's top eating destinations. Sheppard's Mansion in Hanover, Pa. is like Blue Hill at Stone Barns in New York and Virginia's Inn at Little Washington—a farm-to-table locavore blowout in which the farm is within spitting distance. Woodberry Kitchen, outside Baltimore, is chef Spike Gjerde's very inspired effort to put Charm City on the culinary map. Volt in Frederick, MD, and run by Top Chef contestant Bryan Voltagio, is known for a six-course chef's table and lots of cell phone photography.
Edible Brooklyn cookbook Edible editor and 11-year Brooklyn resident Rachel Wharton dives into the borough's culinary and cocktail scene with a special kind of vigor. We've sipped whiskey with her late and ended up at a crazy hole-in-the-wall in Williamsburg—AND IT WAS AMAZING. The book, out in October, features recipes from all over the spectrum: Hoecakes, grilled cheese, egg noodles with red cabbage, honey ice cream.
Frying turkeys (and other stuff) We know you. You're that guy who says, "Next year I'm deep-frying the turkey, so we won't have this problem," the moment someone mentions dry breast meat. We salute you, but we don't believe you. Add some walk to that deep-fried turkey talk and git 'er done. And send your photos to our Flickr pool, regardless of success.
2nd Issue of Lucky Peach If you loved the quickly-sold-out first issue of David Chang's new food 'zine Lucky Peach, wait til you see what #2 has in store. Ever heard of the Sweet Spot? According to distributor McSweeney's, it's "that brief period of time when meat, fruit, chefs, athletes and kimchi are at their peak." Dude, you had us at "2nd issue of Lucky Peach." Watch for it mid-November.
New turducken variations Every year we hear about some new incarnation of that bird-in-a-bird-in-a-bird mashup we call the turducken. We don't officially recognize the hotchken (that would be a chicken stuffed with hot dogs) as a viable part of your Thanksgiving feast, but someone's got the right idea. A classier way to switch it up is alternating the types of stuffing between layers. Think about it, cornbread-jalapeño-sausage stuffing between the chicken and the duck, sage-chestnut-duck liver stuffing between the chicken and the turkey. That's art, right there. If you can manage a bustergophechiduckneaealcockidgeoverwingailusharkolanbler, we both applaud and fear you.
Fall spices Cloves, cardamom, cinnamon, nutmeg. What to do with this fragrant bounty? What's that you say? Fall spices are awesome for infusing your very own "housemade" bitters? Really? No shit! We're looking forward to dropping a cinnamon stick in some cider with a solid glug of whiskey and calling it a seasonal fall happy hour.
Food-themed Halloween costumes Know what's great about dressing up as a taco? Besides everything, that is? Being a taco spaceman, or a taco pirate, and happily drinking in your nice warm foam shelter while inebriated "slutty" this-'n-thats freeze their patoots off and tell you how much they love tacos and how cool your costume is.
Hot cocktails Just like an ice-cold cocktail is the only true respite from summer heat (well, that and central AC), a warm mug of booze takes the chill AND edge off faster than you can say "another Hot Toddy." Would you dream of heating your rum when the thermometer hits triple digits? How about when it's double digits below? Ready the mulling spices…no, NOT for your own stupid "housemade" bitters, did you not read #16 at all?
Apple Cider Doughnuts Enough said.
Picking Apples Know what's a great first-to-fifth-or-so date? Better than wine tasting. Better than a caviar 101 class. Apple picking. Toss your best flannel in the washing machine and ready your Hipstamatic, you're about to make some seriously lasting memories as you simultaneously win points. All you need is a reliable pie crust recipe, and you're sure to have a nice warm bed all winter long.
Leftover Halloween candy What's good about leftover Halloween candy? Scoring points at the office. Crumbling up and baking into "kitchen sink cookies." Bribing small children (at least until Easter). Locating the source of your ant problem. Eating by the handful because you're an adult and can make your own decisions regarding post-Halloween candy consumption.
The end of Ben & Jerry's fake flavors It was a funny joke at one point, but it has to stop some time, doesn't it?
(New) Music To Cook To James Blake's Enough Thunder EP (Oct. 11), John Fahey: Your Past Comes Back to Haunt You (The Fonotone Years 1958-1965) (Oct. 11), Radiohead, TKOL RMX (Oct. 11), Real Estate, Days (Oct. 18), Patrick Stump, Soul Punk (Oct. 18) Deer Tick, Divine Providence (Oct. 24), Drake, Take Care (Oct. 24), Gold Panda, DJ Kicks (Oct. 31), Wale, Ambition (11/1), Atlas Sound, Parallax (11/1), Akon, Studio (11/15), Sigur Ros, Inni (11/15), Common, The Dream, The Believer (11/22).
The Rum Diary movie (Opens Oct. 28) Johnny Depp as the main character in Hunter S. Thompson's story about a boozy journalist in the tropics. We're in.
The World Series There's something about the Fall Classic and getting together with friends and strangers in a bar to watch the drama unfold. This postseason has already featured several memorable games, and the league championships and World Series promises to be epic. Order up some wings and a Jack and Coke and enjoy it.
Oktoberfest It's almost as if the Bavarians had us in mind when they instituted a festival dedicated to beer in 1810. So this year when you're following up your beer with yet another sausage, take a second to toast the Germans for the best festival fall could ask for.
Hating On The Chew You know when it's a holiday and your extended family gets together to shout over one another in the kitchen? That's basically what ABC's new daytime cooking show The Chew is like, except instead of your aunt drowning out your cousin it's Carla Hall yelling over Mario Batali every day on your TV. Now we remember why we avoid family get-togethers.
Food Day This year marks the annual kickoff of Food Day (October 24) — a nationwide event to promote the proliferation of healthy and affordable food, which seems like an idea we'd co-sign on. Check the Food Day website for events in your area.
Squash! Butternut squash especially. It's one of the easiest things to cook, like, ever. It tastes great, and you can make a damn good soup out of it. If you haven't hopped on the squash bandwagon, do it this fall. Do it.
Trips to Miami Okay, we said in the intro that we love fall, and it's true, but it helps to take a long weekend and head down to the Magic City for some awesome food and cool hangs at places like the Shepard Fairey-designed bar in the Wynwood Kitchen & Bar. Oh yeah, they have in-season tomatoes in Miami till January, too.
The drinks in Boardwalk Empire As much as we're fans of the HBO show's escalating plot lines and Chalky White's simmering scene stealing, it's the ridiculous drinking that get us most excited. Check out our guide to Prohibition-era cocktails. This will certainly not be the Last Word on the subject.
More art and food crossovers Cuban-American artist Bert Rodriguez brings his ongoing performance piece "A Meal I Make With My Mother" to LA's über-cool OHWOW gallery Nov. 12-Dec. 3. In the piece, he and his mom, an experienced cook from Cuba, make an authentic Cuban meal (usually with locally sourced ingredients) and then serve it up to attendees. Rodriguez, a former Whitney Biennial artist, has previously performed the Meal in Paris and Seattle.
Haute Tailgating Throwing a bland hot dog on a hibachi and calling it a tailgate is so, like, 2004. Polish up your prep skills and put out a serious spread to show off your tailgating muscle. Making canapés just got a whole lot manlier.
What's on your fall agenda? Let us know in the comments and you could win a prize that is associated with our list (OK, probably a cookbook).