Wrap Update: Masala Dosa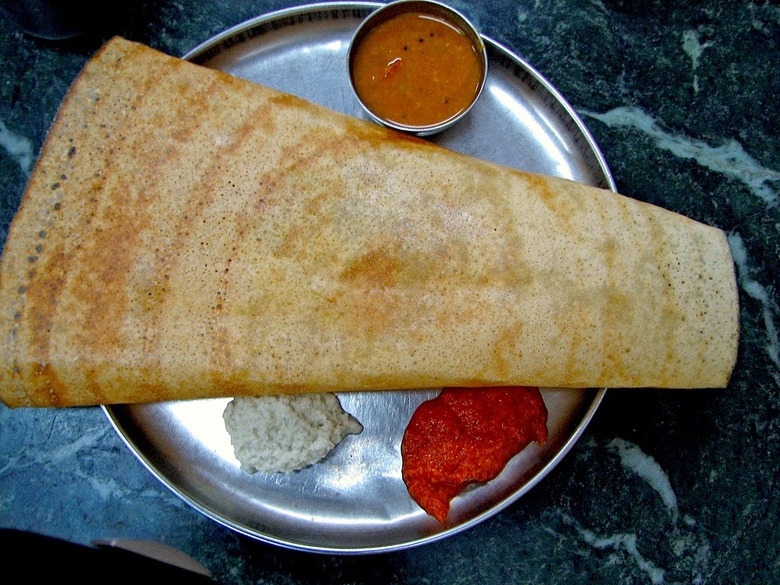 masala dosa
I grew up on a mix of homestyle Indian and Jewish food. Sound awesome? It was. By far and wide, my favorite Indian dish on the face of the subcontinent is the classic masala dosa. The fact that dosas are naturally gluten-free, vegetarian (frequently vegan) and still hold that #1 spot blows my mind. I make fun of vegans all the time (bacon-bacon-bacon-in-yo-face) and actively despise the fact that I'm medically required to abstain from wheat and its partners in gastroentological crime, barley and rye.
If you like beer and potato chips, I guarantee you'll like dosas. Why? The batter is fermented, like beer, and crunchy-savory like a potato chip. We had a few kinds at my mom's restaurant, and quickly discovered they make a great alternative to a wrap sandwich, like kati rolls. Wraps have no taste. They're gummy and bland. They can be red or green all they want, those things are not sun-dried tomato or spinach-flavored. And speaking of gummy and bland, far, far more Indians eat dosas than chicken tikka masala, a dish I've been waging a non-violent war against for years.
Owing to the fermentation process, dosas are tangy, chewy and crisp, and accomodate a wide variety of fillings you're probably already familiar with. That velvety potato-pea mixture in samosas? That's the masala in masala dosa; however, spicy chickpea curry, palak paneer, kheema (AKA: Indian ground lamb chili), melted cheese and generous smears of hot sauce can be found on the South Indian menu as well. This brings me to the only drawback: South Indian restaurants are not rampant throughout the country. The desi joint nearest to you is likely pan-Indian or North Indian, featuring lots of tomato-based meat and vegetable curries and different varieties of bread, but no dosas. The most authentic South Indian restaurants are strictly vegetarian, though North-South hybrids do exist.
If you can locate a restaurant serving this Indian staple, I implore you to go try one. What you want isn't hard to pronounce (mah-SAH-lah DOH-sah). It comes with creamy coconut chutney and sambar, a spicy vegetable stew, for dipping purposes. You'll never go back to the drab world of tikka masala again.