Fig & Olive's Seared Tuna Panini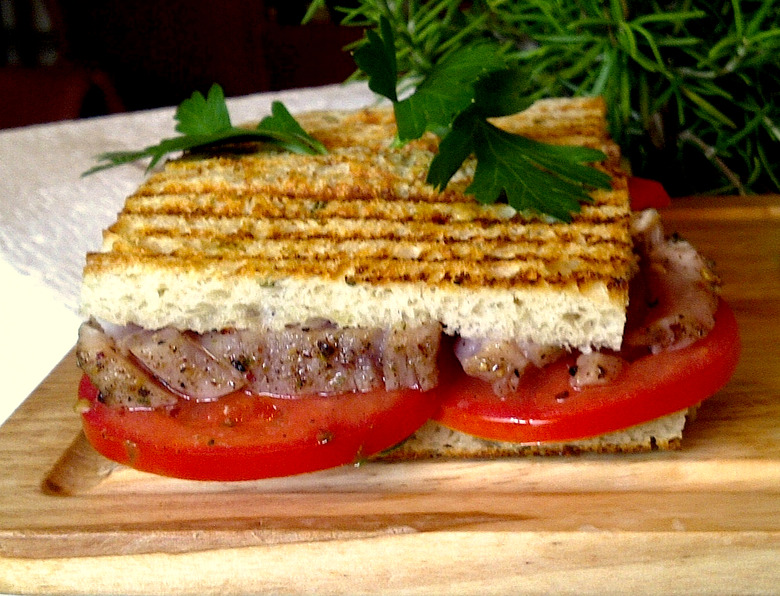 Fig & Olive's Seared Tuna Panini
My only gripe about the panini is that it's always so...cooked. Whatever is stuffed inside there is cooked, then pressed to death between two super-hot slabs of metal. The filling barely has a chance. Of course, I am one who prefers meat and fish rare-to-raw (I was French in a past lifetime), which is why the Los Angeles branch of swanky celeb hangout Fig & Olive intrigued me with their seared yellowfin tuna panini.
Executive chef Pascale Lorange crafted a fresh, light panini sandwich featuring neither meat nor cheese.
"The reason we started working with tuna is specifically to take advantage of its popularity on the West Coast," says Lorange. "This panini in particular is unique in the sense that we were able to adhere to our overall culinary philosophy of featuring light, clean flavors with Mediterranean-inspired ingredients including roasted bell pepper tapenade and fresh cilantro."
It's not that we're tired of paninis that are simply grilled versions of sandwiches we already love — a classic ham and cheese makes an excellent panini — but here it's all about simple, clean flavors and fresh and light ingredients that are balanced and flavorful, yet not too heavy or complicated. Plus, there's nothing like rare-to-raw fish to shake you out of a sandwich rut.
More Sandwiches of the Week from Food Republic: