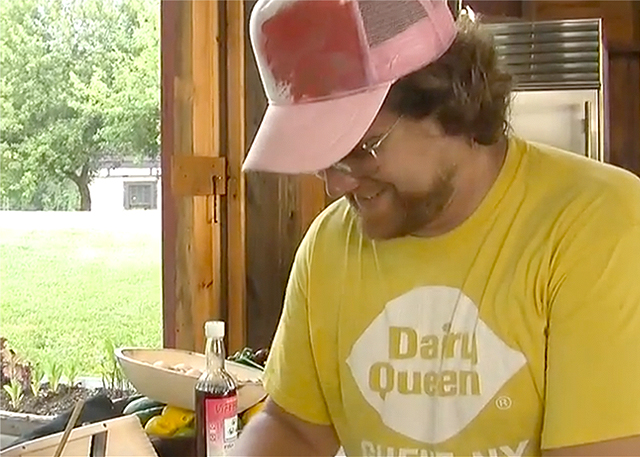 The food business is not glamorous, but what you read or see on TV may lead you to believe otherwise. In recent years, the media has turned the corner from providing marginal coverage, tucking food related stories into a corner of the lifestyles section, to a full-blown obsession where food gets top billing. TV, web-based media and print publications have even catapulted some chefs into the pantheon of world famous celebrities. This is old news.
What is new is several competition-based shows per season, about a blog a day and openings of open forums giving Joe the plumber a platform to applaud or critique food-related experiences, typically in restaurants. In other words, more of the same old shit.
There are a few efforts that have broken free of the SAMO cycle and none, in our experience, as captivating as this home-grown video content site from Woodstock, NY.
The folks at The People Who Feed Us, Staci Strauss and Craig McCord, have consistently generated high quality food-related content. Content that is focused on people who are motivated by a shared passion for great food and the enjoyment it brings. Pioneers such as Betty Fussell, Patrick Martins and Joel Salatin have been interviewed and filmed by The People Who Feed us (and their production company, Slow Films). The videos deliver rich, textured vignettes, real peeks into the real lives and real thoughts of really amazing people.
We met these guys several years ago when they schlepped their equipment and production crew down from the Hudson Valley into Harlem on Thanksgiving Day to shoot a story about Heritage Foods USA collaborating with the Food Bank to provide healthy and tasty turkey dinners (we were cooking the turkeys along with our friend and colleague, Dave Schuttenberg). Since then, we have considered ourselves fortunate enough to get a peak into the lives of the folks behind the cameras. The way they live, the reverence they have for their subjects — for great food, for quality product — is as evident in their daily lives as in the videos and content they produce. It's clear that what they do, driving all over the country to seek out stories that appeal to them, finding people who work on a day-to-day, grassroots-level shaping and reshaping our thoughts about, and relationships with food, is simply an extension of Staci's and Craig's own passions.
This is refreshing. Visit their site and you'll see. You'll have one of those a-ha moments where what they're doing seems so simple and appropriate it's as if this kind of thing should have always existed, but it hasn't. Actually, it's groundbreaking. It's media, videos accessed via the internet (TV's replacement), that was developed with less of a concern as to who would be the target demographic and more focused on a very personal mission. That mission has not only dovetailed with our zeitgeist but has helped define it. We, meaning those who get it, are concerned with and interested in the stories they're filming now and we want more of them. There is a ton of food-centric content swirling around out there, enough to satisfy most appetites, perhaps. But we're simply ravenous for more of what these guys are producing.
As we looked for more words to elucidate what they're up to, we've found they have said it quite well themselves:
From www.SlowFilms.com:
Slow Films tells stories about good food people. We shoot for compelling content with a cinematic attitude. We've stood in cow pastures in Virginia, on the banks of the Hudson River, orchards in New Mexico, and kitchens in New York, all for a good story. Do you have a story to tell? Let's talk about it soon.
From www.ThePeopleWhoFeedUs.com:
Staci Strauss and Craig McCord are the people behind The People Who Feed Us. They apply the skills they acquired in the television commercial business to tell the stories of the great work being done by farmers, ranchers, bee-keepers, chefs, butchers, food writers, chocolatiers, cookbook authors, wine makers, distillers, seed-savers, cheese makers, fishers, foragers, and, well . . . you get the picture. They live in Woodstock, New York.
Yes, we get and have seen the pictures…and we thank you for them.
Watch "Joel Salatin: Lunatic Farmer" from The People Who Feed Us:
---
Read the previous installment of Alimentary Canal on Food Republic.