Michael Cimarusti Talks Marc Murphy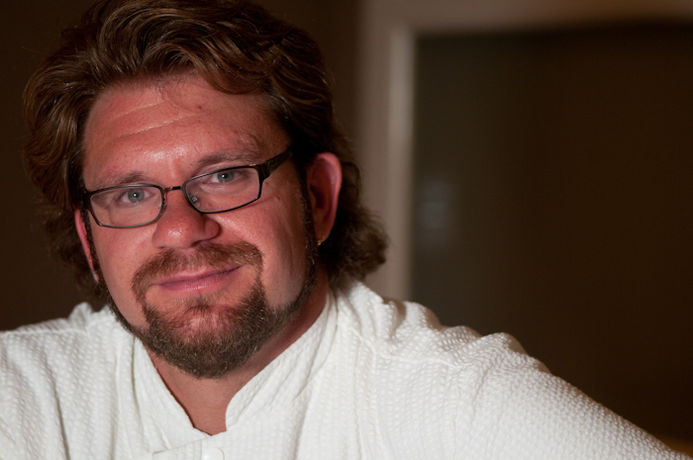 While Executive Chef Michael Cimarusti now runs the kitchen at the wildly popular (and 2-Michelin-starrred) Providence in Los Angeles, he's still a man filled with humility and sincere thanks for the "old days," as we recently found out. Those days of yore included cutting his teeth (and probably several fingers) at the famed Le Cirque in New York City.
For four years—six grueling nights a week—Cimarusti had a trusted friend and cohort-in-heat at the iconic Upper East Side restaurant. Marc Murphy. Both men can look back now from their own kitchens—or from the makeup chairs of famous shows like Top Chef Masters and Iron Chef America—and reminisce.
Michael Cimarusti was cool enough to do just. He dishes on his respect for great clam chowder, his near addiction to IPAs and his friend Marc Murphy's linguistic ninja-ness.
What motivates you?
For me as a cook, it all evolves around fish because that's what we specialize in here at Providence. We want the finest quality, the most pristine fish—and then we just try to get out of its way.
What was the best job you ever had?
I think one of the best jobs was with Marc Murphy. As a cook, it was definitely the best time I've ever had. I think Marc would agree that I cut my teeth there, and it's also one of those seminal New York restaurants that so many people in our industry have gone through. I'm one of those people. I continue to benefit from it to this very day.
What is it like working with Marc?
We worked together for about four years, side-by-side, on the line every night and we always got along. He inspired me, and I think I inspired him as well. He realized how serious I was about doing my best, and I certainly knew how serious he was about it. Outside of work, we used to go out a bit at night and he's just a good guy. I always have to throw my arms around him and hug him when I see him.
Give us your best Marc story...
I don't know if there's anything you could publish. I can say this, Marc's fluent in a lot of languages. He speaks English, Italian, Spanish and French—all like a native. Our chef at the time didn't speak a ton of English. So, when he was too flustered and upset to speak English, Marc would act as the translator. He probably softened the blows for some people. Marc's kinda the every man in personality, but not every man speaks five languages and has the command at the stove that he does. He has this sort of every-day-Joe thing going on, but he's so far from average. It's one of the things I love about him.
Describe your own style of cooking.
Modern-American seafood. My approach is to keep food fairly simple, and believe me, it's taken me a while to get here.
What is your most-surprising menu item?
The most surprising menu item would have to be that we serve clam chowder. I grew up eating it as a kid. Those memories I have from eating it in Rhode Island and on the coast of Massachusetts—they are the reason it's on the menu here. And whole lotta clams give their all to make this chowder happen. It's cream based, but still light with bacon, clams and potatoes. Simple, but great.
Where do you see yourself in 10 years?
Hopefully I'll be sitting at this same desk and minding the store like I am now. Providence is my first restaurant and my first love, and I'm still challenged by it every day. Hopefully the Michelin guy will come back, and we will have our third star.
If you had an endless budget, what city would you open a restaurant in?
Tokyo, for the fish. I think culinary-wise that's the most exciting place I've ever been. People have such a great appreciation for food there, and they have the best of everything. Must be so rewarding as a chef.
What's in your fridge that might shock someone?
A whole lotta beer. I'm a real hophead. Love California IPAs.
Where do you go out the eat in Los Angeles?
I go to 38 Degrees here in Los Angeles. It's a great neighborhood pub with a large craft beer selection. They have my all-time favorite beer on tap year-round—Pliny the Elder by Russian River Brewing.