What To Eat For The Fall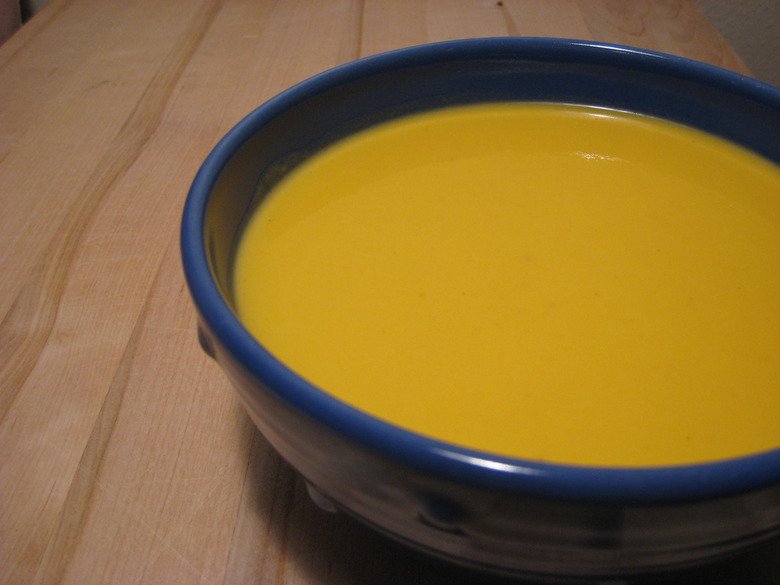 Oranges, yellows and deep reds are the colors I think of when I think about fall. The earth seems to get all Picasso with the scenery, and the produce starts to change. The autumn harvest brings us a whole new bounty, along with rich colors and crisp air.
Colorful hard squash flood the tables at the farmers markets; one of my favorite fall varieties of squash is butternut squash. Even the name makes it sound good. This squash is Halloween colored from the start, and the more orange the flesh the sweeter and richer the flavor. I started making Butternut Squash Soup at Jivamukti Café back in 2008 and it quickly became a part of the repertoire. Being a restaurant guy, one thing you learn to do is mix and match foods in the kitchen to get the "chef's special." One day I was having some soup for lunch and did not want anything heavy. I was not doing soy at the time, so I plopped a scoop of cooked quinoa on top and not only did it add texture, but because the quinoa is a perfect food (a complex carbohydrate and alkaline) it also added a balance to the soup, making it a complete meal. Have at it and let me know if you come up with any fun additions.
Savory Butternut Squash Soup with Quinoa
¼ cup canola or safflower or corn oil
1 cup onion, diced
1 cup red bell pepper, diced
2 pounds butternut squash — peeled, cubed
2 tablespoons Earth Balance
½ teaspoon chili flakes
½ teaspoon dry basil
½ teaspoon dry thyme
½ teaspoon garlic powder
4 fresh sage leaves or 1 tsp dry rubbed sage
Directions
In a medium soup pot over medium high heat, bring 3 cups of water to a boil, add squash and Earth Balance, cover and reduce heat to medium low. Cook until squash cubes are tender and easy to mash. Set aside to cool.
In a medium skillet over medium high heat, heat oil until hot and shimmering. Add herbs and veggies, sauté about 4 minutes until onions become translucent. Once done, remove from heat and set aside.
Using a large spoon, put squash into the blender, filling half full with squash. Add in 1 ½ cups of water slowly. Blend. Repeat until you achieve a smooth creamy soup. Pour back into soup pot and stir in veggie/herb sauté. Salt to taste.
---