Five Guys Takes First Prize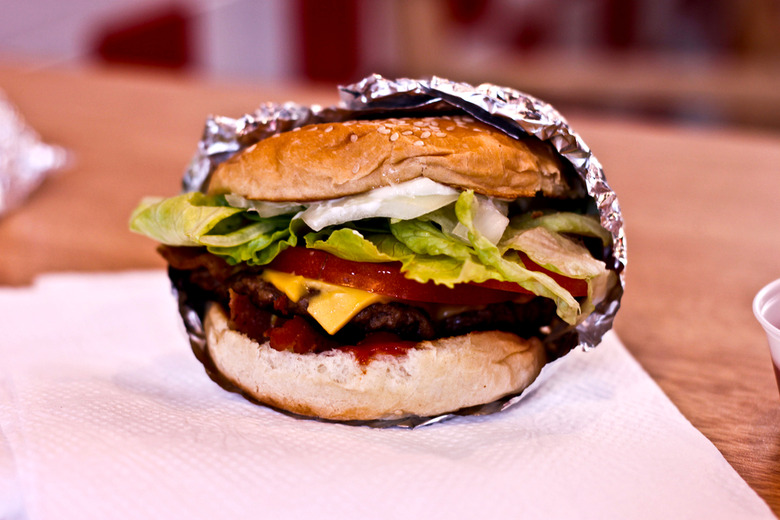 five guys burgers and fries
Go ahead and argue for or against In-N-Out's rampant West Coast fame, especially now that it's creeping steadily eastward, and wait half an hour for your Shack Burger (one and a half, to be precise). But according to Zagat, which just released its 2011 survey of America's best fast food, the ultimate title goes to Five Guys Burgers and Fries.
25 years ago, a burger stand opened in Arlington, VA. It took time to develop the substantial cult following it currently boasts, especially since the family-owned business has shunned frozen or pre-cut anything since its inception. But today's widespread love of Five Guys' burgers is a testament to good, honest food and a job well done. That's something most fast-food burger joints can't just slap on their resumes.
By far, my favorite part of a Five Guys run is deciding which of their 15 free toppings will adorn my never-frozen patties. That's right, I order doubles. And by free toppings I'm not talking iceburg leaves and ketchup. I mean grilled onions, mushrooms, jalapeños and a healthy dunk in hot sauce. At least I think that's what happens when you order a burger with hot sauce. Well played, guys.
Their beef is high-quality and freshly ground and their orders of fries are cholesterol-free and simply gargantuan. Their toppings are varied and perkier than most. And just because we ate burgers all weekend doesn't mean Five Guys can't be what's for lunch. We give praise where it's due.