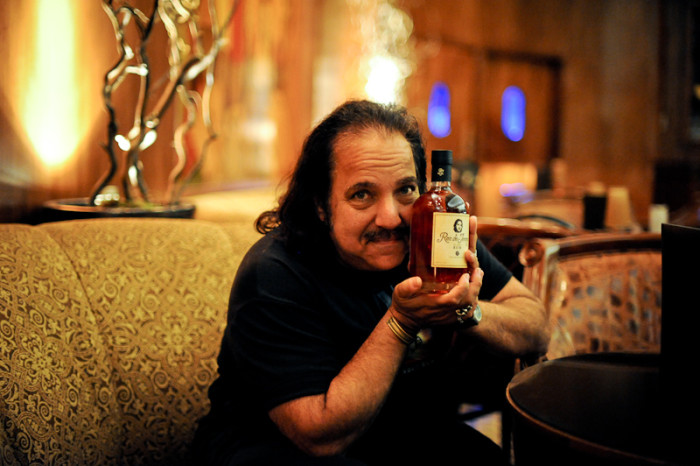 Ron means rum in Spanish. So Ron de Jeremy seven-year aged Panamanian rum, with the '80s-era image of adult superstar Ron Jeremy on the label, is a pretty good middle school joke — in name alone. But the rum itself, crafted by a famous 72-year-old Cuban distiller named Francisco "Don Pancho" Fernandez, is hardly for children. Well, you have to be 21 to drink premium aged rum. And drink responsibly!
But this caramel-colored liquor is no novelty. And my new friend The Hedgehog will be the first to tell you that.
Well, we're friends now, after meeting during the annual Tales of the Cocktail last month in New Orleans. We were scheduled to meet at noon at the 100-year old Sazerac Bar at Roosevelt Hotel. They serve the BEST Ramos Gin Fizz on Earth. Two fizzes down (me) and a half-hour late (Hedgehog), in walks Ron. He's wearing a RDJ t-shirt like the proud pitchman he is. He apologizes. I understand the tardiness after the interview when I see the man stopped by three different groups of people for a photo opp. He had not left the lobby. He also took a photo with my friend Neil. Ron is cool like that. He also told some good dad jokes during our 30 minutes, which touched on rum punch and the difficulties of filming porn in Europe. And what he charges to flash his gift. Also, more about jokes.
How long have you been a fan of aged rum?
I'm not going to lie, because I never lie. I'm not that big of a drinker, and am mostly into rum and Cokes and screwdrivers. Rock and roll drinks.
But what about the aged rum with your face on the bottle?
I would travel to islands like Jamaica and noticed all these rum drinks. It's so cheap down there. They were using rum to clean windows and mirrors. So I started to get into it more.
What's the difference between a rum buzz and a vodka buzz?
I'm not going to lie, because I never lie. I can't tell the difference. Champagne is different though. It's a lighter, happy-go-lucky kind of buzz.
How did you get hooked up with the company that makes Ron de Jeremy?
I've endorsed all sorts of things — cigars, rolling papers, hot sauce, penis pills — and they have all been successful. I only pick great products. The same thing with the rum. Find me one bad review!
This is true. People are surprised that it is actually good.
Oh course. Despite the kitsch, it's pretty damn good. And have you seen the commercial? It's amazing.
There are claims that the rum is both "long" and "smooth." What does that mean?
Those kind of jokes are endless. I think it means that the rum is long on taste. It lasts. And smooth means it goes down easy.
What about the "put some Ron in your mouth" joke I've read a couple times…
Ha, that is good. But you know what, rum is a family drink. Some guys might not want to think about having Ron in their mouth.
Some guys might! OK, switching gears. What do you like to mix with Ron de Jeremy?
There's the Ronito. There's the Ron and Coke. There the Rona Colada. They gave us a great one last night. They took some Ron and made a punch out of it. [Edit: The drink, christened the Hedgehog's Delight, was created by mixologist Wayne Curtis and featured Ron de Jeremy, fresh lemon and lime juice, Darjeeling tea, demerara sugar and tropical spices. It was served in a 9.75" long glass.]
That sounds refreshing.
People are also going to find that it goes really well with energy drinks. Rum goes with almost anything. I've been at bars that have run out of certain things, and I've mixed rum with it. Rum and orange juice has a nice flavor.
Speaking of energy, was there ever a time when you were filming a scene and ran out of energy?
There are certain times I have. And nicely done with the segue. There was never a time when I couldn't get the job done. But there were tougher scenes and tougher conditions. Shooting in Europe was always weird.
Why?!
In Italy, Austria and France, they would have these big budgets and try to do what America did in the '70s — with things like real stage coaches. I did one called Ejacula and they did it so real. Take a scene in the woods. In America, you get a blanket — even if it doesn't make sense. In Europe, you're on a slab of concrete in a dark castle. Some scenes are better than others. And, some rums are better than others. I can segue too.
Do you have a favorite star you worked with?
Nina Hartley. She was one of the best-known adult stars ever.
How often are you asked to show…it?
Six times yesterday and two times today.
Is there a price to show it?
Yes, the price is that they have to show theirs. They do this [mimics shirt-lifting motion] while I do this [mimics unzipping motion]. Paris Hilton once asked to see it, with Bijou Phillips, during one of Val Kilmer's parties. I'm doing a lot of name dropping here. There's a name! I'm dropping a name! But Paris kicked out all the girls in the bathroom and we traded flashes.