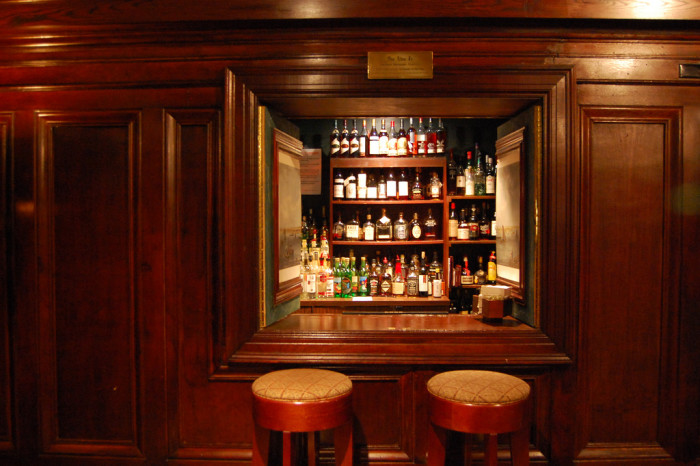 Now, look, it's not like I'm going to sit here and tell you that PT's Showclub in Louisville, Kentucky, is the most rod-busting strip club in the whole U.S. of A, but it's not like I'm claiming that it ain't either. As a card-carrying professional imbiber and unabashed carnal connoisseur, I reserve the right to be irresolute about such matters. You'd have to be one of us to understand.
Thing is, by any measure PT's is one hell of a fine gentleman's club. A bona fide booze and beaver joint, where nothing is left to a sober imagination. A hanky-panky honky tonk, if you will (and, really, you should). That, my friends, is an uncommon commodity in these puritanical parts. You pay the ticket, you take the ride. And, hot damn, if it isn't an all-inclusive package.
As far as strip club names go, however, PT's Showclub is pretty run of the mill. Certainly nowhere near as clever as Chix on Dix (located on Dix St. in Detroit) or Boobie Bungalow in Elkton, Tennessee. According to one of PT's more heavily tattooed and surgically enhanced employees — I believe she's called Mercedes or Porsche or some other luxury vehicle — the joint's initials denote the two things for which it is best known, and I'm pretty darn positive she wasn't talking about peeing and tippling.
PT's was the naked nightcap to an evening spent exploring the burgeoning Louisville cocktail scene with Josh Durr of MolecularBartending.com, who proved to be an extremely capable tour guide. By that I mean he drove and paid for most of our drinks. I encountered that sort of Southern hospitality all over Louisville, and it was almost enough to make me forgive Kentucky for Rand Paul. Almost.
First stop was the Old Seelbach Bar in the Seelbach Hotel, famous for an eponymous cocktail comprised of bourbon, Cointreau, bitters and Champagne. This truly legendary watering hole was frequented by F. Scott Fitzgerald and, indeed, many of the regulars appeared to be Fitz's contemporaries. Take the guy I met who'd done a tour of duty in Africa during World War II.
"One time while on a mission, a lion jumped out and went 'ROAR.' I shit myself," he said, clearly ashamed.
I tried to reassure him that it was understandable; that a lion would have scared the crap out of me, too.
"No," he said. "I mean I shit myself just now, when I went ROAR."
Next up came 732 Social, a hip little joint featuring farm-to-table fare and an expansive organic wine list. There were 11 specialty drinks on the cocktail menu, and I sampled half of them. The other half I chugged. Enjoyed their take on the classic South Side, done with New Amsterdam gin, house-made gomme syrup and Fee Brothers Old Fashion Bitters. Also dug the Vonnegut Fizz, if only because it gave me a reason to throw out one of my favorite witticisms from the Breakfast of Champions author: "Those who believe in telekinetics, raise my hand."
From there we rolled over to Proof on Main in the 21C Museum Hotel, voted the top hotel in the U.S. in the 2009 Condé Nast Traveler Readers' Choice Awards. Food & Wine also gave them some serious love, hailing Proof's wine list as "one of America's 50 most amazing wine experiences." And you can add Food Republic to the list, which lauds the place for being "bangin.'"
Yes, the place is bangin', and so is Jenny Pittman, who whipped me up a delicious Gold Rush made with Woodford Reserve, then followed that with a Bramble that would no doubt pass muster with the drink's creator, the legendary Dick Bradsell. Pittman made a mean South Side as well, along with a gin-based concoction called a Wicker Park. It was right about that time I began to suspect that many of the Louisville bartenders secretly longed to be in Chicago.
Later at PT's I asked the stripper named after the car if she'd ever been to the bar at 21C.
"I haven't," she tittered. "But I've got 34-Cs. They're better than any bar, right?"
I'm not saying that they were… but I ain't claiming they weren't either.