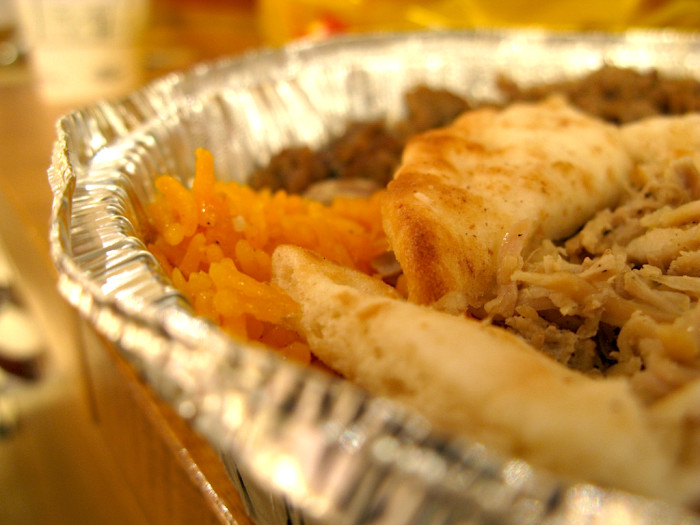 There are two schools of thought regarding the halal carts serving up sizzling curry-spiced chicken over fragrant rice with a side of salad, all doused with "white sauce" (a blend of yogurt, mayo and white vinegar) and thick, vinegar and chili-heavy hot sauce. And if you're not salivating after reading that, you belong to the school we don't take kindly to 'round these parts. In New York, street meat is king.
My favorite halal cart is in SoHo, on Houston and Lafayette, near the gas station. One of the guys who works there always draws a heart in hot sauce on my combo rice (chicken and lamb) and hands it over with a smile. When I lived in Los Angeles, the gas station-adjacent fare of delectable, authentic tacos was not only the norm for cheap eats, it was the standard. New York is a city with remarkably few gas stations, so for some inexplicable reason, my favorite street meat cart's proximity to one only serves to make it more delicious (and in my case, made with some seriously hot love).
This particular cart even inspired a couple of my friends to "start" a music blog they called "Combo Rice," which never exactly "made it off the ground," but I always thought it was a nice sentiment. An ode to the folks who stay up as late as we do, just in case cheap, delicious meat is what's for 3AM. But they're there for you at lunchtime, too.
While many carts will make you a Philly cheesesteak, falafel pita or cheeseburger with fries, it's the juicy chopped chicken thigh and lamb sliced right off the cone that draws the lunchtime line. What's the secret to the "addictive enough to have a cart on every street corner" qualities of this mysterious chicken? Overnight marinating in yogurt and a spice blend similar to Indian garam masala (check out this recipe for chicken tikka salad that explains the technique). The yogurt tenderizes and flavors the meat, so however long it's on that griddle, something entirely unimportant when the craving strikes, it won't dry out.
I always order the same thing, without fail: Combo rice, heavy on the white sauce, easy on the hot sauce, side of salad. And, having imparted all this, if I manage to make it to lunchtime without one, I'll be very surprised.