The Wonder Boys Of Willamette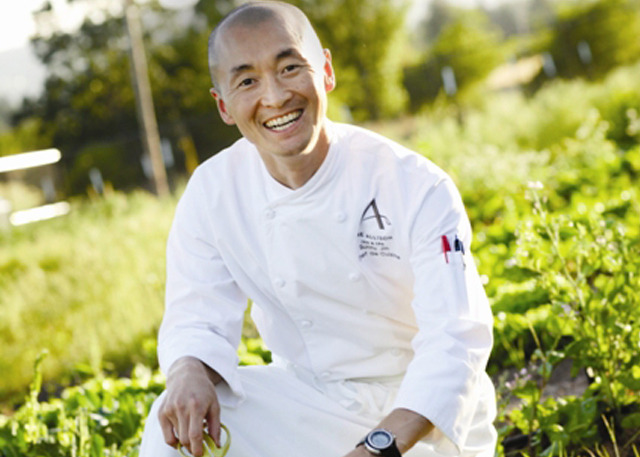 Sunny Jin in garden
The Allison Inn in Newberg, Oregon is a new luxury inn and spa in the heart of the Willamette Valley wine region with all the luxury spa fixings like massages and a deft concierge service. But it's their restaurant, Jory, that earns the highest marks. Chef Sunny Jin has spent time at both El Bulli and The French Laundry before taking over the kitchen duties less than a year ago. "Throw me a tonka bean and ask me to make a dish," half-jokes, half-challenges the chef when discussing what he took away from his time with the highly improvisational chefs Keller and Adrià.
And true to form, over the course of my two dinners at the Inn, Jin delivered on the promise of out-of-the-box cooking. A plate of peas and prosciutto represents the chef's dedication to seeing local products to the most delicious results. The hog — raised by a farmer down the road—was fed hazelnuts 60 days before slaughter and finished with five gallons of Adelsheim Pinot Noir. The earthy, sweet pork dressed with fresh mozzarella and balsamic. A second pork dish — belly — was shaped with nectarines and smoked cipollini onions. Duck confit empanadas and delicate bites of salmon cheek with ginger pushed the flavors beyond the Northwest. Wine, of course, plays a major role in a meal, and bar manager/sommelier Tom Bean is a master at pairing dishes with his ridiculous stash — we sampled rare vintages from Archery Summit, Natalie's Estate and Shea Wine Cellars.
After one of my meals — a little drunk, a lotta full — I sat down with chef and sommelier to talk about working in the region — and working together like two peas in a pod. Locally sourced peas, of course.
Your restaurant is in the heart of one of the most acclaimed wine regions in the country, if not the world. Do you feel there is added pressure to run a restaurant here? Is it essential to make sure you are pairing courses perfectly with the wine?

Sunny Jin: I do. It's exactly why we are here. We're at the ground level. The Willamette Valley is established, but the tourism portion is very up-and-coming. We are basically there at the forefront of the entire tourist industry.
And you very much could have fumbled the back-and-forth between the two worlds — the wine makers and your high-minded cooking. But you haven't. How important is it to work with the wineries?
SJ: We work with the wineries so closely. We sit here with the wine makers and taste it. Then, from there, we decide to go with a lineup [of dishes]. Right now we are working a lot Utopia Vineyards.
Tom Bean: Our rock stars are the winemakers, but I judge everybody on the wine they produce. Personal relationships have to fall by the wayside. It's a little political, but it's my style to be laid back. I'm as interested in the $40 wines as the $400 ones. I put great wines on the list. I'm in love with all the wines on the list.
But getting that list together took a lot of work.

TB: Two years of work so far — and I'm not even half of where I want to be.
Why should food writers skip California for Oregon?
SJ: Napa is well-established for a reason. Think of what they've done in turning a bunch of biker towns into destination hot spots. We really want a place on the map. It's not a matter of competition as [much as] a matter of recognition.
TB: This is a chef's paradise. The range of ingredients that Sunny can work with within a 50-mile radius is ridiculous.
SJ: There are foragers bringing in mushrooms and blackberries—with their fingers and mouths still stained. I get calls all the time like: "I have a whole peach-fed pig right now, do you want it?" Of course!
How much do the two of you collaborate?

SJ: We talk during every single chef's table and every single tasting menu. [Edit: In fact, I witnessed them huddling like QB and WR several times]. The first thing we talk about are components. If somebody has a bottle of wine that they really want to try, or something that they bring in, them — boom. Tom will tell me the notes for it. The profiles, the dexterity. And that's how I come up with a dish.
TB: Sunny is also one of those guys whose ego is not tied to every dish. He wants every dish to work, but I can suggest to him to flip the order of something or change something up. He's not rigid.
Is this something that you learned at the French Laundry?
SJ: Yes, they encourage wine education. After every single service, all the chef de parties get together to talk about the next day. But during that time, we open six to eight bottles of wine. We were always tasting and thinking about wine.
Did you carry on that tradition at Jory? Being Captain Obvious here, but do you guys taste a lot of wine?

TB: We taste wines with our staff all the time. I encourage the kitchen to come to all of our wine events. It's so important for us to realize how special it is that we work and live here.
You worked for both Thomas Keller and Ferran Adria. That's impressive. How are you inspired by each of them?

SJ: I was at El Bulli for the entire season of '09. The one thing I learned from Ferran was to expand an ingredient to more than what it is. Everybody claims to be creative, but when you work with a mind that is such as his, it's looking beyond accenting or profiling ingredients. One of our dishes was simply called Soja, which means soy bean. He takes that concept and finds 13 ways to represent it on a plate. That's one of at least 35 dishes.
What concepts are you playing around with these days?
SJ: The idea of compression. Once you remove all of the air out of an ingredient through a Cryovac machine, you can replace it with something. We did that with strawberries and prosecco. For our cheese program I've pickled strawberries using a similar method. Fruit leathers make for a great inner-mezzo. I'm working on celery leather right now, which is difficult to maintain the brightness. But we're going to do it!
---