A Chicken, Corn And Apple Pizza?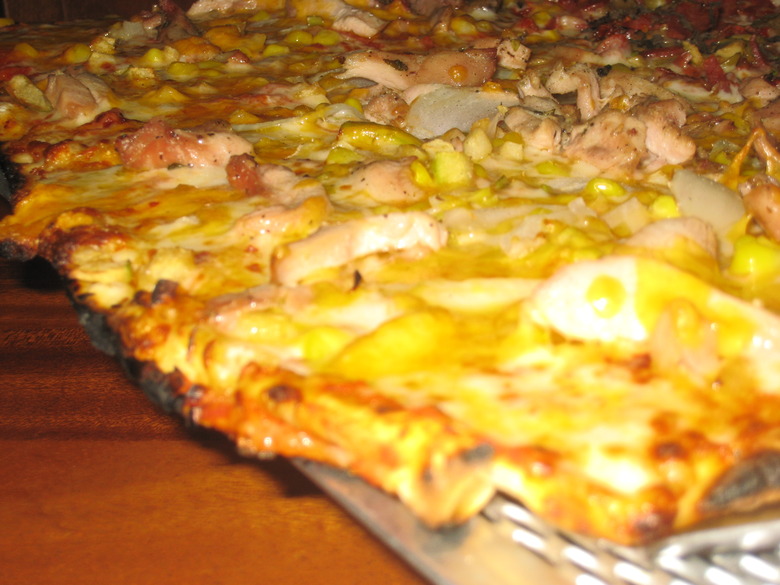 Joe Squared pizza
There was a time not too long ago when you didn't even think about sitting outside and enjoying a meal on Baltimore's North Avenue. Just last week, even, four blocks east from where I'd soon eat, I waited at a red light on the corner of North and Greenmount and watched six different police officers try to wade through a ruckus that transpired outside of a beat-up liquor store and included: three elderly women; four adult men, two of whom appeared to be drunk and bordering on incoherence; and two children, neither of whom could have been older than six. That is the North Avenue most people still think of when you tell them you're planning on enjoying a meal on its sidewalk.
Perception and reality started to fade from each other in 2005, when Joe Edwardsen opened Joe Squared and boldly stated that the stretch of North Avenue east of Howard Street was open for hipster and MICA-student business. Primarily a pizza shop — though the restaurant is such that you could walk in, close your eyes, point to any item on the menu, and walk out happy — Joe Squared earned its stripes as the place to go to find free, fun live music seven nights a week, without fail.
But the emphasis here is on the pizza. Edwardsen doesn't make 'em the way you'd expect in one of the leading pie shops in an eastern seaboard city. His pizzas are thin, crisped by the coal-fire stove he cooks them in, and, most notably, square. The pizzas run corner-to-corner at 10", 12", 14" and 16", and while crispy to the point of charred on the outside pieces, they're firm enough in the middle that you don't have to break out the fork and knife. What's more, the square shape means that a full-sized pizza yields 16 slices rather than the standard eight, which works well for groups.
Joe's lets you split and mix any pie with the same base — so you can go half-Meat Lovers (rosemary, meatball, sausage, salami, capicola, prosciutto, mozzarella and provolone cheese) and half-veggie (arugula, zucchini, eggplant, fennel, mozzarella and Boursin cheese) if you're dining with polar opposites — but I always demand that one half be reserved for what I consider to be the most American pizza ever made: the Chicken, Corn and Apple Pizza.
Topping those three ingredients with Vidalia onion, crushed red pepper, rosemary and three cheeses (mozzarella, provolone and cheddar), and the Chicken, Corn and Apple won't set off any fireworks or turn your taste buds on to any wildly new flavors (though baked Granny Smith apple on cheese and flatbread is certainly an experience). It's just a consistently delicious, commendably creative pizza. Chicken's one thing, but apples and corn kernels don't usually find their ways onto slices. Edwardsen had the guts to give it a shot, and to date it's one of the most popular items on the menu.
The same could be said about his restaurant. It takes serious cojones to place a restaurant like Joe Squared in the middle of a street where fracases and liquor stores are the main attractions, but that's what we like about every piece of Joe Squared, from the items on the menu to the shop's mere presence. It changed the game, one Granny Smith apple at a time.
---
Can't get enough of Pizzas of the Week?