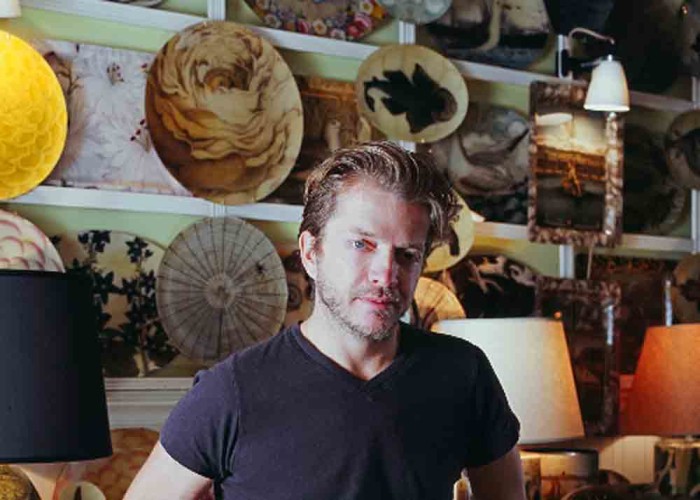 Best-known for his signature decoupage pieces, John Derian is no doubt a man of taste. For over 20 years the downtown New York-based designer and artist has been winning over the home design set with his worldly and vintage-inspired housewares — everything from linens and table settings to furniture and antiques — on full display at his two East Village shops.
As someone who grew up in a large family, Derian continues the tradition of everyone helping out in the kitchen when hosting dinner parties at his seaside home. To whoever has the task of setting the table, take note: Derian has strong opinions about what belongs on a table. Here, he tells us how to get set.
What are some of the dishes you love to cook?
I love simple, not saucy: salads, roasted, and grilled things. A pasta with hot pepper, parsley, and garlic, or a basic roast chicken.
Do you throw dinner parties very often?
I have a house by the sea and host many dinners, usually with 10 people on average.
How do you prepare in terms of food and décor?
My friends all pitch in and love to cook. I do a simple table: glass, plate, flatware, water glass, another glass for wine/another beverage, with pitchers of water. The napkins are basic Belgian linen — off-whites and whites.
For someone who's just starting to invest in good table items, what would you recommend?
I think flatware would be a good thing to get a started — a nice, simple shape and heavy weight like the silver ones by Astier de Villate.
What are some good spots for finding dinner table basics?
CB2, Crate & Barrel, or Fishs Eddy.
What's your take on cloth napkins?
I'm for having them. It completes the table, adds a nice texture, and it offers a sort of comfort to your guest.
What should you look for?
You want it to feel nice to touch; stick with natural materials and try dark colors.
What are some other simple tips to keep in mind?
Low flowers and high candles: You want flowers to be low enough to be able to see over them and talk with your guests. High candles are a must because one needs light from above so you can see what you're eating—and of course, the light is nice.
Basically you want enough light to see and enjoy each other's company, not too dark that people will fall asleep or want an orgy — unless that's your plan.
---
Other style guys featured on Food Republic: