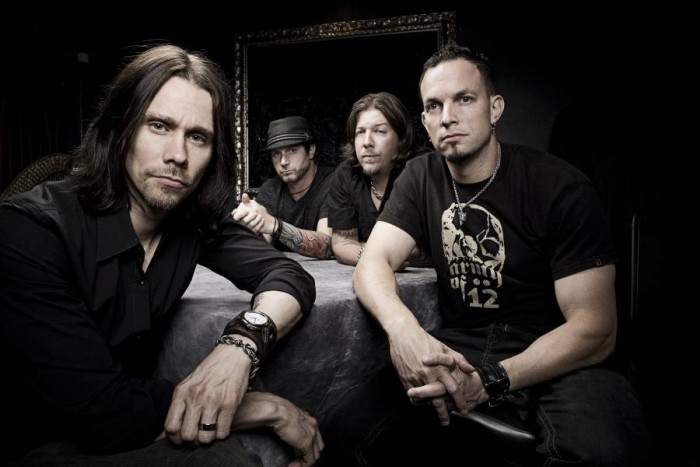 Alter Bridge frontman Myles Kennedy has dabbled in a near-project with members of Led Zeppelin, teamed up with legendary Guns 'N Roses guitar slinger Slash, and led his band to the top of the charts when he wasn't working on myriad side projects, including a forthcoming solo album. Along the way, he's developed a big appetite.
It does take a superhuman level of stamina to get through a seemingly endless cycle of touring and recording. On stage and in the studio, Kennedy delivers a high-octane vocal fusion of rock, metal and blues. In addition to holding space on the shortlist of potential collaborators when Jimmy Page was exploring the idea of reviving Led Zeppelin without Robert Plant, Kennedy is also the go-to collaborative talent for Slash, who's enlisted Kennedy to handle all the vocals on his tours, something he does when he's not belting it out for Alter Bridge.
Most recently, Kennedy recorded and released a third Alter Bridge record with bandmates Mark Tremonti (guitar), Scott Phillips (drums), and Brian Marshall (bass), Alter Bridge III. Its soaring rock anthems had a profound impact, reaching the top slot on iTunes in the US, mainly powered by the hit single "Isolation."
Throughout his travels, Kennedy has discovered a new appreciation for food, as well as an understanding of the vital importance of a healthy meal. He also picked up a few favorite eating spots along the way. We caught up with him on his current tour and the increasingly culinary-minded artist gave us his take on eating on the road, something he's all too familiar with.
Where are you at the moment?
I am enjoying a day off in Las Vegas nestled in my hotel room listening to Motörhead's "Motorizer"—a perfect way to counter the sensory overload of the casino hell 15 stories below me.
You mentioned how much fun you had playing with Led Zeppelin when the idea of doing a tour with them came up. Since chances appear slim that we'll ever see it happen, can you tell us what songs you enjoyed singing most with them?
Regardless of whoever might have sung with them I don't think it was their intention to call it Led Zeppelin. Whatever it would have been it would have been called something else I'm sure.
With that said, we did play songs from the Zeppelin catalogue. I enjoyed playing anything they called out during rehearsals. For me, standout moments included playing "The Rain Song" and "No Quarter." Those have always been two of my favorites.
How important are your eating habits while you're on the road? Do you have a personal philosophy on nutrition?
I am really aware of trying to consume things that are good for me. If I eat bad, unhealthy food I usually end up regretting it. My personal philosophy is "the greener the better." I'm obsessed with sauteed spinach and wheatgrass shots. I know that this is far from what people want to hear…not very Rock and Roll.
In your travels, are there any particular restaurants or dining spots that stand out as must-return places?
My favorite restaurant in the world is a place in Paris called Citrus Etoile. That is the most amazing culinary experience I have ever had, for sure. My other favorite place is called Sushi Nozawa in Studio City in LA. I've been going there since a friend turned me onto it 13 years ago. It's fun because you just ask for the "trust me" special and you never know what you will get. I can assure you it is always ridiculously good.
How has your perspective on food changed as you've toured the world?
I have become a little bit of a food snob unfortunately. It's something I am very embarrassed to admit. After having such amazing experiences it does kind of spoil you. There are people who are way worse and fall into the "foodie" category. Fortunately, I am not there yet….I still love Subway!
---
For more food and music, check out: