Talking With Andre Iguodala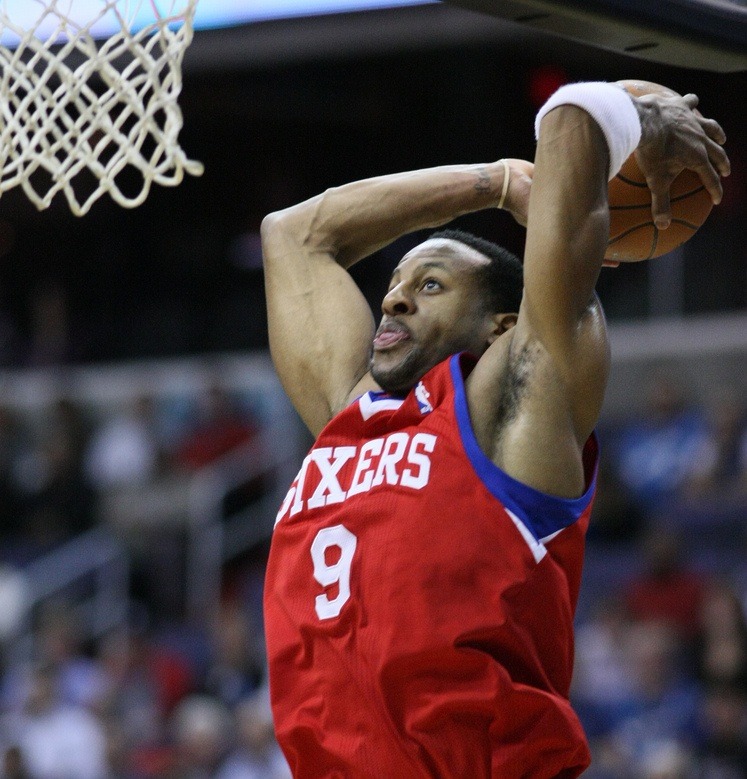 We may receive a commission on purchases made from links.
For the last few days, Andre Iguodala has had one of the toughest jobs in the world: Trying to slow down LeBron James and Dwyane Wade during the first round of the NBA Playoffs; the series continues Wednesday with the Miami Heat leading Iguodala's Philadelphia 76ers 3-1 in the best-of-seven series.
Now in his seventh NBA season, Iguodala, a lithe 6-7 swingman, is known as an elite defender, not to mention a dude with amazing athletic ability.
Not as well-known is that Dre is also an avid foodie who hopes, once he finishes with hoops, to have a second career in the kitchen.
So we might see you rocking the chef's whites one day?
I really like food and cooking. One of my favorite shows is Chopped. And I can cook. When I get done playing, and if my son grows up to be a professional athlete, I want to be his chef. I know what it takes, because I have a chef now.
Do you have a signature dish that you cook? Didn't you post some pictures last year of you doing work on the grill?
Yeah, I got this barbecue chicken recipe from a friend of mine. We use mustard and garlic salt, and marinate the chicken in that. Then we put it on the grill, cook it up.
Do you ask your chef to fix anything in particular for you?
No, I give him free reign to do whatever. I told him, Cook whatever you want, as long as it's healthy and as long as it's organic. I try to eat red meat just once a week. I mean, I like steak, so he can fix that. But mostly I try to stick to just chicken, turkey, fish, and of course a lot of vegetables. It's funny because some of my friends don't really try to eat healthy, but they'll come over and eat my chef's food and they tear it apart.
Have you always liked vegetables, even as a kid?
Well, I was weird as a child. I would eat broccoli raw. I would eat cauliflower raw. I also used to love salads. So, yeah, I've always liked vegetables.
Has eating healthy always been important you?
In college we had no money. So we would eat well while we were at school, at the training table in the cafeteria, but the rest of the time I'd just eat whatever. Once I got to the NBA, I had to buckle down. I sort of got it in my head early on, because I saw some players who'd only been in the League for a couple of years who wouldn't watch what they were eating and they were gaining weight. So I got strict.
Are you an adventurous eater when you go out and eat?
Oh yeah, I'll eat anything. Well, during the season I won't. During the season I stick to my diet. During the offseason I'll venture away from it.
Any superstitions about what you eat before games?
Not really. I usually choose to eat chicken or fish, maybe with mashed potatoes or vegetables. And now I have a catering service that brings me wraps. I just don't want to get too full.
Lang Whitaker is Editor at Large of SLAM magazine, a contributing editor to Antenna Magazine, a contributor to NBA TV and the co-host of NBA.com's Hangtime Podcast. He is the author of the memoir, In The Time Of Bobby Cox: The Atlanta Braves, Their Manager, My Couch, Two Decades, and Me.
---
For more Sports and Food, check out: