Talking With Junot Diaz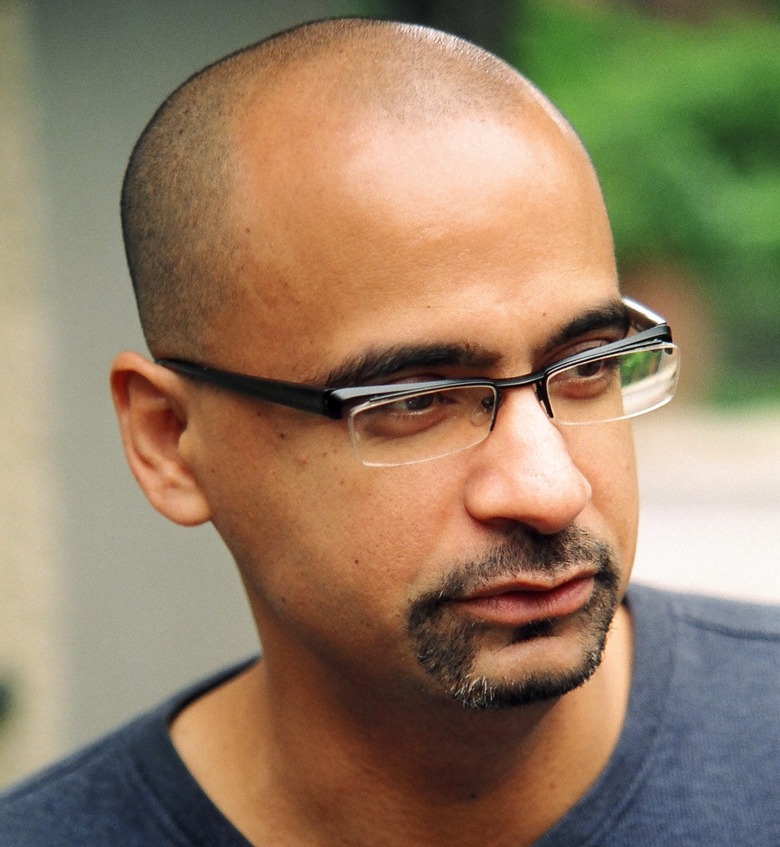 Portrait: Junot Diaz
We may receive a commission on purchases made from links.
Author Junot Diaz won the Pulitzer Prize for his debut novel The Brief Wondrous Life of Oscar Wao, which is the kind of smart, funny, nerdy, and more than slightly subversive book we crave here at Food Republic. Diaz splits his time between New York City and Boston, where he is a creative writing professor at MIT. We caught up with him recently in NYC—it turns out that Junot Diaz is always hungry and as activities go, eating is right up there with writing.
As a writer, when you're thinking about characters do you ever think about what they eat?
I should since I'm almost always hungry. And yet I don't really write about food enough. It's amazing how even now two books into a career I still have vast narrative blindspots that need addressing.
Are you a dessert person or a savory person or a little bit of both?
This is a strange one. I grew up in a country of sugar cane, where your average poor kid has at least one molar bombed out by the time she's 12. But I never liked sweets and still don't eat them. I'll try a dessert now and then out of a sheer greed but I doubt if I've ever ordered my own. I don't eat cookies or chocolates or candies. But I do love the presentation of many desserts these days. Especially when I travel – confections have a way of drawing my eye and my camera. Why no desserts? Probably because I'm hyperactive and sugar sends me through the roof.
What kinds of foods do you like?
I like all cuisines where rice is a staple – from Brazilian to Bengali. I'm not a huge one for pasta – which is almost a mortal sin in the Dominican Diaspora. I'm still an unrepentant carnivore and so I eat yakiniku and Korean barbecue at least once a week. A terrible weakness of mine. And pastelitos are singular obsession. No matter where I am or who is selling them I can't stop myself.
What's your favorite sandwich?
A roast beef on weck with a thimble of horseradish is tops in its simplicity. And the cubano – so many good ones but if you're ever in Cambridge try the one at Chez Henri. But the Momofuku pork bunse that everybody has copied are also killers though I'm not sure they qualify as a sandwich.
Is there much of a Dominican food scene in Boston?
A little one that is extremely tasty. Alex Chimis in Jamaica Plain has probably the best rotisserie chicken in the state, eat it with batatas, and you're in Antillean heaven. And then there's Merengue in Roxbury, on Blue Hill Ave– the Gold Standard of traditional Dominican restaurants in the US. You'll never taste better mofongo — mashed green plaintains stuffed with vegetables, meat or seafood — or lobster-filled tostones in your life. And the red snapper in coco (a heatless Dominican curry) really makes life in Boston possible.
Is there something you wish you could cook?
I've always dreamed of making a sancocho but you can't imagine the years of practice it takes to pull that stew off in any way that's memorable. That's my dream. One perfect sancocho. My Caribbean Tampopo.
How often do you write and how does eating fit into your writing regimen?
As any of my friends will tell you I organize my life around eating. Not around writing. If I have to travel to a new place I'm researching the trucks and the local spots weeks ahead of time. I'm lucky to write three times a week. But nothing interrupts my eating schedule. I'm worse than the Woody Harrelson character in ZOMBIELAND going after his Twinkie.
Do you ever eat while you read, or write? If so, what are your favorite snacks?
My ex used to make these amazing smoked salmon crostinis that she would bring into my office every now and then while I was working. Dios mio. But now that it's just me I tend to go for peanuts. Talk about a massive downgrade.
What are you reading right now?
Tolkien on Film and Clandestine in Chile with a killer intro by Francisco Goldman — a must read.
---
Like Diaz's books? Have a Favorite Dominican spot of your own? Let us know in the comments.