Stack That Schnitzel: How To Make "Campfire" Pork Butt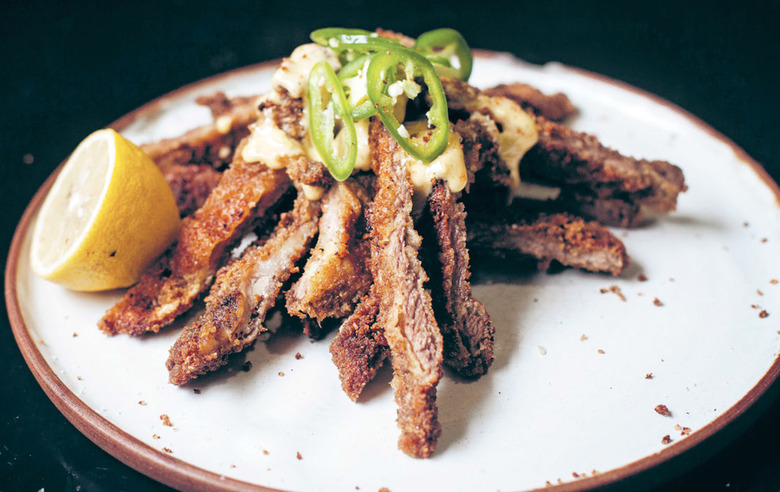 We may receive a commission on purchases made from links.
What is practiculture? It's what happens when you leave big-city life to tend your garden, hunt in your backyard and prepare meals according to what's in season instead of what's on the supermarket shelves. Modern-day Australian "food warrior" Rohan Anderson's new collection of recipes follows the practical nature of cooking from the homestead, something everyone should try. 
I made this for lunch one day and giggled when I serve it up. It bore an uncanny resemblance to a campfire. The funny thing is, I'd just returned from a few days' camping and fishing and, for some reason, I was still in autopilot mode of setting up a campfire — in this case with anything!
I've found that if I crumb food and fry it, my kids will eat it without hesitation. Seriously! My kids have had two versions of the one dad. The first version (draft model only) was happy for them to eat processed chicken nuggets. The second (full production model) does not approve of chicken nuggets, so version 2 dad sometimes makes food look like food from version 1 dad. The kids appear to be dumbfounded as they crunch through the fried-nugget-like meal. I guess they're wondering if it's some sort of trick. But it's not. We butchered our pig. I made the breadcrumbs from my sourdough, the mayonnaise with eggs and garlic from my backyard, and the lemon is from Mum's tree. So no trips to see the Kentucky chicken man with the beard. Instead they eat tucker from the Victorian bearded man with pork butt and a sneaky plan to get his kids to eat real, honest food.
Note: To make plain mayonnaise, prepare as for the piri piri mayonnaise, but omit the spices, garlic and seasoning.
Stack That Schnitzel: How To Make "Campfire" Pork Butt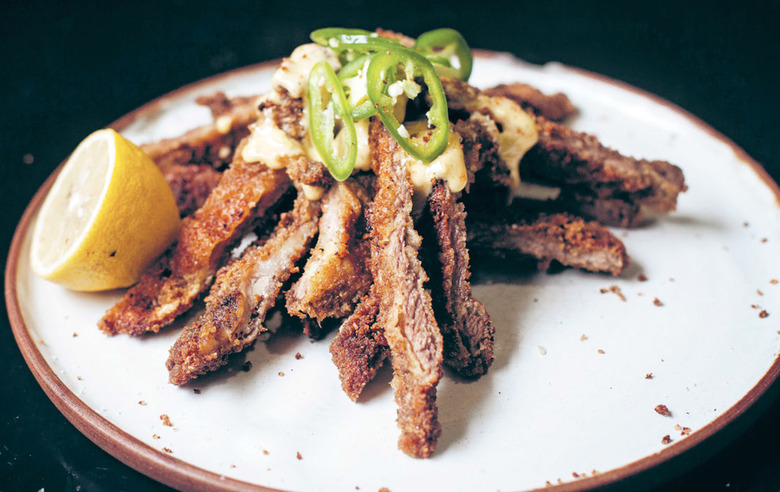 Ingredients
3 egg yolks
1 cup sunflower oil
juice of 1 lemon
1 tablespoon piri piri spice blend
2 teaspoons cayenne pepper (optional, but totally do it)
5 garlic cloves
Salt and pepper
2 pounds 3 ounces - 4 pounds 6 ounces pork butt
plain (all-purpose) flour
4-5 eggs
Toasted sourdough breadcrumbs
oil
3-4 jalapeño chilies
2 lemons
Salt and pepper
Directions
To make the piri piri mayonnaise, whisk the egg yolks in a medium bowl while slowly adding the oil. Take your time and whisk well. A mayonnaise-like substance will form. That's because it's mayonnaise. Continue whisking until you've added all the oil. Mix in the lemon juice, piri piri blend, cayenne, if using, and garlic. Mix well and season to taste. You've just made a kick-arse mayonnaise!
To prepare the schnitzels, cut thin slabs of meat off the pork butt. Using a meat tenderizer or a rolling pin, give each slab a tap to tenderize it.
Line up three bowls on the bench: one with flour, one with the beaten egg and one with the breadcrumbs. Dip each schnitzel in the flour, then the egg, then the breadcrumbs, and set aside on a tray.
Heat some oil in a frying pan deep enough to cook one side of the pork at a time. Pop in a small test piece as a temperature gauge. When it starts to snap and crackle, you can start cooking the schnitzels. Cook each schnitzel until golden brown, laying it on paper towel to drain off any excess oil while you cook the next schnitzel. Slice each schnitzel into chip-sized (fry-sized) slices.
Make a little campfire on each plate, with the mayonnaise as the flakes and the chili on top. Sever with a lemon half, and salt and pepper for people to help themselves.