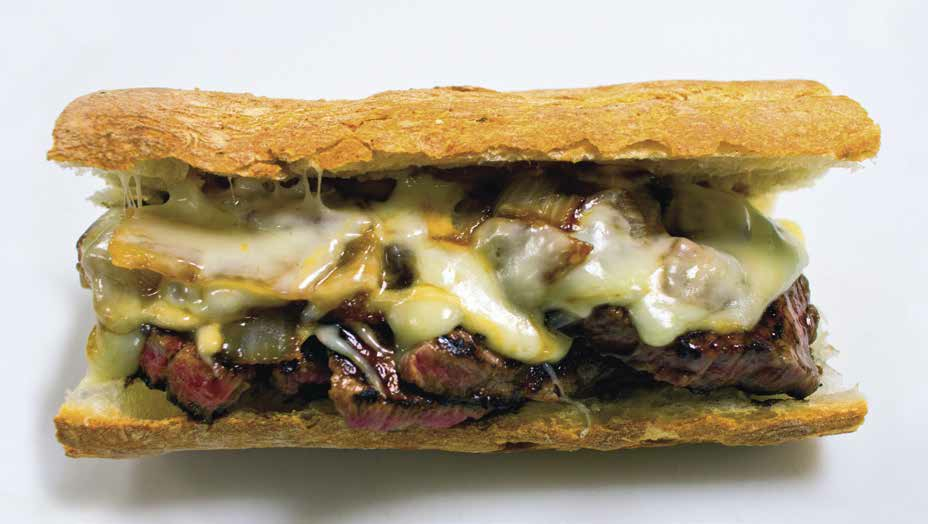 We're very excited about renowned New York butcher Pat LaFrieda's new cookbook, the aptly named MEAT: Everything You Need To Know. In addition to a hearty lineup of LaFrieda's signature recipes, you'll learn the butchery skills you need to know through stunning photos and detailed diagrams. That steak sandwich everyone waits in line for at Citi Field? Catch the game at home and make sure everyone gets one.
A substantial change in dining is happening in a very unlikely place. The days of stale pretzels and old beer are transforming into fine dining at large format sporting venues. Great leaders in this vastly improved food movement are the New York Mets and its owners, Jeff and Fred Wilpon. They have revolutionized the food experience at baseball games by partnering with Aramark to offer amazing dishes from Danny Meyer's Shake Shack and Dave Pasternack's Catch of the Day, among others. The Wilpons had been eating our meat at restaurants for years and were big fans of our product. In 2012, they asked my cousin Mark and me if we had something that they were missing in their lineup, namely a steak sandwich.
My dad had taught me how to make his favorite steak sandwich when I was a kid. We always made it with skirt steak, which is our favorite beef cut, but I quickly realized that I couldn't use this meat for customers because it was too chewy. The last thing I wanted was for someone to take a bite out of our sandwich and have a big piece of meat come out and slap him or her in the chin. I needed something you could bite straight through so I got the idea of using filet mignon.
Ingredients
4

tablespoons

canola or other neutral-flavored oil, plus more as needed

2

large

sweet yellow onions or Spanish onions, thinly sliced (about 3 cups)

6

ounces

thinly sliced Monterey Jack cheese

1

cup

beef stock

1 1/2

teaspoons

balsamic glaze

12

(1 1/2-inch thick)

filet medallions (about 1 1/2 pounds)

1

tablespoon

kosher salt

1/2

teaspoon

turbinado sugar or light brown sugar

4

demi-baguettes (or 6-inch) segments of a long baguette
Directions
In a large skillet, heat 2 tablespoons of the oil over medium heat until it slides easily in the pan, 2 to 3 minutes.
Add the onions and cook, stirring occasionally so they don't stick to the pan, until they are soft and caramelized, about 20 minutes.
Spread the onions out over the surface of the pan.
Remove from the heat and lay the cheese on top of the onions, letting it melt.
To make a jus, in a small saucepan, bring the stock to a simmer over medium heat.
Remove from the heat and stir in the balsamic glaze. Cover the pan to keep the jus warm.
Season the meat on both sides with the salt and sugar.
In another large skillet, heat the remaining 2 tablespoons oil over high heat.
Add half the medallions, or as many as will fit in a single layer, and sear them until they are caramelized, 1 to 1 1/2 minutes per side.
Cook the remaining medallions in the same way, adding more oil and letting it get hot before adding the meat to the pan.
Meanwhile, without opening them, toast the baguettes so that the outsides, top and bottom, are hot and crispy.
Halve the baguettes horizontally, leaving them hinged on one side.
To assemble the sandwiches, lay 3 medallions on the bottom of each baguette.
Top with the onions and cheese, dividing them equally among the sandwiches.
Drizzle 1/4 cup of the jus on the inside top half of each baguette.
Close up the sandwiches and you're good to go.
Find more awesome sandwiches on Food Republic: