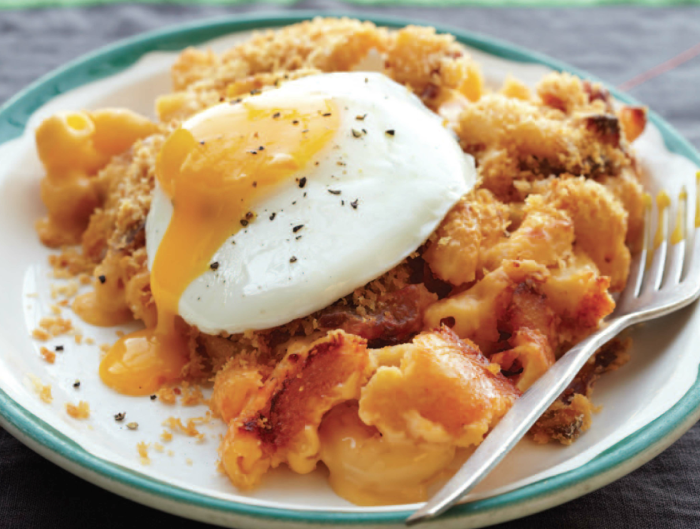 Sometimes we receive a book we all kind of fight to see who takes home. The Mac + Cheese Cookbook is one of those. If you've ever truly craved macaroni and cheese, chef/owners at Oakland, CA restaurant Homeroom have the cure: a dozen kinds with a jillion more add-ins. A fried egg add-in means macaroni and cheese for breakfast.
Great for breakfast, but this one's also pretty darn amazing any time of the day. When we were testing recipes for a breakfast mac, we kept sensing that something was missing. Then Rafi, Erin's brother-in-law and taste-tester that day, casually asked: "Why don't you throw an egg on top?"
So Rafi, if we haven't told you before, you're a genius! Bake this one in individual breadcrumb-topped portions. After baking, slide on a fried egg. When you break into the runny egg, you get egg yolk, bacon and creamy sharp Cheddar with each spoonful. This mac is completely to blame for the five extra pounds we each gained this year. It's okay. Every single bite was completely worth it.
Ingredients
1/2

pound

dried elbow pasta

1/2

pound

sliced bacon

2

cups

bechamel sauce

2

cups

grated extra-sharp, aged Cheddar cheese

1/2

cup

panko breadcrumbs

2

tablespoons

unsalted butter

4

large eggs

freshly ground black pepper
Directions
Cook the pasta in salted boiling water until a little less than al dente. Drain, rinse with cold water and drain the pasta again.
Preheat the oven to 400°F. Cook the bacon in a frying pan over high heat until crispy, about 8 minutes. Remove extra grease by patting the strips with a paper towel, and then cut into bite-size pieces.
Add the sauce and cheese to a large, heavy-bottomed pot and cook over medium heat. Stir until the cheese is barely melted, about 3 minutes. Add the bacon and stir to combine. Slowly add the cooked pasta, stir and continue cooking while stirring continuously until the dish is nice and hot, another 5 minutes.
Spoon the mac and cheese into 4 individual, 5-inch-diameter ovenproof bowls. Sprinkle the panko evenly on top of each bowl. Bake until bubbly, 10 to 15 minutes.
While the macs are cooking, fry the eggs: Melt 1 tablespoon of the butter in a large sauté pan over medium-high heat. Crack 2 of the eggs into the pan, cover and let cook undisturbed for 3 to 4 minutes. The eggs are done when all the egg white is completely opaque, and the yolk is still nice and bright. Slide the eggs onto a plate and repeat with the remaining tablespoon of butter and 2 eggs.
Remove the macs from the oven, and slide a fried egg on top of each one. Top each egg with some black 
pepper. Serve immediately.
More macaroni and cheese recipes on Food Republic: