Behold: Olympia Provisions' Duck Confit And Rillettes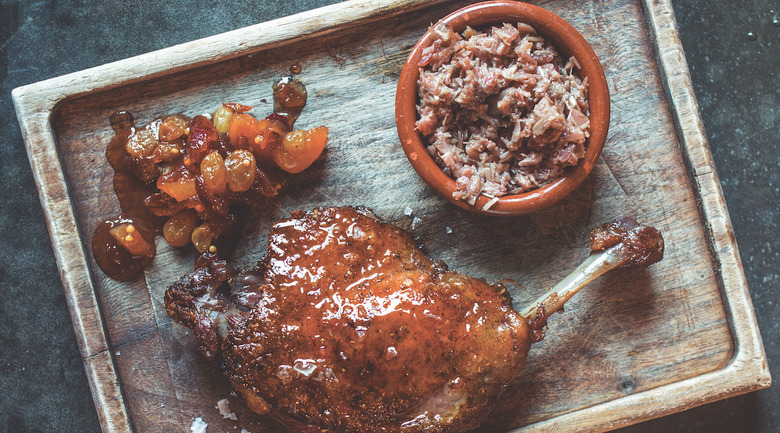 We may receive a commission on purchases made from links.
One of our most anticipated cookbooks of the season is here! Olympia Provisions, the famed house of American charcuterie in Portland, Oregon, opens its superb recipe collection to cured meat fans everywhere. That's right: You can do this at home. Pick up a copy and some curing salt and get yourself to a butcher, stat!
Slow-cooking meat in its own fat is grand, but the truly great quality of this recipe has to be the flavor from the fresh garlic, ginger, and sweet spices — in other words, the rub.
I've created a choose-your-own-adventure below: One path will lead you to a warm duck confit, the other to succulent rillettes topped with crackled duck skin. There is no right way, only different moods. Confit for dinner, rillettes for lunch?
Notes: Curing salt #1 is optional in this recipe. It will aid in color and preservation but is by no means necessary. This is a three-day recipe with five hours of hands-on time.
Behold: Olympia Provisions' Duck Confit And Rillettes
Servings
0
6 servings of confit or one 4-by-12-inch terrine of rillettes; serves 8 to 10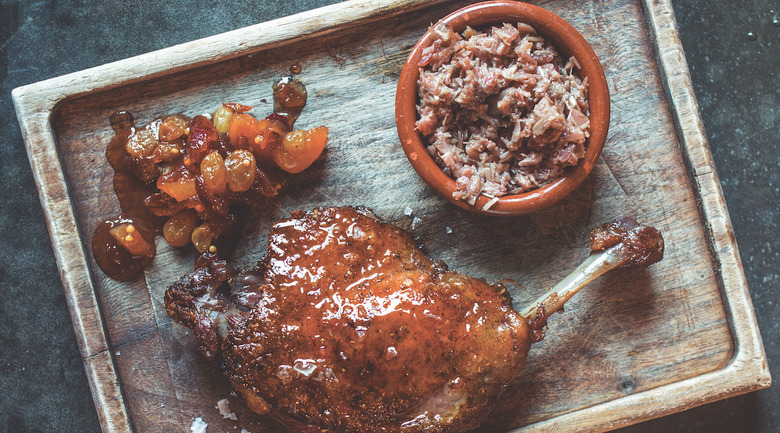 Ingredients
2 teaspoons finely chopped shallot
2 teaspoons finely chopped garlic, plus 1 head garlic
2 1/2 teaspoons finely chopped fresh ginger
Pinch of ground allspice
Pinch of ground cloves
Pinch of ground coriander
Pinch of ground black pepper
Pinch of chopped fresh thyme
Pinch of chopped fresh parsley
1 1/2 tablespoons fine sea salt
1/2 teaspoon curing salt #1 (optional)
6 duck legs
2 cups duck fat
Chicories salad (if serving confit)
Baguette slices (if making rilletes)
Cornichons (if making rillettes)
Directions
To prepare the rub, grind the shallot, chopped garlic, ginger, allspice, cloves, coriander, black pepper, thyme, and parsley using a mortar and pestle or dedicated coffee grinder until the texture is like coarse ground pepper, about 3 minutes. Add the sea salt and curing salt and mix to combine well. Transfer to a large bowl.
Add the duck legs to the bowl and, using your hands, coat and rub the duck with the rub. Cover the bowl with a lid or plastic wrap and refrigerate for 2 days.
If possible, remove the legs from the fridge and let them come to room temperature, about 30 minutes. Preheat the oven to 300°F.
Remove the duck legs and set them aside on a dish to drain. Place the legs in a Dutch oven or casserole, skin side up. In a heavy pot over low heat, warm the duck fat until it melts and becomes almost translucent. This should take about 5 minutes. Very carefully pour the hot fat over the legs; they should be completely covered. Nestle the garlic head into the fat, making sure it is submerged as well.
Cover the pot and place in the oven. After 2 hours, check for doneness by poking one leg with a skewer. It should slide out of the meat with very little resistance. If it doesn't, place the pot back in the oven and cook for another 15 minutes or so, until the skewer slides out easily. Remove from the oven, uncover, and allow to cool for 1 hour. If you are not going to proceed to confit or rillettes right away, place the pot, covered, in the refrigerator, where it can stay for up to 1 month.
Remove the pot from the refrigerator 1 hour before cooking to allow the fat to soften.
Place a nonstick pan over low heat. Using a slotted spoon, remove one of the legs from the fat and let the fat drain off for a second. Place the leg, skin side down, in the hot pan. Allow to sizzle, without moving, until the skin is golden, about 5 minutes, then flip and cook for 4 minutes on the other side. Remove to a paper towel–lined plate. Repeat with the remaining legs.
If you are serving the confit legs, place them on plates and serve with the chicories salad. You can use the leftover fat for roasting potatoes or vegetables.
If you are making rillettes, let the legs cool for 5 minutes after browning. Carefully remove the skin from the legs and reserve in the refrigerator to make the duck cracker. Pull the bones out of the legs; they should come out easily. Put the meat on a cutting board and give it a coarse chop with a sharp knife. You are looking for an uneven texture. Place the meat in a bowl and add about 1 cup (225 g) of the cooking fat from the confit; give the mixture a good stir and taste. It should be moist but not too greasy and have plenty of salt. Place the meat in a 4-by-12-inch (10-by-30-cm) terrine mold or in a casserole dish, jar, or any other vessel you would like. Press down gently to slightly compact the meat. Refrigerate for 1 hour.
In a saucepan over medium heat, melt the remaining cooking fat until liquid. Remove the rillettes from the refrigerator and pour the melted fat over them until they are covered by at least 1⁄4 inch (6 mm). Cover the terrine or other vessel (or not, it doesn't really matter since you have your fatty protective layer) and refrigerate for up to 1 month. (You can eat the rillettes right away while still warm; however, the flavors will become much more incorporated and mellow if you let them rest for a day or two.) Remove from the refrigerator about 1 1⁄2 hours before serving; the rillettes are best at room temperature.
To make the duck cracker, remove the reserved duck skin from the refrigerator and let it come to room temperature, about 10 minutes. Carefully scrape excess fat from both sides of the skin and place the skin in a small heavy pot. Set over medium heat and render for about 5 minutes, until crisp like a delicate, gossamer piece of bacon. Take care not to burn the skin. (Alternatively, lay the skin pieces in a single layer on a parchment paper–lined baking sheet and render them in a 300°F (148°C) oven until crisp, about 10 minutes.) Drain on paper towels and allow to cool.
Serve the rillettes with baguette slices, cornichons, and the duck cracker.