At Loa, the tucked-away bar within New Orleans' boutique International House hotel, ​​Creative Director Alan Walter has found an eye-catching way to marry design with the summer's favorite wine. Walter brings a playful note to Loa's rose wine menu, displayed for guests via two dozen rosy shades of "Pantone squares." Each square corresponds to a different bottle (and shade) ​of rose, from Sonoma to Spain, and Priorat to Provence. Three rose selections are offered daily at Loa, and highlighted with a lipstick kiss to mark that day's ​featured glasses.
When not sharing descriptive musings of his favorite rose selections like the ones you see on the chart, Alan Walter presents cocktails that are eccentric, delicious and poetic and sometimes a little impractical. ​Find him at this under-the-radar hideaway offering a sip from the soul of the city through cocktails that capture flavors of New Orleans through foraged ingredients like Spanish moss from New Orleans City Park and Sorrento lemons from Loa's own parking-lot grove​.
Check out this design-forward way to get people even more excited about drinking pink, and read Walter's tips below for making your own rose chart at home.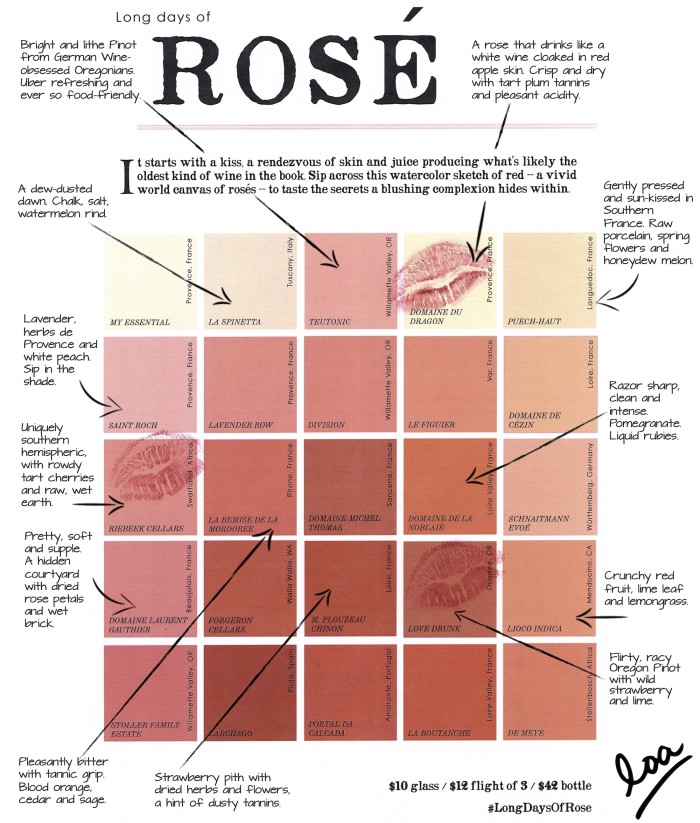 What inspired you to create a color chart like this at Loa?
We look for ways to get people excited, and turn their visit into a Loa experience.  Put several dozen great roses from all over the world together in the same room – it's visceral! The Pantone chart began as a guide, but a playful one, so it has emotional appeal.
What are your options for laying out a chart like this at home? I'm thinking go to Home Depot and make off with some paint chips?
Yes, Home Depot, Sherwin-Williams, your neighborhood hardware store. I had to tell myself, "it's perfectly normal for a grown man to leave the store with a thick stack of a hundred shades of mauve." Needless to say, I also bought a hammer.
What are the darkest and lightest rosés you can have before you enter red and white territory?
Rose runs the gamut from the palest pink of a Provence sunrise, where the juice just seems to have winked at the skins, to the noble red of a Napa Valley saignée.
Who kisses the charts at Loa, and with which lipstick?
Our art director Britney often "kisses" the menus, with a garden-variety stick of red. If she's unavailable, I scan the horizon for the nearest female who might be a good sport, and ask her if she'd like to be immortal.
What's on the menu this afternoon at Loa?
Tonight at Loa, guests' lips will flirt with La Remise de la Mordoree (Rhone, France), Division (Willamette Valley, OR), and Lioco Indica (Mendocino, CA). Kiss marks the spot!