What Do You Call A Bloody Mary Made With Mezcal?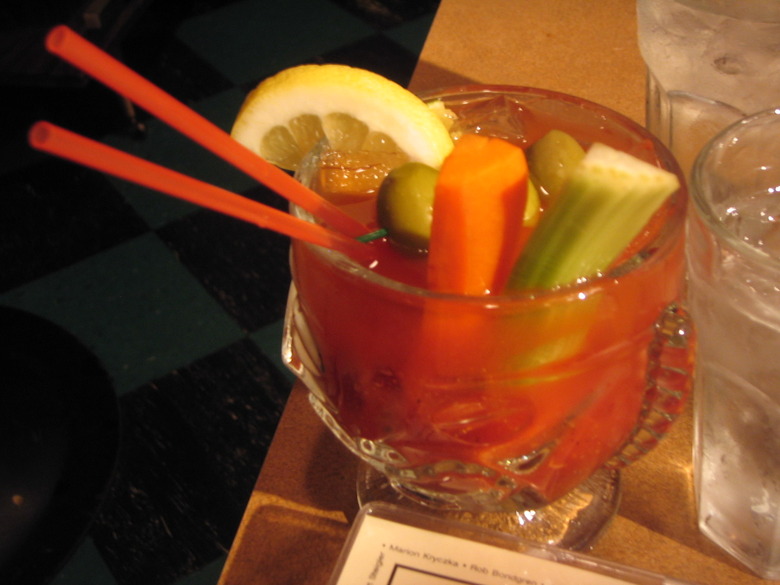 Of all the classic cocktails, the Bloody Mary has perhaps the most versatile nomenclature.
Switch the base spirit from traditional vodka to tequila and suddenly Ms. Mary takes on a Latin alter ego: the Bloody Maria. Add clam juice and she turns Shakespearean: the Bloody Caesar (this is apparently huge in Canada). Garnish with a motley assortment of skewered bacon-wrapped things and sliders of all kinds, and well, there is no official name for that. I just call it a bloody abomination.
But what do you call a Bloody Mary made with mezcal?
The smoky Mexican spirit pairs perfectly with a spicy tomato juice mixer — a flavorful upgrade on tequila, its more common agave-based relative. Yet the mezcal version has no widely accepted name on par with Bloody Maria or even Bloody Caesar.
This badly missed branding opportunity comes to mind this week as bartenders from across the world prepare to gather in New Orleans for Tales of the Cocktail, the liquor industry's annual convention. The agenda is packed with seminars, tastings, demos, product launches and parties, parties, parties. A panel on liquor-related linguistics is conspicuously missing from the schedule.
For some time now, I've been posing the question to bartenders. Their answers typically hover around the same general points.  Sure, tequila is technically a type of mezcal, so calling it a Bloody Maria isn't a total misnomer.  Then again, the distinctive pit-roasted taste of a good Oaxacan-style mezcal really makes for a very different drinking experience than, say, your typical Jose Cuervo.
The mezcal version rightly deserves its own moniker, but what? One bartender who regularly whipped up such mezcal-laden concoctions at my request once proposed the "Bloody Mez," which we immediately rejected for obvious reasons.
Back in February, I put the question to participants at the annual Bloody Mary Mix Down contest during a preliminary event in Brooklyn. Chief organizer Lisa Seabury cited plenty of experience in making the savory cocktail with mezcal but simply shrugged with regard to the drink's own identity: "I don't have a name for that." Her husband, Steve Seabury, founder of New York hot-sauce company High River Sauces, suggested "Mez-merizing Maria." Contest winner Marisa Cadena of Brooklyn's Lucky Luna restaurant proffered "Maria en Llamas" ("Burning Maria").
More recently, I asked Food Republic's contributing cocktails editor, Jeffrey Morgenthaler, who favored the straightforward "Mezcal Mary," a name already in use at places like Tortilla Republic in West Hollywood, California. "It's the only thing that makes sense," he said. Another contributor, Brian Quinn, author of Food Republic's regular "Cocktail of the Week" column, nominated "Bloody Maguey," a clever nod to the Spanish word for agave.
Leave it to the man most responsible for America's mezcal craze, Ron Cooper, founder of Del Maguey Single Village Mezcal, to set the record straight. "It's called a Maria Ahumado, or 'Smoky Maria,'" Cooper told me definitively during the recent James Beard Foundation awards gala in Chicago, where the mezcal mogul was named Outstanding Wine, Beer, or Spirits Professional for 2016. Cooper insisted this Spanish term was "legit," which, given his pedigree, is hard to dismiss.
Still, Warren Bobrow, the author of multiple cocktail books, including the new and provocative Cannabis Cocktails, suggested an Americanized alternative: the "Bloody Ron Cooper."