Inside The Brave New World Of Craft Beer Packaging Design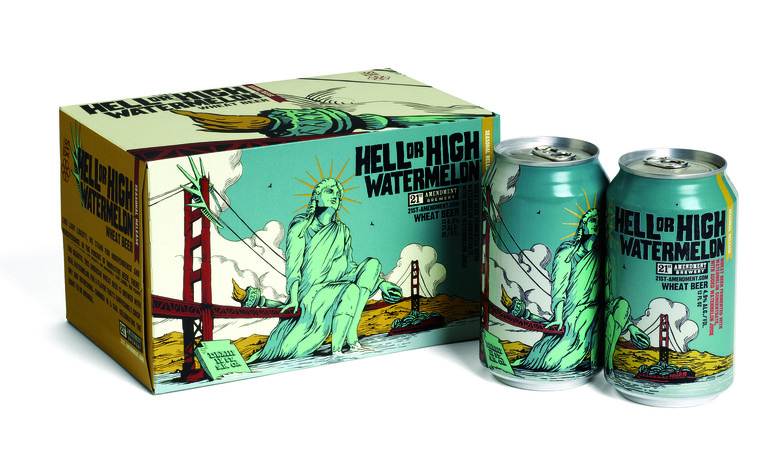 Sometimes it's okay to judge a beer by its label.
In fact, some breweries want you to do just that in today's evolving craft beer landscape. With dozens of new regional companies competing for liquor shelf real estate, many are looking to professional graphic design as a way to stand out from the competition and bring new customers to the fold. 
It's great news for design nerds — just a decade ago, the small handful of existing craft breweries slid by with uninspired (dare we say boring?) label art. Today, the stakes are higher, so we're seeing a crop of brewers increasingly concerned with how cans, bottles, six-packs and cases look.
We talked to a few industry leaders in the world of beer packaging design to hear their thoughts on how the industry has evolved to where we are now and what we can expect for the future.
Without having to spend precious label space educating the consumer, the possibilities for progressive design open exponentially. Austin-based graphic designer Christian Helms of Helms Workshop — the firm responsible for the eye-catching Austin Beerworks, Modern Times and Bauhaus beer cans — says finding ways to creatively express a brewery's identity is a crucial approach needed stand out above the crowded playing field. "The biggest thing is trying to share the personality of the brewery and the quality of the beer. It [has to] be unique to their offering and brand personality," Helms says. The designer tries to learn as much as he can about the brewery and become ingrained in their culture so that his firm can  "transfer that into the packaging."
At the end of the day, there's no easy way to weave a single thread through what's going on in craft beer design, because the range is as diverse as the number of breweries opening.
Helms says it's less about what the color or typeface is and more about bringing unique voices to the conversation. "There's no silver bullet in terms of typography or color that works well for beer, instead it's the idea of finding visual cues that share the personality of the brewery and the brand."
Evers agrees, saying the future will be more about telling the brewery's story than having a flashy label just for competitive design's sake. "Brand and design solutions should be based on a set of cultural values and sensibilities," he says adding that the bottom line is simple. "Your unique perspective on craft beer."
If every brewery hones in on finding ways to express its mission and ethos in creative and fun ways, it will not only foster more visual fun on shelves of liquor stores, it will help customers find the beers that they'll identify with most as well — a win, win for both brewers and thirsty beer drinkers alike.
Read more about beer design on Food Republic: