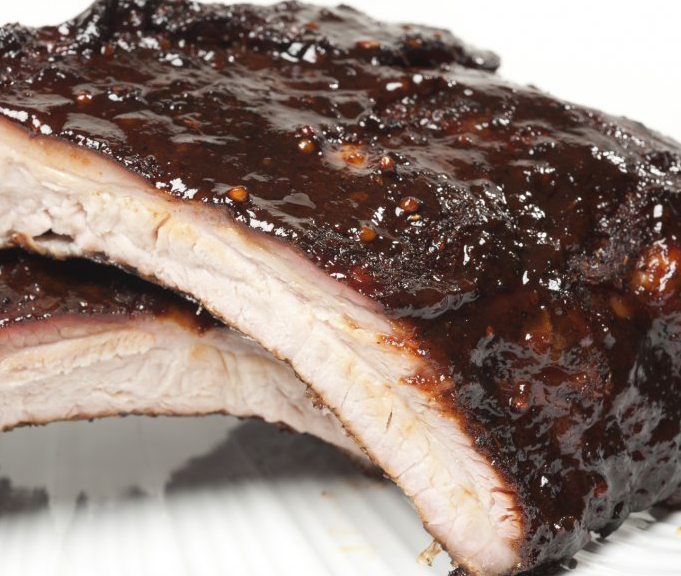 Both the NFL and college football seasons are in full gear, and while we're curious to find out if the Seahawks and Seminoles can pull off repeats, we're even more excited about the start of another season: tailgating season. There's no better time to fire up the grill for burgers and brats and washing 'em down with cold craft beer. We're always on the lookout to up our tailgate game and reached out to several chefs for tips. But not just any chefs. We checked in with college football diehards – alums of some of the country's most renowned university football programs – to ask for their go-to gameday recipes. Here's what we found out.
Stephanie Izard (University of Michigan)
Izard certainly needs little introduction. She was the first female victor of Top Chef, having taken home the top prize in Season Four. The Connecticut native went on to open Girl & the Goat in Chicago, a James Beard Award-nominated restaurant that was given the title of "America's Best New Restaurant" by Saveur. Izard was also named one of Food & Wine's Best New Chefs in 2011 and has since opened her second restaurant, Little Goat, in the Windy City.
Servings: 24 sliders
Ingredients:
3 1/2 cups roughly chopped onions
1/3 cup tomato paste
8 cloves roughly chopped garlic
2 tablespoons tamarind concentrate
3 tablespoons yellow mustard
1 1/2 teaspoons dark brown sugar
3 tablespoons malt vinegar
2 1/4 teaspoons soy sauce
2 1/2 pounds canned diced tomatoes, with juice
3 tablespoons miso
a splash of hot sauce
5 pounds ground goat
4 cups shredded cabbage
1 cup rosemary aioli
2 dozen soft dinner/slider rolls
Directions
In a large pot, heat 2 tablespoons of vegetable oil over medium-low heat. Add onions and cook them until soft and translucent, taking care not to brown them, about 10 minutes.
Add garlic and tomato paste and cook for two minutes. Add the tamarind, yellow mustard, dark brown sugar, malt vinegar, soy sauce, tomatoes, miso and hot sauce and simmer for 60 minutes.
In batches, transfer mixture to a blender and process until very smooth.
Working in batches, brown the goat meat in a large skillet. Transfer goat meat to a pot and cover with the sauce. Heat over medium low heat and keep warm.
Mix the cabbage and aioli in a bowl and season with salt. Toast the buns. Scoop 8 ounces of sloppy goat into the bottom buns. Top with a handful of the rosemary cabbage slaw and cover with the top bun.
Lauren Hirschberg (Syracuse University)
Over the course of a decade, Hirschberg has worked his way through the ranks at New York City's Craft and Craftbar under the guidance of Tom Colicchio and Damon Wise. After a stint as Executive Chef at Craftbar, he was promoted to Director of Culinary Operations for Craft Restaurants.
Homemade Hot Sauce Recipe
For Hirschberg, a quality chicken wing recipe begins and ends with the sauce. Here, he ups the Scovilles with dry and fresh chili, but layers flavor with vinegar and honey. For a chef-like spin, he brines his bird in yellow mustard and pickle juice prior to baking or frying.
Servings: 6-8 cups
Ingredients:
2 cups assorted dry chili (chipotle or guajillo)
2 cups of water
1 jalapeño pepper
1 fresno chili pepper
1 cup chopped onion
1 tablespoons chopped garlic
1 tablespoons tomato paste
1/4 cup of chili paste
1 tablespoon black peppercorn
1 tablespoon mustard seed
1 tablespoon cayenne pepper
2 tablespoon salt
1/4 cup of sugar
2 cups distilled white vinegar or apple cider vinegar
1/2 cup of honey
1 lemon, juiced
1/2 pound melted butter (optional)
Directions
Toast the dry chili peppers in a sauté pan over medium until they become fragrant. Add the 2 cups of water and bring to simmer for about 5-10 minutes, the peppers should be softened at this point.
While the peppers are simmering char the jalapeno and fresno chili. This can be done on a grill or over the open flame of your stove using a pair of tongs. They should start to turn black and the skins will begin to peel.
In a saucepan, sweat the chopped onions with 2 tablespoons of oil until tender and translucent, about 8 minutes. Add tomato paste to the onion mixture, allowing the tomato paste to actually fry in the pan for about 30 seconds. It will begin to stick to the bottom a little, which is fine as long as it does not burn. Add the dry chilies including the water they were simmered plus the peppercorns, chili paste, mustard seed, cayenne, sugar, salt and vinegar. Bring to a simmer and let cook about 15-20 minutes.
Remove from the heat and allow to cool to room temperature for about 20 minutes before transferring to a blender to puree. You want the sauce to be cool when blending so that you can taste the heat from the sauce and not confuse it with a temperature-affiliated heat. This will allow you to adjust the seasoning, sweetness and spice if desired.
Purée the sauce until smooth, adding the honey and lemon juice while blending. If planning on using the sauce immediately continue to purée while adding the melted butter.
How to cook your wings for tailgating
Ingredients:
5 pounds chicken wings
1/2 cup of yellow mustard
1/2 cup of pickle juice
Directions
Preheat oven to 300 degrees. Remove the wings from their packaging and rinse them in cold water. Allow them to drain and transfer to a bowl. Combine the mustard and pickle juice and toss the wings with this mixture. Allow them to marinate for up to 1 hour and as long as overnight.
Lay the wings out onto baking sheets and cook in the oven for about 30 minutes, brush the wings with some of your hot sauce and cook for another 15 minutes.
After 45 minutes the wings will be fully cooked, but may not look very glazed or "finished" on the outside. Don't fret, since you will achieve that award-winning appearance by recooking them at your tailgate.
Let the wings cool, pack them up and bring to the stadium, where you can throw them right onto the grill to give them a little char and crispness. They will only need to cook 3-5 minutes over high heat to achieve this.
Toss them in a bowl with more sauce to coat and serve. An alternative method is to deep-fry them at the stadium at 375F in place of grilling them.
Josh Capon (University of Maryland)
Capon is Executive Chef and partner of New York City's Lure Fishbar. He is also the reigning consecutive four-time winner (he tied last year with Guy Fieri) of New York City Wine and Food Festival's Burger Bash.
Baby Back Ribs Recipe
Nothing says tailgating food more than a full rack of ribs. Capon uses a number of evenly proportioned spices — along with a half-portion of cayenne pepper — to make up his dry rub, which he recommends marinating the ribs in overnight. "The longer the better, but a few hours is more than enough. And don't be afraid to get in there — to work and massage it." You heard the man. There will be leftover rub with this recipe, which should be kept tightly sealed in a container or jar.
Servings: 2
Ingredients:
1 full rack baby back ribs
For the dry rub:
1/2 cup paprika
1/2 cup cumin
1/2 cup kosher salt
1/2 cup turbinado or brown sugar
1/4 cup cayenne pepper
1/2 cup onion powder
1/2 cup garlic powder
1/2 cup dried thyme
For the sauce:
2 cups of your favorite BBQ sauce
1/2 cup aged sherry vinegar
Directions:
Mix together the sauce ingredients.
Evenly coat the ribs with the dry rub and let marinate for 2-3 hours or overnight in the fridge.
Bake in a 275 degree oven on a roasting rack for approximately an hour an a half, turning every half hour. You can also cook them on a BBQ at a low heat, but you will need to a very good eye on them to keep them from burning.
Shut the oven off when ribs are cooked and tender and let sit in oven while oven cools for another 20-30 minutes.
Remove and coat all sides with the BBQ sauce. Serve immediately or wrap in plastic wrap and place in fridge until ready to eat. This can be made 2-3 days ahead of time.
When ready to serve either heat up in oven or on the grill, slice and serve with the relish.
Charlie McKenna (Florida State University)
As head chef of Chicago barbecue standout Lillie Q's, McKenna holds the distinction of graduating from Florida State University, a campus known for both a renowned party scene and a perennially ranked football team. Turns out that McKenna has received some national recognition of his own, having taken home hardware at Memphis in May, widely regarded as the world championship of barbecue.
Remove silver skin off back of ribs with an oyster knife or the back of a spoon.
Rub the fronts and backs of the ribs with French's Yellow Mustard.
Heavily coat the ribs with your dry rub by sprinkling it over your ribs. Do NOT rub the rub into the meat.
Put ribs into a smoker that is cold. Bring the smoker temperature up to 225 degrees and maintain that temperature. Let the ribs smoke for two hours.
Wrap your ribs twice in aluminum foil and put them back on the smoker for another two hours.
Unwrap your ribs and put them back in the smoker for another hour.
During the last hour, mop your ribs with BBQ sauce every 15 minutes. Remove, eat and enjoy!