How Barbecue Has Become New York City's Most Addictive Smoking Habit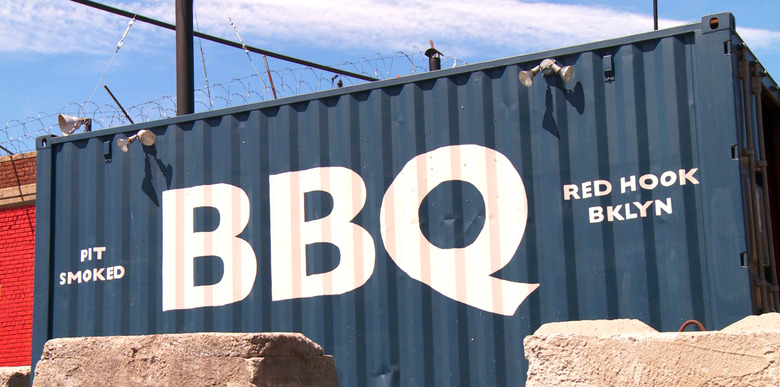 It sounds like the set-up to a salsa commercial. Two guys from Texas walk into a New York restaurant. They've come to taste-test the best big-city approximation of their home state's most cherished culinary specialty. No, not salsa. Something much more sacred: barbecue. And, the punchline isn't as predictable as a couple of cowboys guffawing about ironic points of origin: New York City!?
Quite the opposite, in fact: "The food there was just phenomenal," says Daniel Vaughn, the "BBQ Snob" of Twitter fame and author of the 2013 book The Prophets of Smoked Meat. Vaughn, who made headlines around the food media sphere with his appointment as the first full-time "Barbecue Editor" at Texas Monthly magazine, was referring to the fare at Hometown Bar-B-Que in Red Hook, Brooklyn, of all places.
Since the opening of Blue Smoke in 2002, New York City has made tremendous strides toward shedding its historical reputation as a barbecue backwater — more than 30 brick-and-mortar restaurants (and counting) are currently dishing up one style of barbecue or another across the five boroughs.  We're talking about authentic barbecue, mind you, the kind that's slow-cooked over real smoldering wood. Not grilled or baked in some conventional gas oven, with possibly a dash of the pitmaster poseur's notorious cheat: liquid smoke. But, only recently has the quality of New York 'cue risen to such a level that it merits even a mention in the national conversation.
Food Republic Original Video: A Visit To Hometown Bar-B-Que In Red Hook, Brooklyn 
Vaughn says he was particularly impressed with Hometown pitmaster Billy Durney's take on a Texas-style beef rib — even going so far as to compare it to the vaunted version at Louie Mueller Barbecue in Taylor, TX, the standard-bearer for the genre. "It was really spot-on," Vaughn says. "It was so similar to a Louie Mueller beef rib." That's a bold statement, especially considering that the guy sitting beside him at Hometown that night was none other than Louie Mueller descendant Wayne Mueller. Says Vaughn, "I looked at Wayne and I was, like, 'Wayne, is this where you've been learning how to do beef ribs?'"
Vaughn readily acknowledges that he and his dining companion probably received preferential treatment at Hometown that night. Having a renowned barbecue writer in the house is enough in itself to encourage any pitmaster worth his oak to serve up the very smoky best. Add an industry icon like Mueller — someone who the resident head chef looks upon as a mentor, if not a God — and the staff is likely to ignore other patrons entirely. "He was definitely looking to impress," Vaughn says of Hometown's Durney. "But, in the end, you can't impress if you can't cook it."
And yet, to Vaughn, the Texas-quality beef rib isn't the most compelling thing about Durney's cooking at Hometown. Rather, it's his uniquely New York spin on other stuff. "Doing things like the smoked lamb belly, the pork belly tacos, the jerk baby back ribs — the touches like that, where he's taking the flavors that he grew up with in New York...and really trying to make those part of his barbecue repertoire as well is, to me, more impressive," Vaughn says. "It was one of the more refreshing things that I've eaten this year from a barbecue standpoint."
And, it's something you'd probably never see in Central Texas, or Memphis, or Kansas City, or any other reputable barbecue mecca with strict traditions to protect.
"If they try to make a jerk rib in Ayden, N.C., at the Skylight Inn where my good friend Sam Jones operates, they'd hang him up by his shoe strings," says Hometown's Durney. "We're really proud of the fact that we have no rules. We don't have to cook whole hog because our granddad or greatgranddad was a hog farmer....Here in New York, we can essentially do whatever we like. We don't have to adhere to any legacies."
From Hobbyist To Hotness
Durney might be the poster boy for what some are now calling "New York-style" barbecue, except that he would never call it that. The imposing former bodyguard eschews labels, including his new professional title, "pitmaster," a term he describes as "a little ridiculous." He prefers to be called Hometown's "head fire maker." After all, it's not about him; it's about the fire. That's the secret to great barbecue, he says: "tending a great fire."
That sort of folksy wisdom doesn't exactly come naturally to city dwellers. Like most native New Yorkers, Durney didn't grow up with a raging fire pit in his backyard. For a Brooklyn boy like him, the closest thing to authentic barbecue was the smoky street food that his Caribbean neighbors along Flatbush Avenue cooked outdoors on grate-covered shopping carts. "Those smells are what inspired me to do the Caribbean jerk [ribs]," he says.
Durney's passion for barbecue mostly stems from his travels outside the city, both to the American South and also to South America. His appreciation for Texas traditions, in particular, is evident in the Lone Star State–shaped BBQ tattoo on his right ankle. But his cooking technique was perfected right here in the Empire State, sitting out on his small patio deck in South Park Slope and tending to the ribs on his modest 18-inch Weber Smoky Mountain Bullet. "I was a hobbyist," he says. "It became an obsession to get it right."
Durney considers himself a traditionalist in the sense that he sticks to authentic Southern-style smoking techniques. He just likes to manipulate the flavors. Presently, he says he's developing a vegetarian sausage and also an Asian bao. There are several other big-city barbecue joints that remain fiercely loyal to Texas traditions, and Durney respects that. But, when you come from the melting pot, he says, it's important to take a "worldly view." Call it whatever you like. "If people want to call my style 'New York style,' then I'll carry that torch," Durney says.
The Blue Smoke Effect
Durney may relish his own freedom from the crutch of strict regional authenticity. But, his city's utter lack of a barbecue tradition wasn't always viewed so positively. People used to gripe about it. A lot. A 2003 article in The New York Times describes a fledgling barbecue scene made up of mostly imitators who were often cutting corners, using techniques ranging from parboiling to liquid smoke. True wood-smoked barbecue was virtually unheard of in the city, with a few notable exceptions. Longtime enthusiasts point to early pioneer Robert Pearson's Stick To Your Ribs in Queens, which faded away long before the current barbecue boom.
A major impediment for would-be barbecuers involved the city's clean-air rules — or, more precisely, figuring out what the rules actually were.
"The city didn't even know how to deal with what we were trying to do," says Mark Maynard-Parisi, senior managing partner at Blue Smoke, of their opening in 2002. The brainchild of reputed Midas-touch restaurateur Danny Meyer, Blue Smoke gets a lot of credit for demonstrating that legitimate wood-smoked barbecue can be done in New York City. Setting that precedent, however, took considerable effort.
Maynard-Parisi, a former general manager at Meyer's popular fine-dining restaurant Union Square Cafe, describes it as an "educational process" for both the operators and regulators alike. What they learned was that making legit barbecue — and doing it indoors, smack in the middle of Manhattan — was going to be costly. In fact, it would be roughly twice as expensive as the usual New York restaurant, at least in terms of the required ventilation. Your typical steakhouse, for instance, with its gas-fueled grills and broilers, requires only a single flue. Add a separate fuel to that equation, like wood, which Blue Smoke burns in addition to gas, and you need a second flue, too. "That meant it was double the price," Maynard-Parisi says.
Expensive, yes, but still doable: "We just had to get creative with our engineers and kitchen designers and even our manufacturers," Maynard-Parisi says. "Ole Hickory, the company which made our pits, thought we were crazy. It took a lot of effort. But, in the end, we just needed to do a really good job of explaining what we were doing, having the right designers on board to help us tell that story and get everyone comfortable with the idea that we weren't going to burn down half of Manhattan."
So far, so incombustible. After an initial period of nearly daily visits from alarm-roused fire officials, Maynard-Parisi proudly reports that smoke levels at the restaurant have never gotten out of hand. Not dangerously, anyway. "We've never had a fire, so that's good," he says.
Logistical issues aside, Blue Smoke helped set an important cultural precedent, as well. Coupled with the opening of  classically trained chef Adam Perry Lang's own Daisy May's BBQ in 2003, it represented the first time that big-name New York restaurateurs were showing an interest in doing Southern-style barbecue. And, doing it right.
Food Republic Original Video: How Do You Define New York City Barbecue?
An Influential Festival
Six months after opening Blue Smoke, Danny Meyer's crew also began planning the first Big Apple BBQ Block Party — an event which Maynard-Parisi now calls the "mother yeast" of New York's burgeoning barbecue community. The idea was to bring renowned pitmasters from across the country to the big city and thereby expose New Yorkers to the various regional styles of barbecue. "It took a lot of arm-twisting to get people to come to New York," Maynard-Parisi admits. But a small group of initial recruits made the trip, including champion pit master Mike Mills of Southern Illinois' 17th Street Bar & Grill, also a founding partner of Blue Smoke. They set up outside of Blue Smoke amid some rather unfavorable conditions. "It rained for three days — the whole time," Mills recalls. Yet people turned out, even despite the lack of proper to-go boxes to keep their barbecue dry. "They came with pizza boxes, they came with Tupperware," Mills says. "We were actually overwhelmed."
Now in its 12th year, the Big Apple BBQ Block Party draws an estimated crowd of some 150,000 who converge on Madison Square Park to sample the smoky delicacies of more than a dozen selected pit masters. You could say that the festival has accomplished its original mission. In a speech on the eve of this year's big bash in June, Danny Meyer announced that more than 30 authentic barbecue restaurants are now operating in New York City — a dramatic increase from the meager handful that existed only a dozen years ago (see illustrated chart below). What's more, the festival itself, which once primarily showcased the talents of out-of-towners, would feature five NYC pitmasters in 2014. This included the special "guest pitmaster," announced just days beforehand — none other than Brooklyn's own Billy Durney.
"We're making believers," says Durney, who prepared about 1,100 racks of beef ribs for the big bash. "New Yorkers and Brooklyn people, directly, should be really proud of what's going on with barbecue right now."
NYC Pitmasters Find A Voice
Some say it was inevitable that a culinary capital like New York would figure out barbecue sooner or later. "When you have such great talent in New York for cooking and then they absorb what barbecue is — that's an explosive situation right there," says Jean-Paul Bourgeois, the recently appointed executive chef at Blue Smoke.
Various other factors may have played a role in supporting the barbecue boom, as well. Ask any operator of a barbecue joint in town and he's sure to offer some thinky reason beyond the simple explanation that smoke-kissed meat just tastes great.
You can start with the terrorist attacks on the World Trade Center in 2001. In the flag-waving, champagne-dumping days that followed, fancy French cuisine, which had long dominated the New York restaurant scene, fell out of fashion — offering a big opportunity for a uniquely American style of cooking, like barbecue. "The fact that we opened a soulful barbecue restaurant six months after 9/11, that was pretty good timing — even if it sounds horrible to say," notes Blue Smoke's Maynard-Parisi. "If we were opening a fine French restaurant, I think that would have been highly problematic."
Another downtown disaster — the economic downturn of 2008 — was also a boon to NYC barbecue. "When the recession hit, people clearly began trading down from fine dining to more moderately priced cuisine," says Marc Glosserman, founder of Hill Country, which opened in Manhattan in 2007. Modeled on the illustrious Kreuz Market in Lockhart, TX, Glosserman's influential counter-service restaurant was among the first in NYC to focus strictly on a single regional style of barbecue at a time when predecessors like Blue Smoke and Daisy May's were still offering a sort of pan-American assortment of various specialties.
Glosserman, an East Coaster with familial roots in Central Texas, was banking on the business of Southern transplants who craved the foods of their youth, much like himself. He wasn't expecting the surge of corporate business from companies that would normally, during a more robust economic climate, book their private events at some place a bit more sophisticated. "People still want to celebrate even when times are tough," he says, "but they don't want to seem indulgent and conspicuously spending money."
With barbecue, of course, the perception of affordability doesn't always jibe with the reality, especially in New York. Glosserman notes that Hill Country initially experienced "some real pushback" over its prices. High food costs and astounding rents make big-city barbecue a costly enterprise, to be sure. "There just wasn't much of a precedent for charging the types of prices that we needed to charge in order to be successful," he says.
Glosserman also points to the rise of food-themed TV as a factor in New York's growing interest in barbecue. Shows like BBQ Pitmasters, which debuted in 2009, exposed urbanites to mouth-watering visuals from far-flung places without the hassle of having to leave the comfy confines of their tiny city apartments. "For the first time, you could have those vicarious barbecue experiences, where you'd be in some small town in Texas, you could see the pit master and you'd get a sense of what authentic Texas barbecue was supposed to look like and potentially feel like from what you saw on TV," says Glosserman.
Then there's the larger cultural shift in the way that today's diners approach food. Consider the advent of the fast-casual concept, that mid-range option between fast food and a sit-down full-service dinner that defines chains like Chipotle and Panera Bread. "I don't think it's a coincidence that fast casual as a format has grown so quickly across food categories at the same time that barbecue has become so popular," says Micha Magid, co-founder of Mighty Quinn's BBQ, where patrons fill up their trays cafeteria-style with chef Hugh Mangum's acclaimed brisket just like the crowds at Chipotle with their burrito bowls. "Barbecue so naturally lends itself to fast-casual.  So, you have this one-two punch of people want this food and they also want it in this format."
At Mighty Quinn's upcoming third NYC location in the West Village, Magid says he'll be rolling out a new wine program – illustrating that demand for barbecue in the city today is bigger than the usual whiskey and beer demographic. "The customer that's enjoying barbecue is much more diversified than they were 15 years ago," he says.
Food production has also changed. "I think this renaissance in barbecue is very analogous to everything that's happening in food culture," says Daniel Delaney, proprietor of Brooklyn's BrisketTown restaurant. Delaney is another barbecue hobbyist who used to smoke meat on his roof before turning his passion into a full-time enterprise. Prior to opening the restaurant in 2012, Delaney famously pre-sold 3,400 pounds of brisket over the Internet in just 48 hours. Delaney says the revival of old barbecue traditions closely mirrors the return to classic craftsmanship in all sorts of food categories: "You see artisanal butcher shops coming back. Cheese production is being done once again by hand. People are really concerned with where food is coming from, how it's sourced, where it's grown. It's just more attention to the detail of how food is made. I think people are becoming less thrilled and enthralled by the sort of pomp and circumstance of fine dining, and so there's sort of a regression to these older heritage styles of food and food production. And, I think barbecue fits in line with where we're moving as a food culture in the United States at large."
But, perhaps the biggest driver of the barbecue boom is simply the personalities who are putting their livelihoods at stake simply out of love for the stuff. "I have yet to meet a new pitmaster in NYC who isn't doing it for the sheer passion of BBQ," says Tyson Ho, proprietor of Brooklyn's forthcoming Arrogant Swine. There are many more lucrative restaurant concepts, Ho notes — genres based on cheap starches, for instance, not pricey meats. "From a restaurateur's point of view, we're all idiots for doing this barbecue thing," Ho says. "Meat is really expensive, and wood costs me more than meat," says Josh Bowen, operator of John Brown Smokehouse in Long Island City, Queens. "If it wasn't for beer sales, we'd probably be out of business." The lifestyle, though, makes it worthwhile. "When I started making barbecue, you know, you wake up at five o'clock in the morning happily, and then you crack a beer, and then you start the coals," says Bowen. "You sit there all day and just cook barbecue, drinking and hanging out. Barbecue is a party."
Brooklyn Fresh Air
The biggest growth sector in New York barbecue right now is, of course, Brooklyn. Williamsburg's Fette Sau first blazed the  trail, opening in a former auto-body shop back in 2007. Since 2012, at least nine new barbecue restaurants have opened in Brooklyn. And, for good reason: you don't need some astronomically expensive ventilation system à la Blue Smoke when you can set up in some edgy former industrial neighborhood like Bushwick or Red Hook.
"My closest neighbor is a stainless steel fabricator," says Arrogant Swine's Tyson Ho, who describes his concept as a mash-up of German-style beer hall and North Carolina-style whole-hog barbecue. "No one's complaining about the smell. I'm in a very isolated area. I could be outside, like, slaughtering chickens and worshipping satan and no one would give me an issue."
At Hometown, Durney and Co. put a smoker right out on the street for the first few months after it opened. No one seemed to mind. Presently, the smoking is done inside a pair of tricked-out shipping containers, located about two blocks from the restaurant, on a quiet dead-end street near Valentino Pier. The makeshift facility, marked "BBQ" in big bold letters, is outfitted with electricity, lights, sinks and, of course, chimneys. "It's almost like a little restaurant," Durney says. "We'll be serving out of it at some point." The presence of picnic tables and a conspicuously posted notice for a pending liquor license shows that he's serious.
Avoiding smoke-phobic neighbors wasn't the only reason that the Hometown crew picked such an out-of-the-way spot, far from the big-city hustle and bustle, a good schlep from even the nearest subway line. "We chose this location because it was down at the end of the road," says Hometown co-owner Christopher Miller. "Every barbecue place that we love is a destination. It's a drive, it's a trip....By the time you get there, the meat tastes that much better."
On a recent Friday morning, Durney pulls up in his shiny black pickup truck, accompanied by his dog, Otis. "Country Boy Can Survive" by Hank Williams, Jr., is blaring in the background, as Durney slips into a pair of black rubber gloves to check the progress of his beef ribs. Durney's chief lieutenant, Nestor Laracuente, has been working the graveyard shift, tending the fire throughout the night. Hometown prides itself on being one of the few places in town that smokes its meats all night long. "We do everything by feel here," Durney says, gently massaging the ribs with his fingers. "We don't use thermometers." He decides that the current batch could probably use another hour or two on the fire.
From the deck of the improvised smoking facility, you can make out the Statue of Liberty in the distance. A sign at the edge of road reads "DEAD END," which seems only appropriate — the remote spot feels like the end of the earth. Durney smiles at the suggestion. "We want to be at the end of the earth," he says. "We want to be like no place else."