10 Chef-Endorsed Products That You Will Actually Want To Use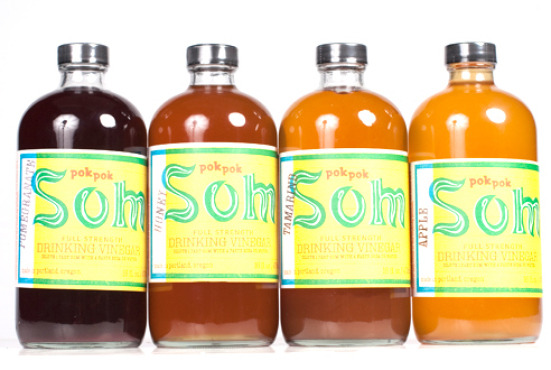 We may receive a commission on purchases made from links.
They've conquered primetime and infiltrated airstrips from New York to Narita. Now, the world's top chefs are taking on the checkout aisle. Forget Emeril's canned kids' meals or Rachael's lasagna luggage. The newest wave of chef-helmed products uses hyper-local ingredients and authentic recipes straight from their illustrious kitchens. If you're wondering how to make a Michelin-starred bloody mary, or what top pitmasters use to tenderize their meat, you're in luck. Here are 10 boldfaced goods that redefine the supermarket sweep.
Jose Garces: Roasted Garlic Dulce de Leche
Philly's adopted son makes good with a new line of Spanish-accented sundries, like a creamy butter that combines smooth, milky caramel with rich garlic confit. Garces likes it so much, he serves it on cheese and charcuterie boards at his Amada and Tinto restaurants. $8, garcesgroup.com
Andy Ricker: Som
Thai drinking vinegars, served with soda (and tequila) at Ricker's Pok Pok restaurants in Portland and New York, are the best things missing from your cocktail arsenal. Order a bottle of Ricker's Som Tamarind vinegar, mix it with gin or whiskey, add some soda water, and you're ready for anything. $15, shop.pokpoksom.com
John Rivers: All-Purpose Rub
4 Rivers Smokehouse chef John Rivers, the pitmaster at large in Orlando's impressive emerging dining scene, shares his custom-blended spice rubs with the 'cue community. We're partial to the all-purpose rub, which tastes just as good on char-grilled kebabs and roast chicken as it does on scrambled eggs. $4.50, 4rsmokehouse.com
Mario Batali: Tomato Basil Sauce
Those of us with Italian or Italian-American heritage may cringe at the thought of jarred pasta sauce, but Molto Mario's garlicky, tomato-basil gravy is worth a shout-out. The $8 price tag may seem lofty, but the ingredients are 100% aligned with the marinara recipe in Batali's Babbo Cookbook, right down to the last San Marzano. $8, eataly.com
Christina Tosi: Compost Cookie Mix
More pastry class than convenience item, this mix for Milk Bar's signature compost cookie elevates baking from a box. Tosi's detailed instructions include a tutorial for her 10-minute butter creaming process and advice on which unsalted butter is best. But the end result, all warm middles and crispy edges, is pure Momofuku magic. $16, shopmilkbar.com
Marc Forgione: Batch 22
Most pre-made mixers are not worth their weight in fructose, but Michelin-starred Marc Forgione's bloody mary mix is a notable exception. The Iron Chef uses the all-natural blend, thick with horseradish and tangy mustard, with shrimp cocktails at his American Cut steakhouse. At brunch service at Khe-Yo and Restaurant Marc Forgione, bartenders serve Batch 22 on the rocks with a shot of mezcal (Forgione's preference) or vodka. $12, amazon.com
Spike Gjerde: Espelette Pepper
You already know about Woodbury Kitchen's awesome, locally sourced Snake Oil that has us asking, Sriracha who? Now, get hip to the hotness of Chef Gjerde's hand-ground Espelette Pepper, made with organic, Maryland-grown Capsicum. The smoky seasoning can be shipped from Baltimore, with love, to anywhere in the U.S. $9, woodberry-kitchen.myshopify.com
Bill Kim: Belly Bomb
From the Chicago restaurateur who brought you reimagined Korean table classics like Seoul Sauce and Belly Fire comes this spicy staple, powered by incendiary bhut jolokia, or ghost peppers. The chunky brew is surprisingly complex, with notes of oregano and tropical fruit plus an awfully balanced burn. $8, available at Whole Foods in the Midwest
Jose Andres: White Tuna in Olive Oil
After years of bringing his Spanish swagger to the District's preppy, pleated khakis set, Andres has launched a national line of goods straight from the motherland. The white tuna in olive oil is made from fish caught in-season in the Cantabrian Sea, and packed fresh to retain texture. $13, joseandresfoods.com
Stephanie Izard: The Sauté
The girl with the goat obsession also produces a line of sauces, but not just the usual zing-til-it-hurts hot sauces. This one's for adding to veggies to pump up flavor and add a creamier texture. The technique's simple: Just heat up the pan, coat with a light layer of the Sauté sauce, stir in whatever vegetables you have on hand, sauté until ready and you've got a filling side dish. $9.95, shop.girlandthegoat.com
Check out these gift guides on Food Republic: