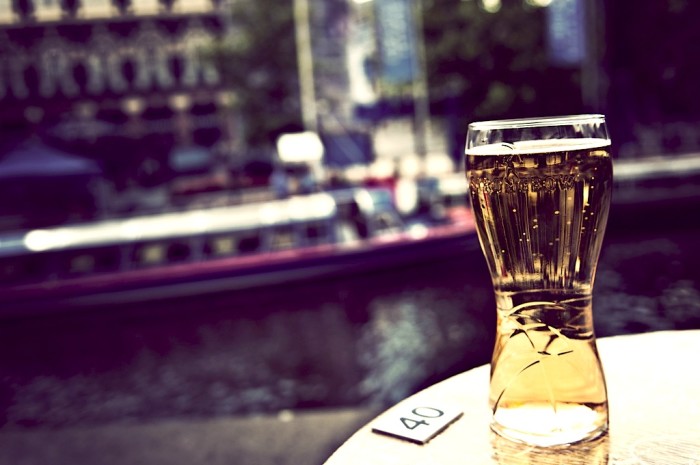 I took my first sip of beer on a hot summer night. I was about 11 years old, at a Cincinnati Reds baseball game with my dad. A vendor shuffled near, hawking some variety of mass-produced suds, maybe Bud. My father extended an index finger. The vendor poured him a cup of something cold and carbonated, and they completed the transaction.
My dad took a sip, then another. He sighed. "Can I try too?" I asked, curious as a cat. He looked around the stadium. The fans were more concerned with Barry Larkin's at-bat than his beer. He covertly passed it to me. I sipped. It was bubbly and bitter, an unfamiliar combination that I eagerly sampled again. "That's enough, Josh," my dad said, reclaiming his beer. It was my last taste till I was 17, when I had a torrid love affair with beer bongs. In between, I learned nothing about moderation, nothing about the nuances of beer. It was like going from kindergarten to college, with no education in between.
That's not the case in Belgium. The European nation has a long-running tradition of tafelbier — that is, table beer. Classically, these are light-bodied, low-alcohol beers that are partnered with meals and savored by both adults and kids alike. (In fact, table beers used to be served to students in school. Sure beats the pants off a carton of chocolate milk, huh?) Like French parents pouring their offspring watered-down wine, table beers helped families teach their offspring about beer, and alcohol, in a responsible manner. Though the lightly boozy beers have lost their luster in recent years due to the rise of soft drinks and bottled water, there are still a number of renditions worth seeking out.
Go on, belly up to the dinner table with these 5 table beers:
Brasserie Dupont: Avril
Though the Belgium farmhouse brewery's saison earns oodles of rightful raves, the 3.5 percent Avril is equally excellent. It's funky and earthy, with delicate flavors of grass and straw.
Flying Dog and The Brewer's Art: Table for Two
At 5 percent ABV, the just-released collaboration between the Maryland brewery and the Baltimore restaurant clocks in a touch stronger than the typical table beer. But it drinks clean and dry, with a fruity, yeasty and slightly sweet aroma—that's due to a dose of wildflower honey.
Jester King: Das Wunderkind
If you find yourself in Austin, Texas, seek out this farmhouse-style brewery's soon-to-be-released riff on table beer. It's dosed with wild yeasts and bacteria, then aged in French oak wine barrels. Expect a dry, tart character paired with plenty of carbonation.
The New Albanian Brewing Co.: Tafelbier
The Indiana-based brewery specializes in unusual brews such as this take on the tafelbier. It's bubbly, subtly sweet and gently bitter, with a grainy aroma of toast, biscuits and a touch of pears.
Burnside Brewing Co.: Le Bas Et Lumiere
Come spring, this Portland, Oregon, brewery releases its "Low and Light," a Belgian-inspired table ale with hints of bubblegum and bananas. Load of flaked oats create a full body.


---
Ever tried a table beer? Share your thoughts in the comments.