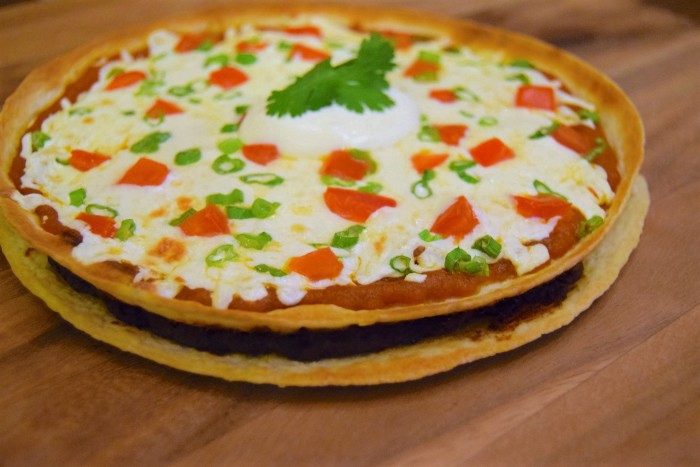 I don't eat fast food very often, but that's not to say I'm not intrigued by some of the creations those places come up with. Some are good, others are bad, but behind every bad food idea there are good intentions. Take, for example, the Mexican pizza being peddled by a certain fast-food chain. In theory, not terrible. It's like a mega-quesadilla-type thing and is certainly more acceptable than a "waffle taco" that's just a crappy waffle rolled up with reconstituted eggs.

Here's where they all go wrong: Their ingredients are shit. Any establishment that works on price point and volume is not going to use good ingredients. So we're going to emulate the Mexican pizza but use better ingredients and put some extra love into it to make something that's actually awesome. We're using my beer beans and habanero-carrot sauce, and some real Oaxacan cheese (which is stretchy and melts like mozzarella). Basically the overall flavor is miles ahead of the original. I opted to make these vegetarian in the spirit of simplicity, but if you want some meat, here are some options for your filling (leftovers work great):
Ingredients
Beer beans (see link above)

Habanero-carrot hot sauce (see link above)

Meat of your choice (optional)

8

medium-sized flour tortillas

1/2

pound

oaxacan cheese, grated

3

scallions, thinly sliced

2

tomatoes, seeds removed, diced

butter
Directions
For the pizza
Make beer beans and habanero carrot sauce and set aside. In fact, this is a great recipe for using up leftovers if you've made some of my chorizo and mushroom sopes recently.

If you're adding meat, go ahead and make that next (and again, a great time to use up leftovers)

Heat a skillet on medium-high heat and add enough butter to coat the surface.

Griddle half the tortillas on both sides until just lightly golden brown, and half the tortillas only on one side.

Once finished, reduce the heat to low.

Take the double-griddled tortillas and spread with habanero sauce (like you would with pizza sauce) then top with cheese, tomatoes and scallions.


Take the single-griddled tortillas, and top the cooked side with a layer of beans; if you're adding meat, this is the layer it goes into.


Place the double-griddled and topped tortilla on top of the beans, cheese-side up.

Put a little more butter into your skillet, put the pizza in, and cover with foil.

Once bottom is browned and cheese is melted, your pizza is done!

If the bottom browns faster than the cheese melts, use your broiler to finish off the cheese at the end.

Cut into wedges and serve immediately.