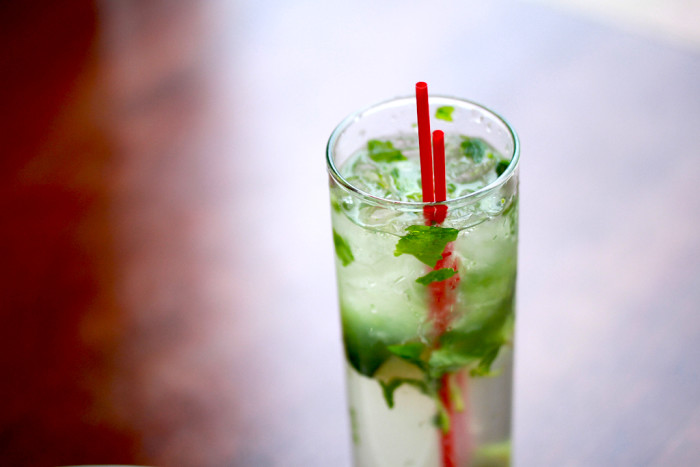 Like the martini, there are myriad ways to make a mojito, and I've probably tried all of them. Now I only make them in one way, a recipe I learned while working at Manhattan's Pegu Club. Too many mojitos tend to have a whole bunch of, um, shit in them. That shit being a veritable mélange of unwelcome mint and battered lime wedges. This version I actually call the 10-Second Mojito because that's about how long it takes to knock up, perhaps dispelling the myth that this is a laborious cocktail, which it can be.
The key is getting your hands on the freshest, crispest mint you can and squeezing some fresh lime juice. Most people favor a clean white rum. I like Flor de Cana (Nicaragua), Matusalem Platino (Dominican Republic), Appleton (Jamaica), Denizen (Trinidad) or the new Banks 5 Island, which adds a little more body and funk to your mojito. Or, if you can get your mitts on some, the Havana Club 3-Year-Old from Cuba. There are also different clones of mint out there now such as chocolate mint and, wait for it, mojito mint. Seriously.
Ingredients
2

ounces

white rum

3/4

ounce

freshly squeezed lime juice

3/4

ounce

mint simple syrup*

10

fresh mint leaves, torn into small pieces

mint sprigs, to garnish
Directions
How to Make the 10-Second Mojito
Add everything to a shaker with ice.
Strain into a tall glass over lots of ice.
Add a splash of soda.
Garnish with an obnoxiously large mint sprig.
*Bring equal parts white sugar and water to a low boil. Add 2 cups of torn mint. Allow to cool and strain.