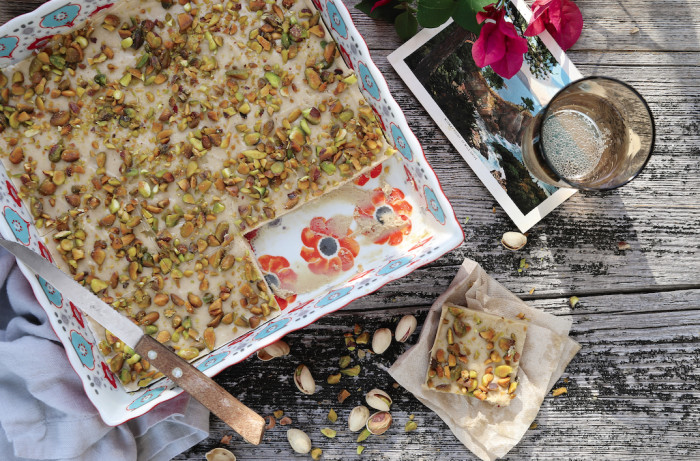 The salty-mouthed L.A. duo that goes by Thug Kitchen is perhaps the best known of the blog-to-book craze. Whether they're humorously shaming you into eating healthier or questioning the idiotic motives behind your favorite kitchen hacks, at the end of the day, they just want you to cook better. Their new book homes in on the fastest, easiest recipes that still look like you give a …well, you know. This tahini fudge recipe will be on the table in no time at all. 
"Tahini fudge sounds like a dessert you spent tons of cash on and tons of time hunting down ingredients. But this shit is super-easy and comes together in the blender, but we won't tell. Impress the hell out of your friends while staying true to your lazy roots."
Reprinted with Permission from Thug Kitchen 101: Fast As F*ck
Ingredients
1

cup

canned coconut milk

1

cup

tahini

1/2

cup

powdered sugar

1/4

cup

coconut oil

4-5

dates, pitted

1/4

teaspoon

salt

1/4

cup

chopped pistachios
Directions
For the fudge
Grab an 8-inch square baking dish and grease it up.

Throw the coconut milk, tahini, powdered sugar, oil, dates, and salt all together in a blender and let that run until it looks all smooth inside.

Pour into the baking dish, sprinkle with the pistachios, and refrigerate for at least 1 hour before cutting and serving.