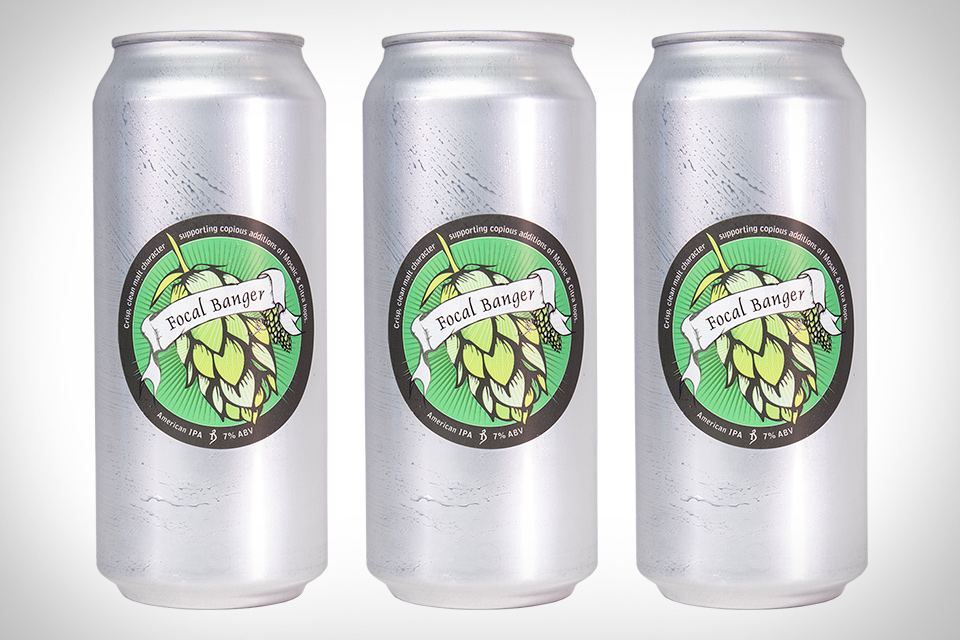 Today is the hoppiest day of the year: National India Pale Ale (IPA) Day! IPAs' reputation occasionally suffers from extreme bitterness being synonymous with the style. Today, that's largely a misconception. Sure, there are bitter, boozy bombs out there, and we can all thank the invention of the Triple IPA for that. However, the real beauty of the style is when you can balance hops with malt, the unsung hero of a good IPA. Do this and you'll achieve much more than a big bitter mess, you'll end up with a hopperatic opus.
New IPAs seem to drop every week, and with nearly all 3,000 breweries in the country producing at least one, it can be difficult to discern the best of the best at your local craft beer store. These 7 hoppy IPAs, which we first wrote about several years back, are nearing classic status—so, yeah, worth seeking out and sipping asap.
1. Maine Beer Company's Dinner
MBC is one of the finest brewers of hoppy beers in the country. While anyone can make a single good hoppy beer, it's hard to imagine crafting a line that goes from session to double-strength in such refreshing fashion. Even at 8.6%, Maine's first Double IPA avoids being too boozy or bitter while delivering huge tropical hop flavor.
2. The Alchemist's Focal Banger
Years ago, Alchemist was known for a variety of brews besides their cult classic Heady Topper double IPA, but when their brewery was wrecked by Hurricane Irene, they became a one-beer brewery. They not only survived but flourished enough to diversify again, and this single IPA won't make you pine for Heady for a second. It really is amazing how much citrus flavor they pack into a single can.
3. La Cumbre Brewing Company's Project Dank
New Mexico got a ton of attention thanks to Breaking Bad. Now that the series is in the past, a serious contender for "cooking up the best dank" has to be La Cumbre, scorching the competition with their amazing hoppy brews. This clocks in just at the border of single IPA at 7.5% but the tropical and citrus hops are so juicy that you don't notice it at all. As Jesse Pinkman would say, "Hell yeah, bitch!"
4. Fiddlehead Brewing Company's Second Fiddle
Fiddlehead Brewing Company brings serious mastery of hop greenery to the craft beer game. With tons of grapefruit and tropical hops, this bad boy is second fiddle to none. As crazy as it sounds, one sip and you just might reroute your next Vermont beercation straight to Shelbourne and stay there.
5. Noble Ale Works's Citra Showers
Citra fever is in full effect — everyone has gotten on this fruity citrus hop train, but to pull it off well is another thing entirely. This might just be the best Citra-hopped brew on the West Coast. This double IPA packs a thunderous 8.8% ABV, but you get huge tropical fruits like pineapple, mango and orange with enough malt to balance even a hop storm this big.
6. Half Acre's Beer Hates Astronauts 
Inspired by the comic book God Hates Astronauts, this dank IPA uses exclusively Citra hops. Although it originally came out a few years back in 22-ounce bombers, Chicago's Half Acre now makes this in 16-ounce cans! Although it's no longer a shock to see awesome IPAs in cans, new ones with this much flavor and aroma bursting from the moment you punch the lid are still a thing of rare cosmic beauty.
Related: Yes We Can! More Than 500 Craft Breweries Now Canning Beer
7. Fort George Brewery's 3-Way IPA
Collaborations are awesome. What we have here is a rotating cast of two breweries partnering with Astoria, Oregon's Fort George. The 2018 version features the troika of Fort George, Modern Times and Holy Mountain, teaming to create an IPA that may require a trip to the Pacific Northwest to find, but don't let that stop you.
This post has been updated from an earlier IPA Day story originally written by Jon Katz.