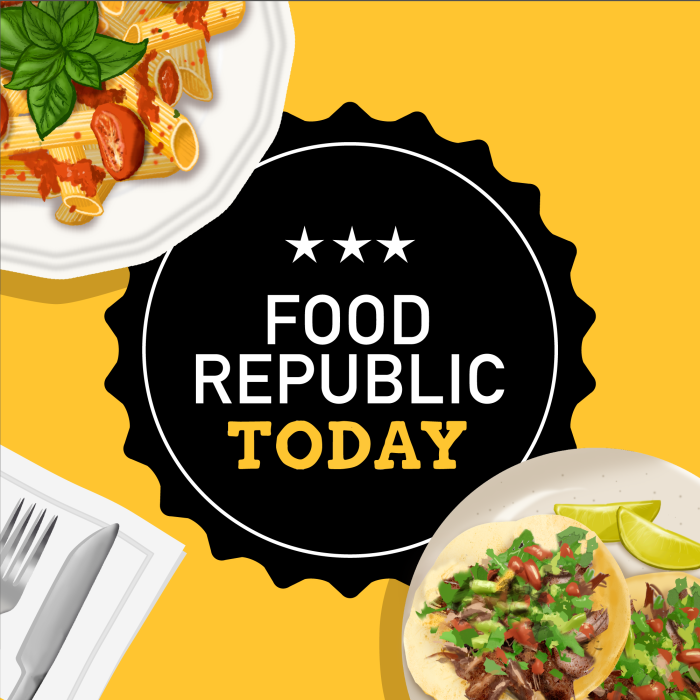 Food Republic Today is our new podcast, a one-stop-shop for food and beverage news, interviews with culinary all-stars, and entertaining bits about food from comedians and others. The podcast is designed to last about 30 minutes—just enough to get you through your commute or lunch break or morning routine. Please subscribe, rate us and leave comments!
On this week's episodes, we talked vegetables and sexual harassment with Amanda Cohen. We got personal with Deb Perelman to find out what drives the singular force behind Smitten Kitchen. And we went deep with JJ Johnson on his insanely tasty Afro-American cuisine, while hypothesizing why he's having a hard time finding funding for his next restaurant.
Along with my co-host Krista Ruane, we also caught up on all the food news this week.  We talked racism and gender discrimination in the restaurant industry, posited some theories about the recent spate of mergers in Big Food. The latest Instagram-friendly croissant mash-up has been announced. The USDA is jettisoning oversight over organic chicken. And McDonald's is betting bigger on the dubiously named McVegan sandwich. But of course you know all that if you've been listening!
A quick programming note: We'll have two new episodes next week, on Tuesday and Thursday, so stay tuned! In the meantime, here's what we learned from our guests this week:

1. Amanda Cohen (listen above) of NYC restaurant Dirt Candy brings up prescient points about why women haven't thrived in the restaurant industry. It's inhospitable to women who wan to have a long-term career, and of course it can be hazardous to their mental healthy, especially when pervy men hit on them or assault them. "This is an important thing: There are just as many women who start out in cooking as men do. Then the women are the ones that slowly drop off."
2. She stands by her Esquire.com story suggesting that one of the inherent flaws in the restaurant industry that enabled the sexual harassers is the media's focus on male chefs. "You know, we female chefs, we're here, we've been here," she says on the podcast. "Every time something bad happens in the industry, that's when we get noticed. We're not the first chef people go to when they have a story to tell or that they want to tell a story about. It's really the male chefs. You see a lot of women's names come up a lot when it's like, 'Oh, look, there are all these awards and they didn't get an award. Why are there no female chefs?' Now, it's like, "All these male chefs are really gross. Ask a female chef about it.' Well, yes, thank you for asking and thank goodness people are telling their stories, but at the same time, hey, maybe if you had talked to us beforehand, maybe we wouldn't be at this point because more women would feel comfortable telling their stories."
3. Cohen, like other women chef-restaurateurs in the industry who've spoken out recently, had better protocols in place to handle complaints from employees than apparently existed at larger restaurant groups run by John Besh and Mario Batali. The recent sexual harassment cases caused her to do some soul-searching about whether she or other management have ever been even verbally abusive to employees. She also reviewed her policies and made sure that employees had an authority to consult that wasn't within Dirt Candy management. "We've told them that there are outside people that they can go to, because obviously if I'm the asshole, who's going to come tell me?"

4. Deb Perelman of Smitten Kitchen (listen above) says her new cookbook, Smitten Kitchen Every Day, was inspired by real-life events. That is, having to feed a family  that includes two young children meant streamlining her approach. "I'm going to be completely honest, it's not always as much fun as it used to be because it has to be done. This is so different from, 'Ooh, should we make Julia Child's beef bourguignon just because it's a cold day?' Sure! I have five hours.' It's really hard to pull off with two little kids who need meals so often. They are always hungry. We're always like, 'We just fed you yesterday.'"
5. The new cookbook is big on vegetables. Why? It's not just the trend toward vegetable-focused dining. "I was a vegetarian for a long time," Perelman says. "I was a very opinionated 13-year-old. I was a vegetarian until I was 28. I think because of that I always look at meat as not mandatory for a meal. I like eating meat but I don't feel like I need to have it every day. If I've had it for two days, I'm definitely not trying to have it the next two days."
6. Perelman is a self-taught recipe developer, photographer and food stylist, but she's modest about the connection this has to her homespun popularity. "There's two things with the styling: one is I'm actually really lazy. Let's just pretend if there was to be a philosophy behind it, it would be who cares if my food looks really fussy and tweezer-perfect because you're going to make it at home and yours isn't going to look that way and you're going to feel bad about making my recipe. I don't see any value to that. And also, I'm lazy."

7. JJ Johnson (listen above) almost didn't get his current gig, a residency at Chef's Club in NYC, because one of the owners didn't like his initial tasting with the chef. But a two-day trial led to a waiting list of over 500, and a one-month residency was booked, only to have to be extended when that too draw unexpected crowds. "We did the month. Two weeks in, we were like, 'Whoa, this is a really busy restaurant.' People were coming from all over: Long Island, Westchester, Harlem, The Bronx. People who used to dine at Estela [said] they were going to come dine here now. I feel like I activated this community that was down there that wasn't potentially coming to Chef's Club before or I really activated a community in New York City."
8. Despite the accolades and a cookbook deal and the packed house at Chef's Club, Johnson has yet to secure funding for his next venture. He'd like to open his own restaurant, preferably in Harlem, but he's running into a familiar problem. "If you look at the industry, across the board, right now, I can name 20 chefs of color that are crushing it. And how many of them actually fully own their own restaurant? Like two, and they're not in New York City," Johnson says. "Sometimes I get slightly frustrated because if you really take me by my résumé and you just put it on paper and you put my name on top, you don't know what I look like. You're like, 'Oh shit, this dude has all these awards, he ran these restaurants. He's the real deal, let's give him a call.' But then I come in the room and you're like 'Oh, Joseph Johnson is a black guy.'"
9. Johnson isn't backing down from his fundraising efforts, though he acknowledges that it can be frustrating. "I teamed up with a gentleman who puts guys in hotels left and right and he said that nobody was interested in me. I'm like, 'You've got to be f-ing kidding me. I'm about to have a Times article! On the cover!' What do you mean? I have big brands that call me that want to do campaigns. They're the ones who are investing all the money in the campaigns and their major viewership is in Middle America, right? So, they have to know what's going on. So, why am I not able to get $500,000?
10. I asked Johnson about one of the best dishes I tasted all year, the peri peri prawns on his menu at Chef's Club (reservations are still available through the end of the year, btw!). I'll leave you with his response:
Cooking is nostalgic, right? So the first time I went to Ghana, I had peri peri prawns. They were super spicy. It kind of brought me to this light bulb moment. I was like, "How can I make this better?" The way they make it is a super dry rub, they roast the prawns, they marinate it. I said, "Let me pull these flavors so I can make an emulsification." Taking that culinary traditional root and making an emulsification. How can I make it brighter? Add orange juice, add orange zest. We marinate the prawns in some chili flakes, parsley, lemon zest, roast them in a cast iron pan. Peri peri sauce: tomato, ginger, garlic, orange juice, lots of Bird's Eye chili, blend it. Then on the bottom, which is like that secret ingredient, it's like these flapjacks. I used to go to Barbados as a kid with my grandfather and I used to always cry because I couldn't get pancakes. American boy, right? He was like, "It's the same thing, it just doesn't rise." I was like this is the moment for something sweet, you can pick it up, dip it into the sauce, get all that prawn stuff together. So yeah, it's like this refreshing, bright, spicy dish that can bring people back to a place where I'm cooking.