A story about Daniel Giusti could start with his unlikely rise to running the kitchen at Noma when it was the top-rated restaurant in the world, or with the day he approached his boss, Rene Redzepi, to tell him that he was quitting as head chef. Or it could begin with Giusti's unexpected nomination as one of 10 finalists for the 2017 Basque Culinary World Prize, which awards $111,000 to innovators who work to propel society in a better direction (the award went to Colombian chef Leonor Espinosa). But during a recent chat with Giusti, he relayed an anecdote that might be more relevant to his story than any of the above.
The scene: A middle school cafeteria in New London, Connecticut, where Giusti's company Brigaid launched last year with a mission to improve public school food. He'd just asked one of the chefs that Brigaid had hired how students were reacting to a new butternut squash soup that had been introduced to the menu. The chef replied that he thought the kids liked it, so Giusti, wanting to confirm this, sought out student opinion. "I go into the cafeteria and I ask one kid who was about 11, and he took a bite of soup right in front of me," Giusti recalls. "He was standing up and holding his cup, and I said, how do you like the soup? He starts walking and walking and I didn't know what he was doing. And we get to a trash can and he just spits it out."
Turns out pleasing American public schoolchildren can be trickier than satisfying diners at a world-renowned restaurant. Still, Giusti is committed to Brigaid, one of the most ambitious undertakings in the fight to get kids to eat better, with the ultimate goal of reducing childhood obesity. It's a vexing situation. There are any number of bleak statistics to cite, such as 67% of middle school students who eat school lunches being medically classified as either overweight or obese. Meanwhile, only about $1 per day per student is allotted for food and drink (after labor and other costs) in public schools, where corporate food service companies generally manage menus and budgets with little regard for children's health—or their tastebuds.
"There's not enough money to spend on food," says Bill Telepan, the New York City chef who serves as executive chef of Wellness In The Schools, a 12-year-old not-for-profit organization whose mission is to "inspire healthy eating, environmental awareness, and fitness as a way of life for kids in public schools." WITS has 100 NYC schools that use its programs of training and menu development, and now operates in three other states. It also offers resources such as menus to 1,500 schools around New York.
Unlike WITS, Brigaid is a for-profit company, one that Giusti hopes to grow beyond New London to compete with corporate food service companies. The two groups share the idea that food made from scratch is healthier and tastier, and that an experienced chef may be the best conduit for changing the dreary image of school lunch—with its fatty chicken nuggets, soggy hamburgers and federally mandated ketchup-as-a-vegetable.
Giusti and Telepan are part of a growing legion of chefs to take up the cause, including Alice Waters, who founded Edible Schoolyard, and Hugh Acheson, who two years ago launched a resource and educational organization called Seed Life Skills. Telepan says he supports Giusti, and notes that they've had several conversations about school food issues. "I think what he's doing is great," Telepan says of Giusti. "To bring real healthy food to kids—he's tackling that." But can Brigaid actually succeed? Can Giusti's startup reinvent a broken system and get kids who rely on public school meals to appreciate real food, to eat better and become stronger, fitter, happier people?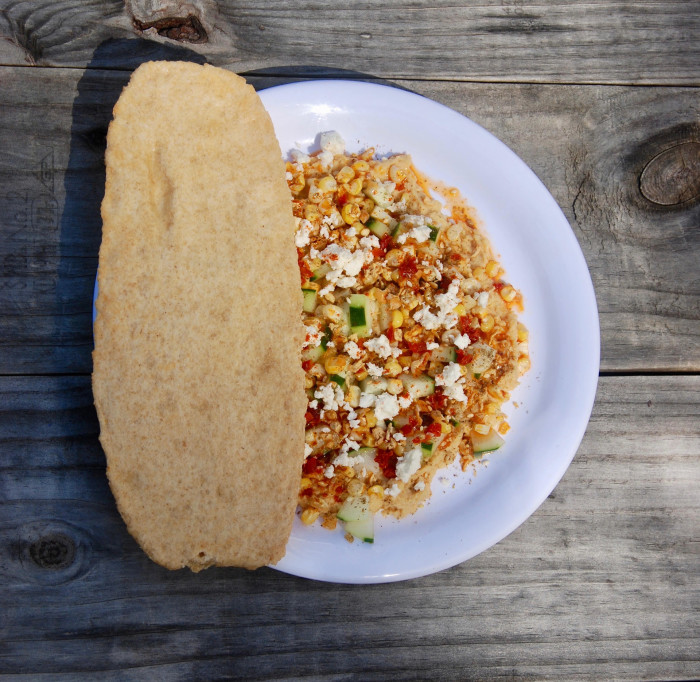 Dan Giusti grew up in New Jersey and landed his first head chef job in Washington, DC at 1789, which he describes as "this really kind of classic restaurant where the average clientele was like 80 years old." At just 24, after three-plus years on the job, his ambitions grew, and he realized that changing the formula of a decades-old restaurant wasn't his strongest move. So he did something ballsy. He wrote letters asking for a chance to try out for a job at just three restaurants: Alinea, The Fat Duck and Noma. Three of the best restaurants in the world, two of which are in Europe.
Miraculously, one wrote back, and he staged at Alinea in Chicago for a few days. Then he heard from Noma as well. After a two-week trial at the Copenhagen restaurant, he offered to stay on and work for free, and they accepted. He returned to DC, packed his bags and moved to Denmark. Soon, another chef left, and Giusti was on the payroll. Still, the grind of working in Redzepi's meticulous kitchen began to wear, and after eight months Giusti approached the head chef and told him of his plans to move on. To his shock, the chef informed him that Giusti was being groomed as the next head chef, and that he was leaving in less than a year to open his own restaurant.
"It never was really about the title or the notoriety. I was just going with my gut and at that point my gut was to go as high as I could."
Soon, this young American chef who'd never worked at a prestigious restaurant was Redzepi's number two, the top man in the kitchen at Noma. "It was interesting, because the people I met at Noma, their whole career had been at these great restaurants—like out of culinary school, every restaurant they've worked at is amazing and three Michelin stars. Me, I went back and forth working in high volume restaurants to kind of nice restaurants. It never was really about the title or the notoriety. I was just going with my gut and at that point my gut was to go as high as I could. It was an interesting choice."
Then, after three and a half years and several honors for Noma atop the World's 50 Best Restaurants list, Giusti made another interesting choice: to pursue moving back to the states to start a company that would attempt to change the public school food system from within. First, he researched the subject, and then made the decision to quit Noma. I ask Giusti how Redzepi took the news. "At first he was kind of bummed that I was leaving, because it probably took me a good two years to get to the point where I felt like I was really comfortable with the role, and Rene was comfortable with me in that position. It's a hard person to replace. If I said I was going to work at another restaurant or anything like that, I think he would have tried to convince me to stay." Instead, Giusti explained the scope of the problem in the United States—which he says Redzepi wasn't fully aware of, given Denmark's famed social services reputation—and shared an outline of his plan to create what would become Brigaid.
"He was just like 200% supportive, and he still is," Giusti says of Redzepi. "Ever since I left we keep in close contact and he's very supportive of the work, and that means the world to me because I have a tremendous amount of respect for him."
Having made the decision to leave Noma, Giusti set out on a mission to find the perfect launching pad for his project—a public school district with multiple buildings from kindergarten through high school, where some of the children were living below the poverty line. He had a bit of an artificial push in that the Washington Post announced his intentions in a December 2015 article, which led to school districts around America contacting him to express interest. Giusti estimates that he logged 30,000 miles those first couple of months of 2016, traveling around and meeting representatives from school districts and touring facilities.
(Giusti also had to handle unsolicited outreach from the parents of private school students who tried to lure him to tonier institutions. "There were a lot of people who were like, 'I've eaten at Noma, and my kid goes to so-and-so private school; we'd love to have you start this here.'" He says that when he politely declined such offers, noting that their daughter's private school already had a chef, they would say things like, "Yeah, but they weren't the chef at Noma.")
What he saw in those visits to public school cafeterias would have deterred most people—low-budget, untrained staff operating in some places with the barest of kitchens. Yet Giusti maintained a positive attitude. "When I went to a school and started to see a lot of things where I was like, wow, that's in bad shape, I started seeing the same amount of things where I was like, that's not a hard thing to fix…you start to realize that some of the challenges they're facing, chefs are appropriate to fix."
When the school year started, Giusti faced "a tremendous amount of skepticism."
In February 2016, Giusti opted to launch Brigaid in New London, a coastal city of a little less than 11 square miles with a population of about 30,000. He had clicked with schools superintendent Manuel Rivera, and while he'd never even been to Connecticut before, he felt that the district was on the right trajectory for Brigaid to have an impact. (Since our interview, Rivera, 65, retired from his post after just two years, to the consternation of the community.)
When the school year started, Giusti faced "a tremendous amount of skepticism," from kitchen workers concerned about their jobs to parents who wondered why the school district needed a chef from such a luxurious place as Noma. "Some said we should send our kids to school in limousines rather than in school buses," he recalls.
Brigaid proceeded with its plan to install a professional chef in each of the school district's six buildings, to achieve the stated goal of "cooking delicious food from scratch" while meeting National School Lunch Program budget and dietary guidelines. The chefs would also have to navigate the tricky waters of a kitchen that had run without the type of discipline or agenda that a professional chef provides.
"When it comes to the food, you have three main challenges," Giusti says. "You have the budget, you have the fact that we have to follow these pretty strict nutritional guidelines dictated by the USDA, and then the final one, after you've met both of those things, is do the kids actually like the foods?"
In the case of the 11-year-old who spit out the butternut squash soup, not so much, but Brigaid made progress during its first year running New London's public school cafeterias, when it served more than 800,000 meals, according to Giusti. The idea of having one chef in each school facilitated relationship-building with students, faculty and the community. "They are believing what we're doing and that's building trust," he says, adding that by year's end, students were more willing to try new dishes. Especially older students, who have come up through the system and were dubious about any sort of change.
And as Giusti says, "Things vary all over the place in terms of success rates," depending on students' ages and grade level. Still, he says that Brigaid introduced a chicken curry dish that became a favorite, and transitioned from pre-made to from-scratch pizza dough during the course of the year, also gaining approval from students. The menu of composed salads found fans as well, with one of the bigger schools in the district selling 70 per day, an increase from 10 or 15 a day earlier in the year.
While that might not sounds like a revelation, any parent will concur that changing children's eating habits is about as easy as playing scratch golf. The results have been solid enough that Brigaid is considering expanding soon, and Giusti says he's looked at introducing his system into another school system in the northeast.
In the meantime, as he and his team prepare for the start of a new school year next week, Giusti at least has some earned knowledge to build on.
"As much as you think that these kids don't even care and they'll just decide that they'll eat this or they'll eat that, there's quite a rhyme or reason why they do and don't eat things," he says. "And if it tastes better and there's more flavor, then they're gonna eat it."