When Alex Stupak left his job as pastry chef at the renowned WD~50 to open a taco restaurant in 2011, NYC's food industry insiders watched with a mix of curiosity and bemusement. Then word got out that the upstart Empellón Tacqueria was actually good, and the West Village restaurant became one of the early stops on the foodie "it's new so I must check it out" bandwagons. In The New York Times, Sam Sifton called it "one of the more captivating restaurants to open in recent months."
Six years later, Empellón Tacqueria is a well-established neighborhood favorite, and Stupak has opened a succession of variations on the theme — an upscale East Village spot riffing on Mexican cuisine, Empellón Cocina, which he just closed last week; Empellón Cantina, a down-and-dirty East Village taco and tequila bar; and now, the recently opened Empellón, which, to borrow from Mr. Sifton, is the most captivating restaurant to open in recent months in New York City. Located next to a Rolex dealer in ritzy midtown Manhattan, this is Stupak's jewel, a bi-level restaurant that showcases his wit, creativity and flair for using Mexican cuisine as a showcase for explosive flavors.
Like Stupak himself, the restaurant is brash. Critics (and consumers) have complained of the $14 and up tacos (2 per order) and $30 crab nachos with sea urchin "queso." The art that the chef-owner has commissioned includes ceramic sculptures straight out of a dystopian sci-fi movie that take center stage in the dining room. And whatever you do, don't walk up to Stupak and ask him how Empellón addresses the authenticity question — a fraught one (as last week's Portland fracas proved) that I made the mistake of raising at the outset of this at-times contentious and insightful interview, following a spectacular lunch of uni on toast with egg salad and spit-roasted beef tacos. Here's what Stupak had to say about this and more, in this chat which has been edited and condensed (though not toned down).
New Yorkers expect authenticity these days. How do you handle that?
Why any time we start talking about Mexican, why does that word authentic come up?
We have Taco Bell here—
It's an interesting thing that in 2017 with all this progression, we need to get smarter about how we think about these things. People don't think of French cuisine as an ethnic cuisine. So you're never gonna meet with Daniel Boulud and ask him about Lyonnaise cuisine and the authenticity of it and how it translates here. Because we think of white people as one thing and we think of brown people as another thing. That's the reality.
OK, so what does that mean for Empellón?
What Empellón does is, we call ourselves Mexican-inspired, and I think we're one of the only ones who call ourselves that, but I think we're one of the only ones that actually means it.
It seems like much of Mexican food is either the authentic — which we can really get into that stupid word, because it's dumb — but you can go to Mexico and say they made this in Oaxaca so you can write down the recipe and say let's make it here. I've never been a fan of that. It's a lose-lose. You make it perfectly or better and serve it to someone and one of two things happens: one, they either don't have a reference point for it, or they do. And either way you fail. If they don't, you can't hook them in. You've taken it out of context. If you've had barbacoa for the first time in Oaxaca, you now have a reference point for it — not only the flavor but the environment it's produced in.
We're a step further away. The Rick Baylesses of the world — and what he did was innovative and I respect the hell out of it — they make this here and we reformat it in a way that these people are going to understand. I get that. That's not what I do. I take that concept and then a step further. I try to erase the reference point, for the most part. There's no totalitarian one way we do anything at Empellón.
"What I do is not appropriation. What I do is get inspired by something and remove it and manipulate it and twist it so much that people will go, what's Mexican about that?"
What's a dish that speaks to that?
The beets that we serve here. I overheard from one of my servers that one of the three relevant critics in New York City has come for his scheduled amount of visits and that review will be out next week or whenever the fuck it is. We serve a dish of yellow beets cooked in coconut water, dressed in aromatic oil of coriander seed and chipotle chile and underneath it is this coconut crema where we take coconut milk and ferment it the same way you'd ferment milk for crema Mexicana, and on top of all that is a green chile rice — a green water that has all the flavor of salsa verde made into a snow, and that's on top. So we serve that to this person who is supposed to be one of the genius tastemakers of NYC cuisine and he was like, "Well, what's Mexican about it?" So, that's an interesting statement. And it's a little scary, because these people are influential and they are tastemakers and they are crafting the way people think — much less than they'd like to in this day and age when things like Yelp and Instagram are far more impactful, so they should be scared for that. But for me there are many things Mexican about it. Like, cilantro is a plant that's the herb of Mexico — one of many but it's the herb. So Cilantro bears seeds that are called coriander, so you think Mexicans throw coriander seed away?
My point is that no one will think that's a Mexican dish here. And that's actually the goal. Erasing the Mexicanness of it is the importance for me, and that's not an insult. To me, the idea of "Let's learn this recipe in Mexico and let's bring it here to cosmopolitan New York and make it, or make a prettier version of it," to me, that's appropriation. What I do is not appropriation. What I do is get inspired by something and remove it and manipulate it and twist it so much that people will go, what's Mexican about that? I think that's a good thing.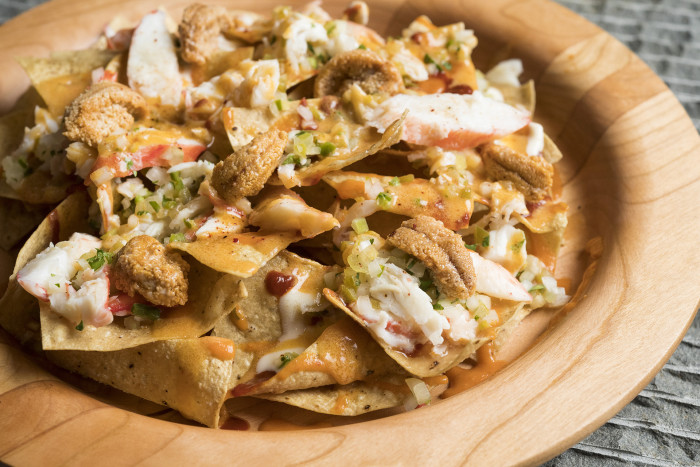 Again, authenticity is beside the point—
Anything you're an outsider to is an ethnic cuisine, a foreign cuisine. But no one thinks of it that way. When you think of French cooking as a set of techniques, as a cooking vernacular or a cooking discipline, look at what French cooking as an ethnic cuisine has done. No one's gonna go to Le Coucou and if there's some yuzu juice will go, well this is unauthentic. Actually no one's gonna fucking give a fuck where that chef Daniel Rose is from or whether he's cooking the authentic dishes of where he's from.
Right. Daniel Rose is an American-born chef who cooked in France for 20 years before opening Le Coucou.
Yeah. No one's worried about how Alsatian Jean-George's food is; no one's worried about how Lyonnaise Daniel Boulud's food is. It's a double-standard, and it's not just Mexican. Thai, Mexican, Indian — any of these cuisines where white people are afraid to go there and drink the water, we think of it one way, and when we think of these Eurocentric cuisines another way.
For me, it's beyond a translation game. I'm not trying to translate it. I'm trying to use it as a lifelong point of inspiration. If you hear a band like Radiohead and ask who's their greatest influence and they say Michael Stipe and R.E.M., but they sound nothing like that, but I bet they drew references or how they arrived as an inspiration point. That's fascinating to me.
Has this been an evolution or did you develop this sensibility before the first?
It's come later. If you had asked me my first restaurant, I'd have told you, I'm burnt out on molecular gastronomy and I just want to go in a complete and utter opposite direction. That's what I would have told you.
What you're doing here at the new restaurant is more daring.
A little. It's not there yet. But yeah, I learned something about myself in the process is that I'm not capable of not twisting it and manipulating it. You work for a guy like Wylie (Dufresne, of WD~50), you work for a guy like Grant [Achatz] for a reason. You don't stumble upon those jobs. You audition for those jobs, and you have to murder it to get a job like that. For me it still comes down to creativity. Back to that Radiohead/R.E.M. analogy, well those [chefs]  are my influences, that's my starting point… I love that evolution. So Empellón has changed a lot. It's going to change more and more and more and more. My goal is that years from now I don't want it to be people's favorite Mexican restaurant, I want it to be their favorite restaurant.
Let's talk about that uni on toast dish, which was one of the highlights of my lunch. It backs up your point — it's Mexican-inspired but I could have been eating that in a Santa Barbara New American restaurant.
Exactly, you could serve that dish at Wildair or Contra tomorrow. Now I could explain Yucatecan cooking and some nuances of it.
"I don't want my creativity to ruin someone's lunch. I want this to be a good midtown restaurant too."
Like the egg?
There's an odd amount of hardboiled eggs in Yucatecan cuisine. It's in everything — in their tamales, chopped up; their enchilada is papadzules, pumpin seed sauce, chopped hardboiled eggs. When things become hyper-ubiquitous to the point of being lame and played, I actually like injecting those things in the menu and kind of [suggesting] to the cognoscenti that [I'm] selling out. Look, I hate avocado on toast. I think it's stupid. But I knew if I put egg white salad on toast, it sounds so goddamned healthy — the rule is not that the customer needs to know the reference point, but the rule is that I really have one. That was a discipline I absorbed working with Jordana Rothman on our taco book [the aptly titled, Tacos: Recipes and Provocations]. I'd never written a book before and she's hard-core. Writing is a fascinating discipline because you're freezing an idea in time. It's frozen. It makes you question why, like why does this exist? So I was like if I can't explain it, then why am I doing it?
So to go back to my first restaurant, look, you can get a great chicken taco with salsa verde, and I'll never take that off the menu because that would just upset my customers and it's a good taco. But you don't see anything like that here. If you ask me about any of the dishes on my menu I have a three-paragraph answer for all of them. But in general I just want people to enjoy it. I don't want my creativity to ruin someone's lunch. I want this to be a good midtown restaurant too.
Let's talk about midtown. You shopped around for a location for your newest restaurant. Why did you end up here?
Six years in, [I've learned that] a restaurant first and foremost is a real estate deal. McDonald's is not a restaurant company. If you look at their income, they're a real estate company. So it starts with the deal. We found a very compelling space, and we were able to get it, and it happened to be in midtown. We looked at all the developments — we looked at South Street Seaport, Hudson Yards, World Trade. We had all those deals on the table. I'm not David Chang and I'm not Andrew Carmellini. Those guys are awesome but I didn't want to be an installment that's trying to bring revenue to a new area of Manhattan. I know those conversations behind the scenes with the developers: Oh, like we need the Italian guy, and we need the Asian guy, and who's the Mexican guy gonna be? I didn't wanna be that. This is not attached to a hotel. Once we knew the deal was great and we fell in love with the space, after all of that, I loved the idea of putting this here because no one would. If I didn't take this it would have been a restaurant like the Modern or a Fig & Olive or a Blake & Todd and I love that I'm serving tacos next to a fuckin' Rolex store. There's something about that.
I recently went to Empellón Al Pastor. It's young and fun, it fits the East Village—
My first restaurant in the East Village was a failure in terms of taking into account the neighborhood. [Note: Stupak announced he was closing Empellón Cocina in the days following when this interview took place.] I wasn't thinking of that. I was not a restaurateur yet. I wasn't thinking on that level. Now that's the only level I think on. There are things I want to do with Empellón. We are not necessarily a taco brand. And I know that's confusing because all my restaurants serve tacos and we wrote a book about tacos. I put tacos here for functional reasons because I knew at lunch, people are gonna have a salad and two tacos and they're gonna leave, and I knew they were gonna fall in love with it because the tacos are more interesting than a sandwich or a burger. There's something compelling about octopus or spit-roasted beef or frog's legs tacos.
What about the pricing? I've seen some sniping about $18 beef tacos (2 per order), but nobody seems to be complaining about all the $20 burgers out there.
That's an important point. I love tacos but the reason I love them most is it's a much more cerebral thing because of cost. Take beef: grind it and put it on a bun that the restaurant doesn't make and I could charge $28 for that. $38, who cares? But the second it's a taco, people are like "His prices certainly are midtown, 2 tacos starting at $14, are you kidding me?" By fighting the fight with tacos, I'm having an argument, but I'm having an argument that I've already won. I mean, octopus, like, two octopus tentacles. Sear them, cook them perfectly, put some beautiful garnishes and put that directly on a plate. What's it worth? That's like an $18 to $24 plate of food. Put that same amount of food with the same garnish, same love, on a tortilla. My stance is that I just made it more valuable. And I'm actually selling it for less. But people think I'm gouging? You understand how that could be offensive.
And the lunch at prix-fixe at $35 seems generous, given the surroundings.
Sure. I want this place to be a bargain. I want this place to have the most delicious food in a fun environment. We built it on two levels for a reason. At night, [pointing downstairs toward the bar] that's all happy hour. But you can escape from it. I can seat you on a date or in a business meeting and you're going to have a nice, quiet experience up here.
Al Pastor I think I got right. There are two types of businesses in the East Village I'll call quintessential. I modeled Al Pastor after one of them. I think of Prune — little, charming, ambitious, but not fussy. Often times the bartender might be the host or general manager. I didn't do that with Cocina. Cocina was meant to be my fuck you to my taqueria. Like I can do fine dining. And I still want to do fine dining one day. But it's got to be just right. If you show me a chef who's been in business for 30 years and has multiple restaurants, that's a businessperson. Whether you like business or not, if you like staying in business and making your mark, you'd better get into it. You'd better start to learn to like it. I want to do a fine dining restaurant very very badly. But you can't let the chef ego push something into a place where it doesn't belong. You can't put that round peg in a square hole. I could have made this fine dining. My instinct was that most people work or even live in this neighborhood don't want the $160 a head, 4- course prix-fixe only menu. You can have as many courses as you want here or you can not. So far so good.
I built this. We were approached. Developers sit in your dining room. They like your food. They like the vibe. They believe it could work. So they go, we'll start building these for you. I don't consider this a fine dining restaurant but it's a higher check average, the tables are bigger, with space in between them. It's a little more fine dining than the West Village. So this one that we're sitting in will probably be that model that will start to inform them outside New York City.
You have to grow this brand?
It's a game. There's no morality in it. There's no one right way. For every person you talk to who is a success story who says this is the way I do it, there's one common theme: It never repeats. It's all very unique. From my perspective, the current climate: Grow or die. Because inevitably one of our restaurants will close. If you have one restaurant and all your eggs are in that proverbial basket, sooner or later something's gonna happen. If you have one restaurant and it's only dinner five days a week, man you really got all your eggs in one basket.
Not surprisingly given your background as a pastry chef, desserts here are delicious and inventive. I just had the corn ice cream tacos, and I was warned not to bite into the taco holder.
We had that made.
And people were trying to eat them?
You have to give them a warning. I told the maker to make it look like toast meringue or pastry and she did a really good job. We've never had an incident but we've served it to people and have seen them pick it up as if they're gonna bite it.
It seems like the design at this restaurant was very considered.
I'm very proud of the design. My first restaurant, my attitude was like, "Well I'll be in the kitchen. You guys do it." And then a year later I realized I had a restaurant I hated. But it was my fault because I didn't involve myself in it. Cocina was same thing. Al Pastor is ironic because it's a very clean bar that I designed to look dirty. It looks dirty on purpose but it is very clean. It looks like CBGB in a way but there are not fruit flies and stale beer. That was the first time that I said, "Guys I'm in charge and I got this." I don't like creativity by committee. I like everyone on the team to do their thing that they're the best at that no one else can do. I'm ultimately the owner and the creator of the brand, so the look of the restaurant is important to me.
Who are the artists you commissioned for this space? There's a lot of art!
Sylvia Ji, Dennis McNett and Biata Roytburd. They are three artists who are in all the Empellóns. They're well-known artists but as far as restaurants, they've only ever been in my restaurants and they will only ever be in my restaurants. Mostly I love their work but also in NYC, everyone uses the same 10 architectural design firms. We're no different but because of Sylvia Ji [who did the painting on the balcony landing], and because of Dennis McNett, who did the wood carvings, and because of Biata Roytburd, who does all this crazy surrealist ceramic work, I am ensuring that I can have a very unique look that more importantly can't be copied.
So you finally got it all with the new Empellón?
My dream is that I have four restaurants in New York City that run the gamut, not only of price point but the types of vibes that I like in restaurants. In that way we're getting there, but we're incomplete. Because Cocina is incorrect. Cocina is wrong. And I need to fix it. Al Pastor is the bar I like to be in. I like loud music. I like the seedy element. I like bar food. So I built it that way. I need my tasting menu–only restaurant [again, Stupak closed Cocina shortly after this interview; he later announced that he'll add a tasting menu option in one section of the new Empellón later this year.] So what do you do? Long story short, there is more to be done in NYC. But then after that I don't really want restaurants 5, 6 and 7 in New York.
Why not? Are you restless or the time is right to move to other cities?
It's a few things. Yes I am restless. In NYC I can stay restless with those four things. Then we can do the next phase of Empellón, which is to disseminate this to other cities, which is why I'm looking to London or Los Angeles or wherever.