Anthony Sasso is executive chef at Tapas Bar, a new restaurant within the bar room of Mario Batali and Joe Bastianich's restaurant La Sirena at the Maritime Hotel in NYC's Chelsea. Sasso, a 13-year veteran of tprhe Batali/Bastianich Spanish restaurant Casa Mono, has taken the helm of this new venture, creating a menu of inventive modern tapas inspired by his travels all over Spain.
Sasso's recent trip back to visit family and friends inspired a good portion of the current menu — not least of all, the Jamón de la Bellota "globe" — an artful presentation of jamón slices wrapped around a sphere of Himalayan salt with a melted jamón fat candle and "cantaloupe crack candy." We sat down at the bar to chat about wild herbs, blood sausage, travel tips and the rare and elusive Spanish aioli machine.
Tell me about your recent trip to Spain.
I went for 15 days, and the whole trip was based around this big dinner I was going to do with a friend of mine who moved there five years ago to live in an artist compound inside a monastery in Córdoba. The whole theme of my trip was to bring to light the indigenous plants that grow outside in the garden of this monastery. There were seven leaves or flowers that we built this whole dinner around. We spent four or five days getting all this food together from gardens and farmers. It was about 130 degrees every day, and we were cooking outside, roasting pigs and lambs.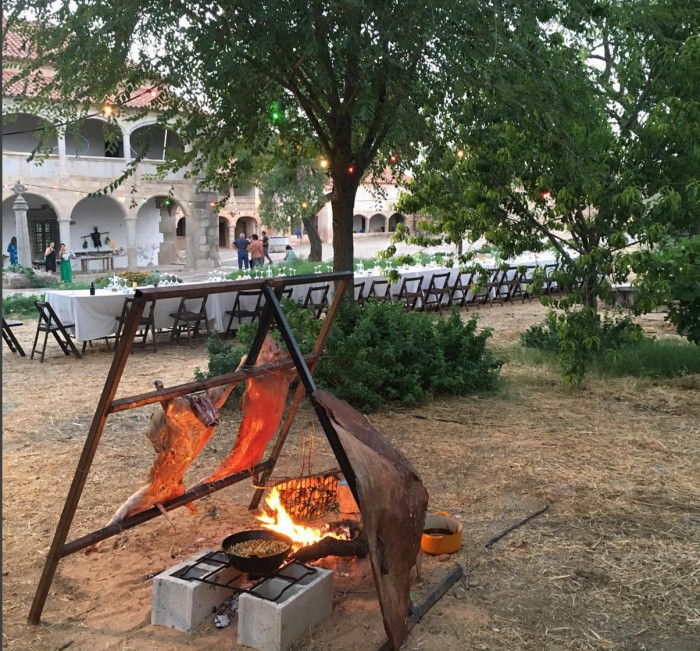 It's a welding town, so they welded this spit for us to cook the whole animals on. We invited 70 friends over, on one long table and had a big picnic. It was really great. We only used food from the artisans from that area. For example, we found her buddy passed out on the side of the street after milking cows that morning, so we picked up some milk from him that we turned into ice cream.
Just napping, not like passed-out drunk?
Napping by the road under a tree.
That sounds like heaven!
The only place in southern Spain that's under 100°F at that time of year is under the shade of a tree.
What kinds of edible wild plants did you discover around the area?
Yerba buena was the main herb; it's related to mint. Everything just grows insanely wild. They had wild strawberries growing that nobody planted. There were six fig trees; each one had about 250 figs. I got so many stomachaches just from eating figs all day long. There was wild parsley; the wild chives were really fun — especially the ones that are flowering. They had this eggplant local to them down there where the whole stem grows over the eggplant so it kind of consumes the fruit. You cook that part down and boil the eggplant for two hours in a pickle solution. 
Anything that we could find, we just kept adding on to the menu. We made a paste with all the herbs we found to rub the lamb with and baste it while it was on the fire, and put all the stems from the herbs into a bean stew.
Where did you go afterwards?
I went to meet a friend in Baeza, another friend in Majorca, then I ended up in Barcelona. I wasn't supposed to stay more than a week. I actually booked a flight to fly into Córdoba and fly out of Lyon to go back to New York, thinking I'd be able to take this road trip through southern France and Provence. Well, my license expired, which I actually knew before I left, but I thought, you know, "Europe's not really gonna care." So I got stuck in Barcelona — not that that's a bad thing at all. I reconnected with my cousins there, aunts and uncles. We ate and drank every day. I just devoted what turned into eight days into finding the oldest bars and restaurants in Barcelona. They're all still operating and pretty much still serving the same food that they were a century ago: bean stew, anchovies on pan con tomate. Both of those ended up on the opening menu at La Sirena. I also had a bunch of different aiolis — some eggless, some with eggs, some with egg whites.
Which aioli was your favorite?
Garlic and oil. That's how the original aioli is made. I met up with my uncle down there, who actually has an aioli machine. There are only about a dozen left in all of Spain.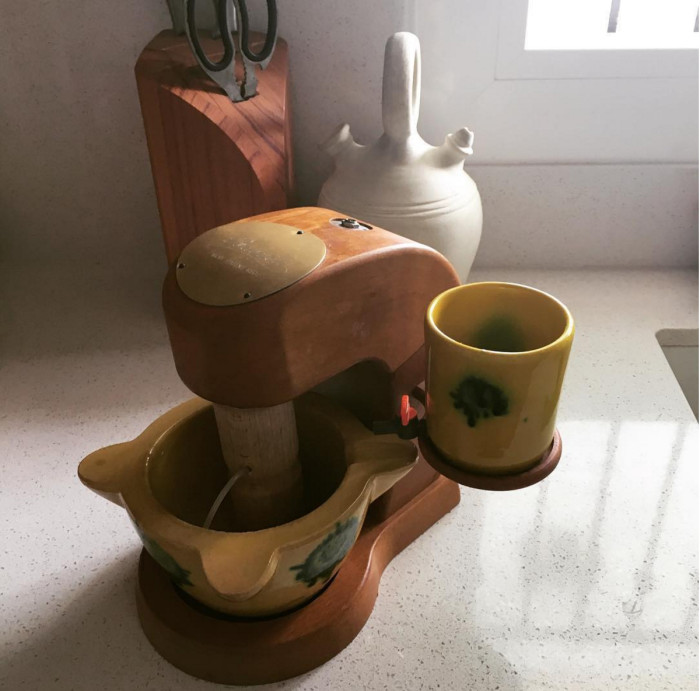 Is there a Spanish word for that machine?
I think it's "Babyoli." The mortar and the pestle is attached; you plug it in and crush the garlic, then there's this little straw that rotates outside of the mortar and a little drip of oil that slowly drips into the garlic mash. That's how we made it. Just raw garlic, not even roasted, just pounded out and sludged with the oil. They eat it with everything. They eat it with rice, pasta, French fries.
What were some of the best things you ate in Barcelona?
I had rabbit escabeche, a pickled stewed rabbit. They also have a soup called escudella, which you will never see on a menu here. I took copies of menus. I met every chef of every place I went to. I had rice at Sept Portes [in Barcelona], which is apparently the home of the first-ever photograph taken in Spain. Every table has a name on it, from someone famous who has eaten there — presidents, monarchs, actresses, playwrights, whoever. I just went there for squid and rice. Their seafood soup is really, really good. I hit up Cal Pep [in Barcelona], which Casa Mono [in New York] is based on. The look, menu, sound, smell, the color of the paint on the wall, the sides of the bars, the shape of the bar seats, the signs outside — it's all dedicated to Cal Pep.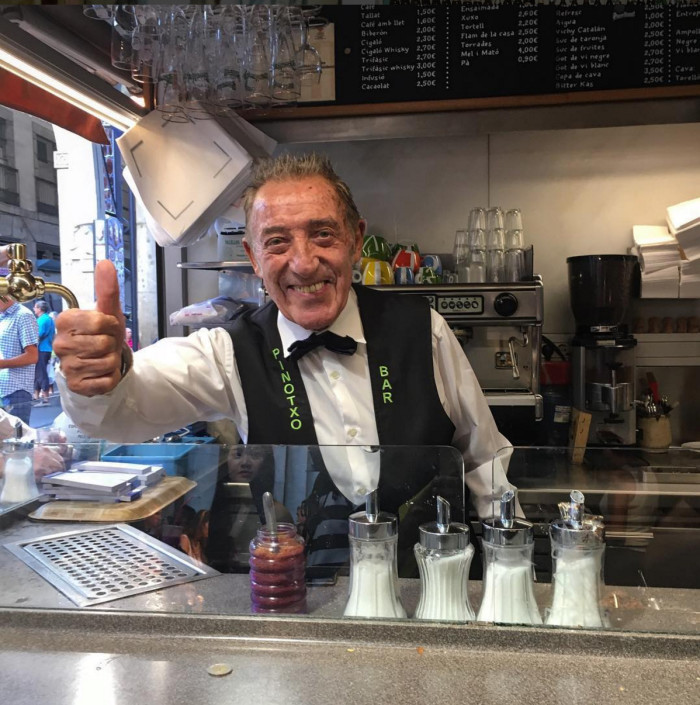 Bar Pinotxo is always the last stop. Every single day, you wake up and have breakfast or brunch at the end of the bar with Juanito. It was fun.
What was your biggest takeaway from all that research?
It was a lot of reminiscing of places that I've been to and are familiar with from all the times I've been in Spain and lived in Spain prior. I want to go back to what [Spanish food] was before the modernism, before the traditionalism, like way, way back. 
So you had an awesome trip is what you're saying. What was your favorite souvenir?
The first thing I bought there at the airport was a notebook. The only journal I could find had Popeye on the cover of it, so I was walking around all over Spain with this yellow little book with Popeye and a can of spinach on the cover. It was the only thing I could find with lined paper. Every time I travel, there's always a piece of that trip that ends up in a dish that I make, or in a whole themed menu. Cooking that meal for the townspeople, I asked everyone for a recipe for something they cook every single Sunday, or something their mom makes, or something their grandmother makes. I just took a bunch of notes.
Do you have any go-to travel tips?
Travel light. One pair of shoes and flip-flops, that's huge. Or if you're in Spain, espadrilles. They're lighter and they don't leave your feet so dirty. Split your meals, big time. Take a nap, have as early of a lunch as you can, like if you can have lunch at 10:30 a.m. or 11 a.m., do it. When I was in Lyon, I was having rabbit terrine at 10 a.m. so that come 12 p.m., 1 p.m. I could try somewhere else without feeling like hell afterwards. Split it up, take a siesta. If you're going to Europe, nothing's open between 3 p.m. and 6 p.m. anyway, so take advantage of that — get ready for the nighttime.
At night, hit up the places that are open late-late; don't go to those places at 6 p.m. If the place is open until midnight, walk in at 11 p.m. Go with a much bigger list than you hope to bang out. And rent a bike! Bikes are cheap in Europe.
Biking is way less scary in Europe because people give a shit that you're on a bike.
Yeah, more bikes, less cars. You just gotta know what side of the street to ride on. Everything else is easy. The train and subway systems take me forever to figure out, though.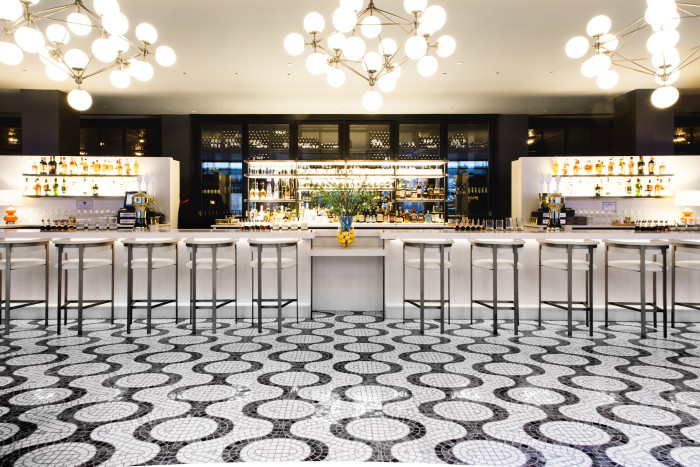 Back to New York! How long have you been here at La Sirena from your original post at Casa Mono?
Since Halloween of 2016. Mario [Batali] and I met at Casa Mono in the back room for a secret little conversation. The restaurant was under renovation because there was an explosion in the bathroom — a pipe broke — so I'm hopping over vacuums and puddles, trying to get to the back of the room where he's waiting, super-Godfather style. He wouldn't tell me anything over the phone except that he was going to switch things up a lot at Sirena.
Good thing you got your vacation in.
I know. It was the last time I had time off.
"We've got fat on fat on salt on dried fruit on candy on hot on cold with the warm toast, and it just works on every single level."
What's one of your favorite things on the menu right now at Tapas Bar?
We probably did a hundred tastings before we served someone who paid for any of these dishes. But we were clearly going for classics, like our morcilla hot dogs. Morcilla's such an institutional item, so we thought, Why not make it a hot dog? We put blood in the ragu on top of the hot dog and garnish it with a Spanish pepper. The peppers are imported from Spain and the morcilla we make here. That flows in a lot of the dishes on the menu.
Speaking of your dishes at La Sirena, let's talk about the jamón globe with a tallow candle and cantaloupe crack candy.
A lot of people are talking about it, but a lot of people still don't know how to "use" it. They're afraid of something flaming coming to their table. It's also not coming with instructions, like, "There's some hot fat there, if you wanna spoon that into your mouth, feel free cause it's going to be really delicious." 
You also serve it with a wooden spoon, which is totally flammable.
Yeah, well [laughs]…so off the bat, we were looking for something glass or edible to wrap this ham around, to make it a little bit more interactive. I've probably seen a plate of jamón 25,000 times in my career. Prosciutto e melone just goes down in history as one of the most classic combinations ever. And jamón is way better than prosciutto, by far, okay? Italy can have the rest of their charcuterie and the rest of their cured meats, but when it comes to ham, Spain wins hands down. I was trying to figure out how to get this on the plate without doing something I was used to. Jamón is so good by itself. We were just going to serve it as-is, but you can get that at every other Spanish restaurant in New York. They charge an arm and a leg for it, too; it takes a lot to fill that plate up with ham. There are a lot of square inches on that plate that you need to cover.
Where do you get the Himalayan salt globes you wrap the ham around?
The globes were hard to find. I did some online shopping, and found these salt candle holders. When we saw there was a big hole in the top of it, we said okay, we're going to put a candle in it. We had to find a use for all that fat on the leg of jamón, so we melted it down. We bought tea lights, popped out the candles, took out the wicks, washed out the little canisters, poured the melted fat into them, then dropped the wicks back in and let it set.
And what about the "cantaloupe crack candy?"
The melon part came as an afterthought, because I was reading Brooks Headley's dessert book. There's one recipe from that book he didn't serve at the restaurant — it was this candy that he made for the rest of this cooks with dried cantaloupe. So we picked up a bunch of dried cantaloupe at Chelsea Market and realized it was really sweet. [Headley] soaks it in verjus for a couple of days to pick up some of that very acidic, raw wine flavor to the sweet melon. So there was that, the salty meat and the pork fat and it was like, wow! We just hit all four levels that we wanted: We got the salty, we got the sweet, we got the sour, we got the savory. We serve it with buttered toast, too, so we've got fat on fat on salt on dried fruit on candy on hot on cold with the warm toast, and it just works on every single level.
There hasn't been a word that you haven't said in the past five minutes that I haven't loved. I was in Spain last year for work as well, and there was a jamón stand on the side of the street where they were selling crunchy trimmings—
Jamòn in a cone! That was the last phase of something I wanted to do at Bar Jamòn was put jamòn in a cone.
Why do we not have that here in New York?
We can. I'm working on it.
Besides you, who in your family is the best cook?
All my sisters. One of my sisters, Nicole, is a pastry chef; my little sister Ashley is a teacher in Bed-Stuy [Brooklyn], and she cooks for herself every single night when she comes home. She never goes out to eat. And my sister Andrea cooks all her meals on Sunday. Nicole and Andrea had babies 13 days apart, and [the children] both turned 3 years old this weekend, so they cook a lot for their babies. They all love cooking. When we get together to cook, I don't do any of it. They just want me to come to eat (and bring the wine from the restaurant). They do all the cooking. My mom pitches in; my dad's a great cook. My grandmother is, too. Food was always around, and it was good.
Speaking of wine that you bring from the restaurant, what are you drinking right now that you love?
Txakoli, always txakoli. The Lopez wines are all amazing; they're from Rioja. They're slightly oxidized and very unusual-tasting, go really well with food and are really specific to Spain. They're like one of the gods of winemaking in Spain, especially in Rioja. Wine is so good and so affordable in Spain.
What can we expect on the menu this spring?
We're playing with asparagus already, and peas. I'm not a fan of fiddlehead ferns, but I love me some rhubarb, so I will get as many dishes as I can out of rhubarb. I can't wait for ramps. They're one of those ingredients that you can put in six dishes on the menu and make them better. The last dish we added to the menu was based off leeks in Spain called calçots. Ramps are kind of like the closest equivalent here. They love calçots in Spain. They have a festival to mark the beginning of the season.
Right, they wrap them in newspaper, char 'em and serve them with romesco sauce.
That's what we're doing here. We're wrapping it in The New York Times and calling it Leeks: Yesterday's News, which we serve with black garlic romesco. We're making sure that we get the best sections of the Times, and don't, like, wrap them in the real estate section. We also stay away from the business section and go straight for the Dining Out and the arts. The crossword was one of the first ones we wrapped it in, but there are only one of those per paper. We really truly want to keep it "yesterday's news" just in case someone checks the date.