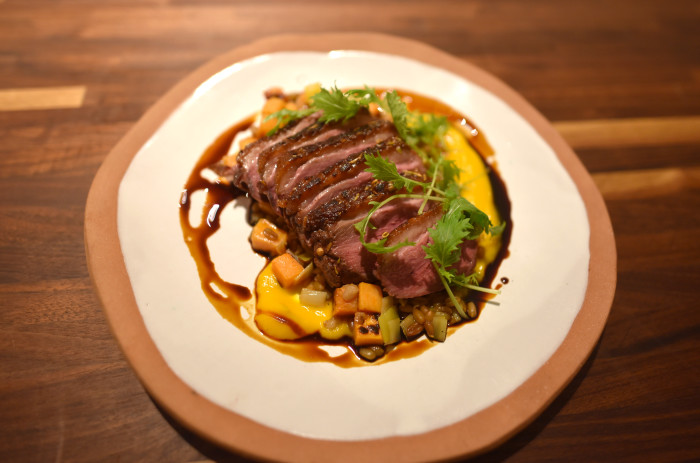 The Internet is in the midst of year-end list madness. Allow us to prolong the season one more week for Food Republic editors to weigh in on all things food and drink from 2016. Here are our staff's choices for their very best restaurant meals of the year, and rest assured that narrowing down the lists was no easy task.
Daniel Carnaje, Social Media Manager
Mark's Place (Kauai, Hawaii)
In September, I went on my honeymoon to Kauai, Hawaii. After a long day of hiking up a trail known as Sleeping Giant, the only thing on my mind was getting plate lunch in my system. Knowing that Hawaiian plate lunch has never really made its mark on the mainland, I thought it best to eat as much of it as possible during my stay. While mulling different options, I asked a newfound friend where the locals eat. Without hesitation, we were directed to Mark's Place, a small shack amid warehouses in the suburbs. We ended up ordering a combination of chicken katsu, loco moco, beef stew, seared ahi tuna salad and topping it all off with sweet, chewy butter mochi. It was a gluttonous occasion, to say the least, and I have the yolk porn to prove it.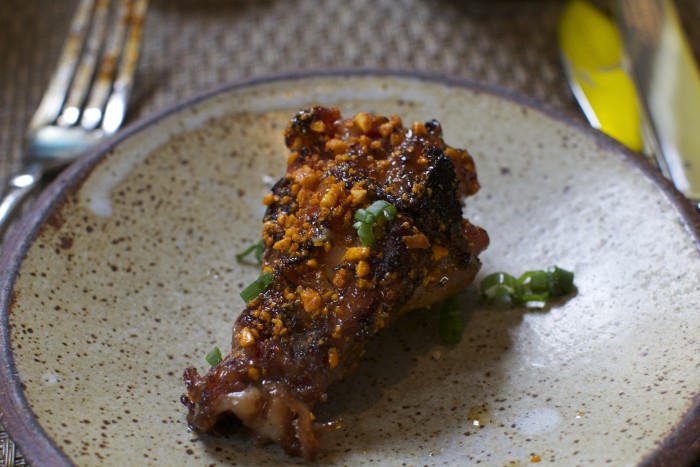 Husk (Charleston, SC)
On my maiden voyage to Charleston, my eyes were set on just one thing: dining at Sean Brock's Husk. A staple for anyone traveling to Charleston and a destination for all food enthusiasts, my entire stay revolved around eating at this hot spot, so much so that I actually ended up going there on back-to-back days. It was all worth it, even though my stomach was angry at me for what can best be described as extra-meat consumption. What I had: Husk burger, charcuterie plate, shrimp and grits, chicken wings and fried pickles.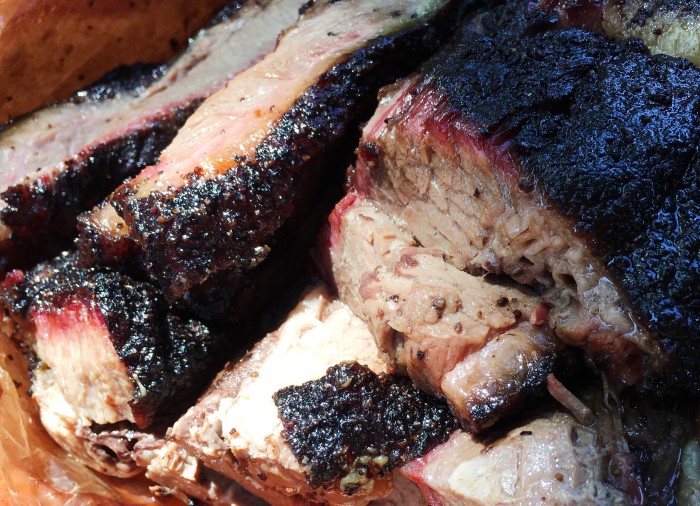 La Barbecue (Austin, Texas)

On a very brief trip to Austin, Texas, back in July, I was on a mission to find and consume large quantities of Texas brisket. Knowing that I had only limited time and a hectic schedule, Franklin's was out of the question (though I'm planning a trip to go back just for that). I ended up getting my fill at La Barbecue, complete with pulled pork, ribs and fixin's, all enjoyed family style at a nearby park under a tree. Pro tip: Extra napkins are necessary for sticky fingers and tears of happiness welling from your eyes.
---
George Embiricos, Associate Editor
Shaya (New Orleans, Louisiana)
In a city that's best known for its storied culinary traditions and centuries-old restaurants, it's John Besh and eponymous chef Alon Shaya's modern Israeli newcomer that was the standout meal during a food-focused trip to the Big Easy earlier this month (it was named the country's best new restaurant at the James Beard Awards in May). A lively blue-and-white room and outdoor back patio are the perfect backdrops to enjoy remarkable takes on Israeli and Middle Eastern classics like baba ghanouj, labneh, tabouleh, kibbeh nayah and soft-cooked-egg hummus. A labneh-based cocktail (you read that right) pairs seamlessly with all of the above and is a prime example of the restaurant's inventive beverage program.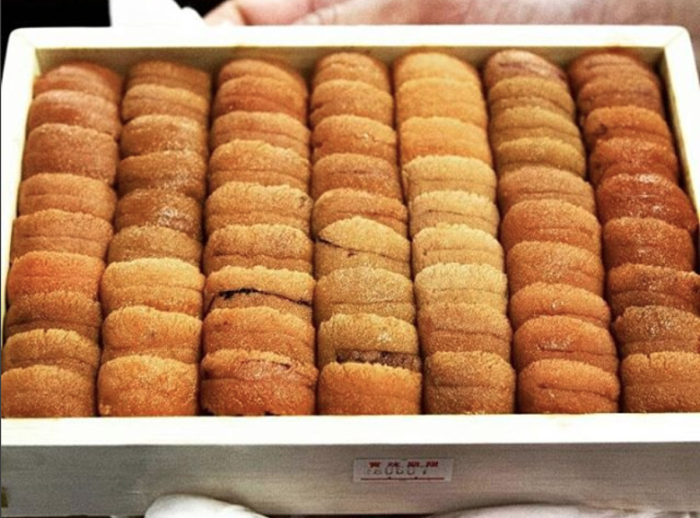 Sushi Zo (New York, New York)
Long has raged the battle for sushi supremacy between the East and West coasts of the U.S., namely New York and Los Angeles. In a calendar year that saw an unprecedented number of omakase-only restaurants open around the country, perhaps none shone brighter than L.A. import Sushi Zo in NYC's Greenwich Village. Head chef Masashi Ito, just 31 years old, serves generous slivers of seasonal fish from both local and international waters nightly to 18 lucky diners at the simple, wood-and-exposed-brick sushi bar. Two meals there this spring and summer just may have me convinced that — after many years of arduous "research" — I've found the city's best sushi.
State Bird Provisions (San Francisco, California)
It took just over 26 years and a whole lot of planning (aka begging for reservations), but I finally made my first-ever trip to the state of California this past September/October. On a memorable trek filled with several impressive meals in both Los Angeles and San Francisco, it was dinner at Stuart Brioza and Nicole Krasinski's State Bird Provisions that combined the best of all worlds: innovative and rotating sharable small plates passed around dim-sum style, gracious service, a convivial vibe and a diverse, affordable wine list. Good luck saying no to many of the wonderful little creations that pass by over the course of your dinner.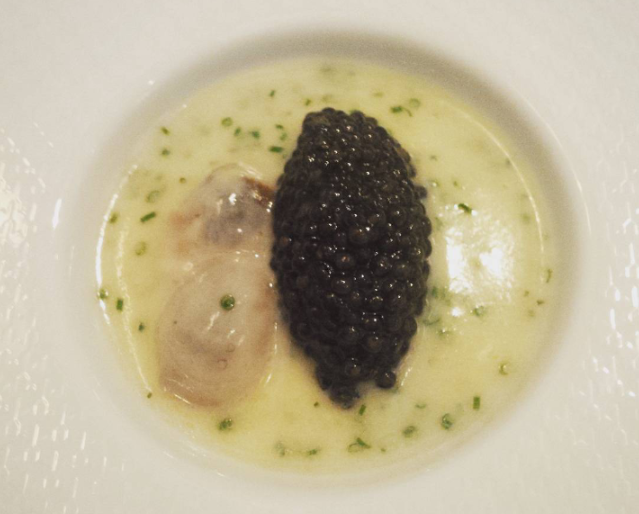 The French Laundry (Yountville, California)
I wasn't about to leave the West ("Second Best") Coast without springing for a serious(ly absurd) meal, and there was no doubt in my mind that Thomas Keller's fine-dining institution/mecca was the destination to ball out. Over three hours and several classic (oysters and pearls; foie gras torchon) dishes later, I exited the restaurant fully aware that I had just experienced one of the greatest culinary journeys of my life. Major props to the lovely waitstaff, who spent time alternating between making pleasant conversation and offering me magazines to read after each course, being that I took the brave step of eating solo (alas, no one in the greater California area struck me as quite worthy of a casual first date here).
L'Etoile (Madison, Wisconsin)
In a year filled with an extensive amount of food travel, I never thought that I'd highlight a dinner in Madison, Wisconsin, of all places. But what a dinner it was! Chef Tory Miller is a James Beard Award winner for Best Chef: Midwest (beating out all of Chicago in the process), and his flagship fine-dining restaurant — he has a total of four spots in the city — is an absolute stunner. A seven-course tasting menu takes you on a full circle around the region's best meat and produce offerings (and yes, the cheese is superb). The accompanying wine is expertly paired and includes a wide range of varieties and flavors.
Honorable mentions: Animal (Los Angeles, California), Birch (Providence, Rhode Island), Blue Hill at Stone Barns (Pocantico Hills, New York), Maude (Los Angeles, California), Homemade Greek Lamb-on-a-Spit Roast (Southampton, New York)
---
Jess Kapadia, Senior Editor
Atoboy (New York, New York)
I've been back to Atoboy several times since its opening in early November. It's a modern Korean small-plates spot whose prix-fixe is spot-on for an evening of elevated dining. The minimalist setting and menu of elements only (no description) means the focus is squarely on the delightful surprises of the plates themselves. This was also the year of my fancy Indian trifecta: Indian Accent (home of the "enchanted forest of papadums and sauces"), Babu Ji and Paowalla. While it can be hard to find any Indian restaurant packed to the gills on any old Tuesday, these three are likely to stand the test of time.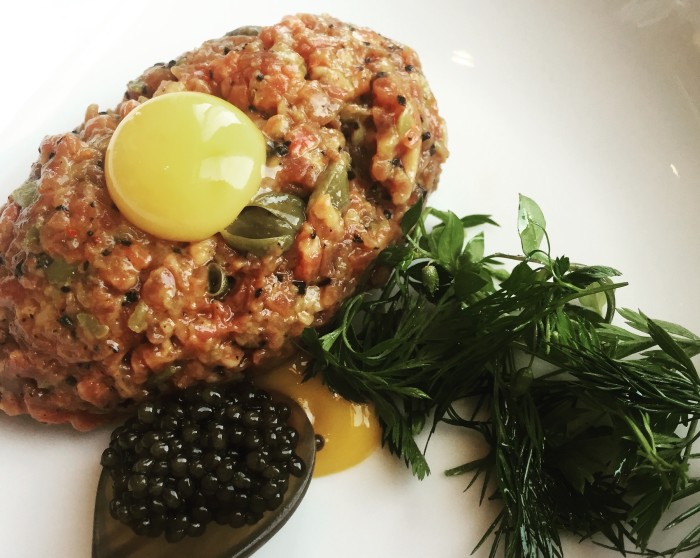 At.Mosphere (Dubai, United Arab Emirates)
Another standout meal was the inimitable At.Mosphere at the top of Dubai's Burj Khalifa, the world's tallest skyscraper at a heart-stopping 163 floors. I actually sat facing away from the floor-to-ceiling window so I could focus on my tartare and not the fact that I was certain I'd fall out of the building. The service, cuisine and wine were all, very literally, top notch.
The Grove (Delray Beach, Florida)
My grandmother, an avid 90-year-old gourmet, took me to a place in Delray Beach called the Grove. She never makes a bad restaurant recommendation — in fact, the manager recognized her when she walked in and gave her a hug. The sweetbreads over parsnip puree with black truffles and sunchokes were meltingly divine, and the beets in the beet salad were trimmed impressively to look like precious gems.
Honorable mentions: New York Bakery* (New York, New York), Kosaka (New York, New York), Toro (New York, New York)
*RIP
---
Krista Ruane, VP Culinary Creative Director
Mishmish Café (Montclair, New Jersey)
A surprising secret in Montclair, New Jersey, is two-year-old Mishmish Café. Only a short walk from the Walnut Street train station, this lively, BYO Mediterranean restaurant is well worth a trip from the city. Chef-owner Meny Vankin is a distinguished alum of a number of prestigious NYC kitchens and merges cuisines from his many influences, dishes from his childhood in Israel, his Moroccan/ Jewish family and classical French training. I found the food to be tantalizingly good and best ordered to share. Vankin makes this easy with an enticing selection of small plates, which range from classic Mediterranean dishes such as Old-City Hummus and smoked eggplant dip served with house-made pita to shawarma tacos.
Daily specials utilize produce from nearby New Jersey farms. One special I tried was an exquisite house-made tagliatelle with oyster mushrooms and fennel dressed in a brown-butter sage sauce, topped brilliantly with toasted hazelnuts and lemon zest. The signature dish at Mishmish is the shakshuka, which can be ordered vegetarian (with poached eggs and feta cheese) or with the addition of lamb meatballs or merguez sausage (my favorite is the meatballs). Other standout plates are the fried cauliflower, roasted beets with labneh and Moroccan Grandma's Fish Stew. When heading out to Mishmish, give yourself some extra time to browse the old-school used book and record store that is practically next door.
La Sirena (New York, New York)
La Sirena is glamorous. It's the kind of restaurant that makes me want to dress fancily for cocktails (though that's not required). The bar area is lovely, with graphic tiled floors and orb chandeliers, and there's a spectacular cocktail program. The drink names were created with humor and intelligence, often paying homage to musicians or colloquialisms, like Fade to Black or Smokey & the Bandit. I had the Negroni della Casa, which was simply stellar, as well as a clever nod to Prince (RIP) called Little Red Corvette that was garnished with a white carnation.
The restaurant offerings are boldly seasonal, exquisitely crafted and unique among the Batali/ Bastianich restaurants, with a well-curated wine list whose focus is Italian regional wines. There's a raw bar as well as a traditional menu. To start, I had the house-made burrata and alici marinate with fennel three ways. I chose the bis of pastas (an option for the whole table to share two pastas) and selected the bucatini La Sirena (bucatini served with a luscious spicy octopus sauce) and the pici pasta. The pici (a hand-formed, spaghetti-like pasta with a signature chew), was prepared impeccably and served with a fantastic, earthy chard ragu, hands down my favorite dish. For secondi, I had the rabbit but was tempted by the myriad options. My advice is to choose something you've never had and let chef Josh Laurano knock you off your feet.
Honorable mentions: Fork (Philadelphia, Pennsylvania), Broken Spanish (Los Angeles, California), Jitlada (Los Angeles, California), Casa D'Paco (Newark, New Jersey)
---
Richard Martin, VP of Editorial, Zero Point Zero Production
Baroo (Los Angeles, California)
You could say that this restaurant makes the list because, hell, it's on every fucking best-restaurants list in America right now. Well, I'm including it as a best meal because I went in mainly to drop off a copy of Cured, in whi h we featured chef-owner Kwang Uh and his mad fermentation experiments, and ended up being utterly charmed. And, to be honest, completely blown away by the Korean-inspired dishes. That pineapple-fermented kimchi fried rice all the food writers keep going on about? It was singlehandedly the best, brightest first bite of any dish I took in 2016. A handmade celeriac pasta with celery roots, celery crudité, pickled mustard seeds, celery ash and crispy celeriac chips sounds like celery overload, but Uh is the definition of the chef-artist, and he achieves balance even in the oddest-sounding dishes.
Le Coucou (New York, New York)
Another spot on every fucking best-restaurants list, and another deserving entry. I first dined at a Daniel Rose restaurant that was an unmarked rotisserie pop-up in a far-flung corner of Paris while he was upgrading from the original location of Spring — the restaurant that put him on the map and doubtlessly led Stephen Starr to tap him for this return to French fine dining in NYC's SoHo. It was brilliantly lo-fi and utterly delicious, with crispy-skinned quail and celeriac mashed potatoes and herbaceous wines; I remember it well, and it was like eight years ago. At Le Coucou, Rose is bringing pike quenelles in lobster sauce and a multifaceted presentation of rabbit to the table, executed flawlessly, and everyone, including me, is lapping it up. You know who else, besides food critics? On the recent night I was there, Kanye West and Jean-Georges Vongerichten were seated at adjacent tables (and weirdly, yes, they greeted each other). Rose stopped by to say hi, shrugging as he informed my table, "Just another normal night here." He was joking, but not really.
Coquine (Portland, Oregon)
The French revival was clearly a major story of 2016, but restaurants don't all need to be showstoppers. Up on Mt. Tabor, away from Portland's trendy districts, chef Katy Millard turned a coveted space into the perfect little neighborhood spot (and nailed the name perfectly — "coquine" being a term of affection for a cheeky, clever child or gal). She and her team serve coffee and pastries by day, a modest but well-considered lunch menu and, at night, a full-on restaurant experience. Millard's tasting menus are market-driven and ambitious, and diners will probably experience the same anxiety I did when visiting, trying to choose between prix-fixe and à la carte. Either way, flavors will pop, as ingredients like chicory and Dungeness crab and foraged mushrooms pump up the charm at this special place.
Miles (Bordeaux, France)
I'd been wanting to eat here since my previous trip to Bordeaux, the great undiscovered city of France that happens to have a pretty good wine country around it. I finally made it in for lunch and a terrific Chinon to accompany the four-course menu, which as the name and the team of chefs' multiethnic backgrounds would suggest, spanned a globe of flavors. I happened to catch the Franco-Vietnamese Arnaud Lahaut manning the burners (all-induction, as I found out to my surprise following the meal) and had one of the best duck entrées of this year. Lahaut and his three partners (including his wife) expertly update French technique with ingredients that inform their individual backgrounds, thus Middle Eastern, Asian and even tropical flourishes inform dishes. Now I understand why this Le Fooding favorite has become perhaps France's most inspiring young restaurant outside of Paris.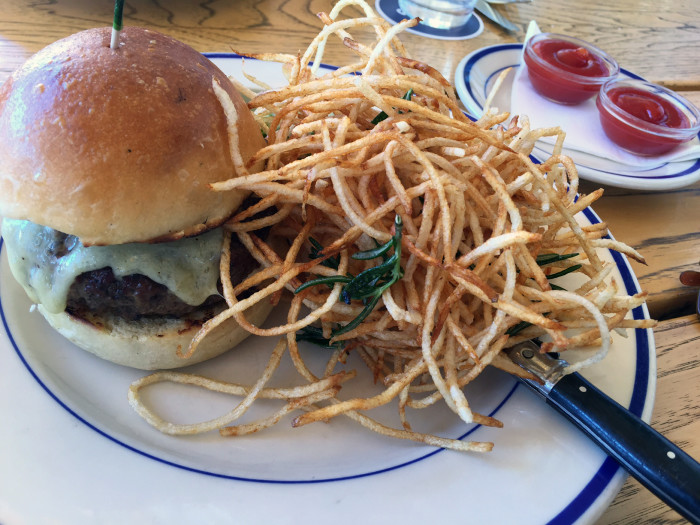 Best Burgers (Tie): Cassell's Hamburgers (Los Angeles, California) and Clark's Oyster Bar (Austin, Texas)
In a year of fantastic burgers, these two acclaimed spots stood far above the rest. Cassell's is a chef-driven burger spot that's a reboot of an old-school burger spot in L.A.'s Koreatown. The chef is Christian Page, and he's kept elements of the original Cassell's and really everyone's favorite burger joint memories — brightish lights, paper wrappers, broiled burgers with a bit of a crunch. The setting is the modishly hip Normandie Hotel, and the big corner windows create a Hollywood-style flourish as you choose from a banchan-inspired presentation of condiments. In other words, it's a burger joint that's very of-the-moment L.A. (though I'm grateful there was no burger bowl on the menu). Clark's is not as new, and certainly to Austinites not as much of a secret, but its burger, served with a boatload of crispy matchstick fries, is an elegant iteration befitting of its setting, and a perfect if unusual complement to an oyster bar menu.
---
Tiffany Do, Editorial Assistant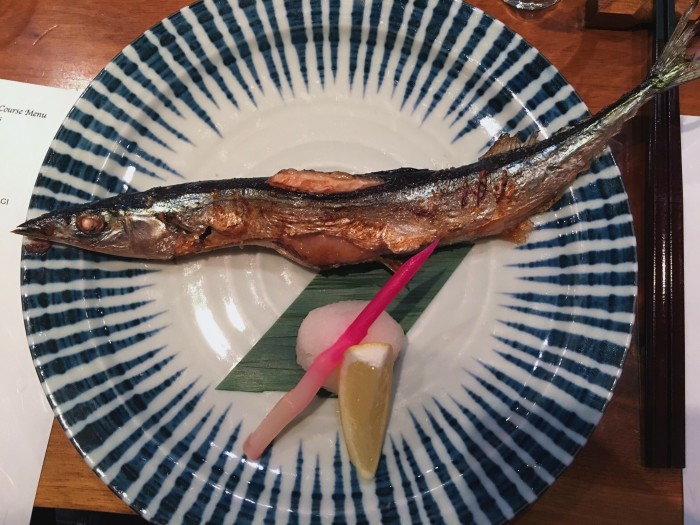 RobataYa (New York, New York)
This puts hibachi grills to shame. Robata-yaki translates to "fireside cooking," which is exactly what happens in front of you at RobataYa. Chefs climb and jump over the counter to pick fresh seafood and vegetables, grill your food to perfection and then serve you with long wooden paddles. Whole pike mackerel is expertly grilled and presents the fun challenge of trying to polish it off without breaking the spine. Kamameshi with akadashi (cooked rice with salmon and salmon roe) arrives at the table in an iron pot and requires a mix with a wooden rice paddle.
Faro (Brooklyn, New York)
If you — for some reason or another — find yourself in Bushwick, this Michelin-starred restaurant deserves a stop. A seasonal menu revolves around house-made pasta and protein-based dishes. The dry-aged duck breast was dressed with fish sauce caramel and a pumpkin puree, while the bucatini with chicken confit was a definite crowd favorite.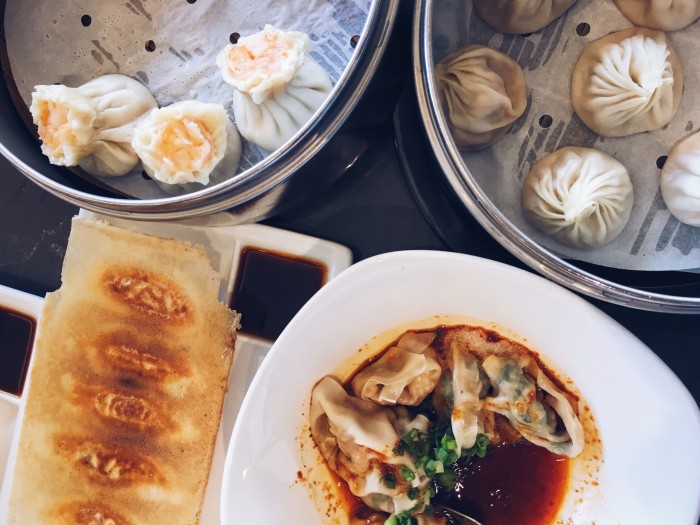 Din Tai Fung (Santa Clara, California) 
This fast-growing global chain recently opened its northern California location this year, a true dumpling haven. It's impossible to pick one outstanding dish because everything from the dumplings to the noodles is incredible. But if I must pick, the shining stars are the shrimp-and-pork potstickers with crispy crêpe, pork-chop noodle soup, legendary xiao long bao and vinegar-y wood ear mushrooms.
---