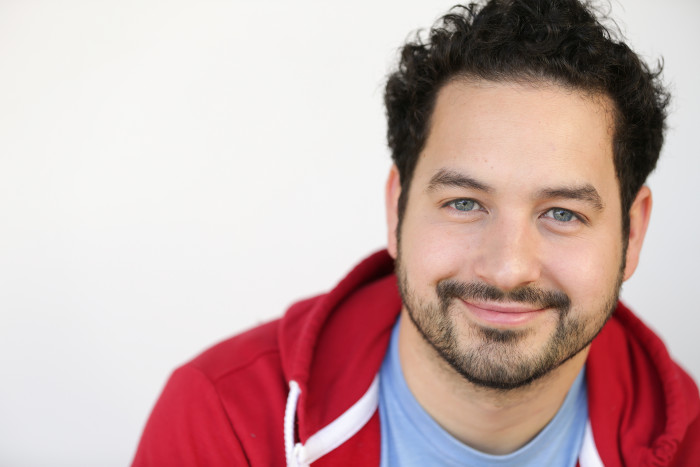 Welcome to Lunch With a Comedian, where we treat a funny guy or gal to a meal at a notable restaurant. This column replaces Bang Bang Talky Talk, mainly because most comedians other than Louis CK apparently prefer eating one meal at a time. First up, we head to Los Angeles to break naan with Ahmed Bharoocha at Badmaash.
From Ahmed Bharoocha's Comedy Central Half Hour: "I was listening to the radio and the radio host said, 'I think we should ban all smelly foods from airplanes. You know, like curry, and hummus, and baba ghanouj.' And I was like, 'Oh, very clever, lady. No one's ever gonna crack that code.' It's like, 'Next time on Racist Radio: I don't want any fried chicken moving into my neighborhood. Bean burritos are taking all the jobs, and matzo ball soup controls the media.'"
It's a few days before the presidential election, and comedian Ahmed Bharoocha and I are sitting in downtown Los Angeles hot spot Badmaash awaiting our lunch order. I'd felt a twinge of liberal guilt when suggesting an Indian restaurant to a man with Pakistani roots, but it turns out that it's a go-to neighborhood spot for Bharoocha. Over the next hour and a half, we discussed food, comedy, family and of course politics and identity — though we didn't know what was about to happen in our country. The joke, you could say, was on us.
Bharoocha is not a political comic, but his background often plays into his material. "My mom's Irish Catholic, and my dad's Pakistani Muslim," he says to me in reference to his food upbringing, though it's often a setup for bits during his stand-up routine. His comedic chops have earned him an increasingly big following of late, with a first Half Hour for Comedy Central (a solo set that first aired in October), as well as a debut comedy album, Almond Badoody, to show for it. His YouTube ensemble sketch show, Dead Kevin, has a growing following and interest from networks, and he has a recurring role on the Adult Swim show Dream Corp. And thanks to the election that happened a few days after our lunch, Bharoocha's personal take on being an American of mixed background should become more prescient and in turn comedic.
Here, in this edited and condensed interview, we veer from religion to food to comedy to making it big, all between bites of chicken tikka masala and Bharoocha's favorite, onion and chili salad.
Do you use religion in your act much, like as an icebreaker?
I usually do it towards the end, by the time they like me. Like, "What do you think about God?" Some people turn off and they think you're making fun of God, and they think it's wrong, but you connect with a lot more people that way. Like, "Yeah, I see where you're coming from." Someone with a Muslim name, it's kind of cool to not be this face of strict religion.
Has your name or ethnicity ever been an issue for you in Middle America?
Not really. Maybe once some guy booed me when I said my dad is Muslim. But other than that people mostly get quiet, which for a comedian is the thing you want the least. You want 'em to laugh. Because I kind of look white, it's pretty easy for me. Like walking down the street people aren't like, hey, what's this brown guy doing? But when I'm on stage and people hear my name is Ahmed, it's in a funny context so it's kind of nonthreatening.
How did your family background influence your food culture?
Most of my palate came from my dad's side of the family. My grandmother lived with us for the first five years [of my life], and she was a Pakistani and Indian cook, born in Burma. She had a restaurant in Bangladesh, so her whole life was cooking.
So food was a big part of your family experience?
If you're over, you're eating. I grew up in restaurants, too. My mom worked at an Italian restaurant in Santa Barbara. We bought it when I was 11. Dom Deluise used to come in. All the celebrities used to come it. It was called Mariann's. She'd always bring home Italian food from work. We'd visit her all the time.
Did you learn to cook?
I did. I learned mostly from my dad and my grandmother. The first thing I cooked I ordered right now, the OG Chilis. When I was in kindergarten you had to write a recipe down. I called it onion salad. Kachumber. Kind of like pico do gallo but more onion heavy. If you go to an Indian restaurant you say onions and chilies. They'll bring you red or white onions and chilies, but I like to add lemon and make a salad of it.
From your background, it seems like you would have been a prime candidate to become a chef. How did you get into comedy?
I never thought about it as a career because I worked in kitchens so much as a kid. I cooked in college, and I was a manager of a cafeteria. Which I really liked, but you're kind of a workhorse — putting food on a plate and sending it out. I kind of prefer feeding people in my home. Later in my life I thought it might be something I'd be interested in as a career, but comedy is my biggest passion.
When did you become fascinated with stand-up?
When I was 10 or so I started watching Comedy Central and seeing Dave Chappelle, Dave Atell, Seinfeld — just loved comedy. I was kind of a goofy kid. It was always a dream of mine, and then when I was in college, I started working in a restaurant/comedy club as a busboy and dishwasher, and I got up on stage after a year of working there — I was pretty shy — and slowly transitioned into that.
Did your coworkers give you a hard time?
I was such a shy guy that they were all rooting for me, I think. They were all really shocked. Like, you wanna go up on stage? One of the waitresses used to call me Mute — I was that quiet.
Did you know from that first time that this is what you wanted to do?
Yeah. Even before. I had obsessed over it, watching all the specials, and then when it happened, it was kind of like, it went pretty well, I had invited friends. I was so happy that I finally did it because I had wanted to do it for so many years.
So that was all in college in Rhode Island, and fast forward 10 years and you're on the verge of stardom in Los Angeles. When was the big break?
It's so hard to tell because big breaks always sound bigger than they are, but I'd say career-wise, I was on Conan last year, and that really helped financially. I'm working the road more. And that was 10 years into comedy. Before that it was comedy festivals.
Is it more competitive on the way up?
I don't know, I think it gets more competitive in a way when you move here [to Los Angeles]. There's a community of friends, but you're still vying for the spotlight because even when you get on Conan or you get a TV show, still for the next year it's like who's going to hire you again? You have to keep that spotlight toward you to get the next job. I started in Rhode Island, and then Boston was my home for comedy, and there it's way more communal. They rib each other and they're mean to each other, but they support each other a little bit more. Here everyone's supportive but not in an artistic way, more like, "You're great," or more business oriented.
It sounds like you studied comedians coming up. How did that prepare you for this?
Chris Rock was probably one of the first people I really studied. He had a great little interview on one of the DVDs I had, Bring the Pain, which is still my favorite comedy special. He talked about how he prepares for specials, where he'd go out and really work the material out, which is a great thing to learn early on. Louis CK has talked a lot about his process. He's kind of the one who had that philosophy of writing on stage a little bit that I've [used]. Seinfeld is really good talking about the process. The movie Comedian, which is a documentary [Seinfeld] made after he stopped doing the show, about his venture back into stand-up, and he threw out all his old material. That was one of the most influential movies for me as a comedian. It's what actually pushed me to get a notebook, because he kind of showed the work that goes into it. It is a discipline. It's not just a funny guy onstage.
Why did you decide to record a comedy album?
I just got accepted to do a Half Hour by Comedy Central. They came out at the same time, which is what motivated me to do that album. I had been doing comedy for 12 years, and I figured I should record an album eventually, and I always put it off because you're never happy with what you have.
Why is it called Almond Badoody?
Having my name Ahmed Bharoocha mispronounced a lot, it's kind of a jumble of a few different mispronunciations. Originally I wanted to call the album Almond Birdshit since that's what someone brought me up [onstage] as once but I didn't wanna have "shit" in the title.
Is it the same set on the album and the Comedy Central special?
When I got accepted to do the Half Hour I heard from a lot of comedians, my peers that have done it before, that it's the best time to release an album. It's kind of when everyone is looking at you, hearing about you. So I told my agents that I wanted to record an album, and Comedy Central, because they had me under contract, had to approve me doing the album. They weren't sure until they saw the Half Hour recording, and I think they liked it, so that night they were like, all right, let's do the album. The Half Hour for Comedy Central ends up only being 20 minutes and then the album you want to be an hour or 45 minutes at least, so I had to hit the road and hammer out the extra 40 minutes that wasn't as sharp as I once had it when I first wrote it. That was really fun. I felt like when I recorded the album was the sharpest I've been.
Before we end, let's talk about Dead Kevin, which has a nice following on YouTube.
The sketches came from me and Ryan O'Flanagan and Jack Robichaud; we were all struggling through the open mike scene in L.A. when we first moved here. We just gravitated toward each other. We're all from New England. We all have kind of a shy persona for comedians. We started filming in my friend's apartment. We kept it really simple. It's us kind of playing ourselves. We're just stupid guys in an apartment. And they're mostly improvised. We'd meet up and have three different shirts, come up with three different ideas and just joke around. Luckily the camera guy who recorded most of them, John Hale, is a great cinematographer. He was able to let us improvise and still capture everything.
How many cameras?
Mostly just one. He's really amazing. He's willing to let his work look a little crappier because he knows it's YouTube. His real work in L.A. is amazing. He knew that that wasn't the point of our stuff, so he was willing to sacrifice some of the quality but still make it look appealing.
You're gonna keep doing Dead Kevin?
We took a break. We were working on a Dead Kevin TV show with [Comedy Central] that didn't get filmed.
Is that a big goal — to have your own TV show?
For sure. When I was younger it wasn't, really. I loved stand-up and I loved Seinfeld, and everyone always said that was the dream, but I never thought a sitcom would be appealing. It wasn't until I started doing Dead Kevin that I saw it.