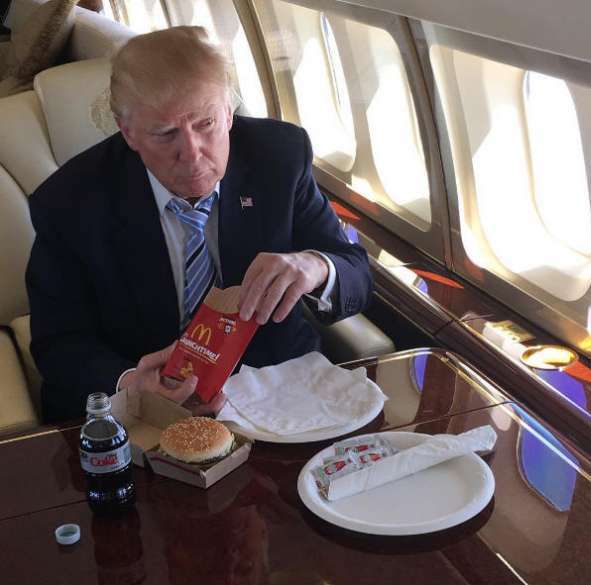 Ladies and gentlemen, the United States elected a new president last week. And while we here at Food Republic have pledged to remain as apolitical as possible following last Tuesday's results (we'd like to think, after all, that you have more appropriate outlets to read about the latest developments and voice your opinions), we couldn't resist checking in on the immediate winners and losers in the world of food on the heels of Donald Trump's upset victory.
Let's take a look at where things currently stand from a culinary standpoint in the White House. Barack Obama has become well known for combining a balanced diet with regular exercise during his time in office (a famous anecdote maintains that his nighttime snack consists of exactly seven lightly salted almonds), while first lady Michelle Obama has championed a public-health campaign to encourage healthy lifestyles in children, which included the hiring of established chef Sam Kass to oversee the project. The first couple has made a habit of visiting culinary hot spots from Rose's Luxury in D.C. to Carbone, Estela, Upland and Cosme in New York City. They've called NYC institution Blue Hill their favorite restaurant.
The Obamas have also played a vital role in addressing food-related issues that have affected the nation for over a half-century. The website Obama Foodorama is devoted entirely to chronicling the president's views and actions on topics such as food waste, family farming and urban agriculture. Meanwhile, debates regarding the rise of gratuity-included restaurants and a minimum-wage raise for fast-food employees have sprung up nationally in the past couple of years.
So what will a Trump presidency mean? It'd be premature to speculate about his potential food policies not even a full week after the election. Instead, let's look at some clues from his campaign.
Donald Trump's McDonald's Ad
There are certainly major differences in the dining preferences of our future president compared to our current one. Throughout his presidential campaign, Trump made no attempts to hide his unabashed love for fast food. He celebrated clinching the Republican nomination with a meal from his beloved McDonald's (which he has called "great stuff" and even shilled for in a commercial in 2002 — see above) and routinely chowed down on Burger King and Wendy's. He made waves for digging into a bucket of KFC chicken while reading the Wall Street Journal on his plane after a campaign stop in Pennsylvania, and he dined with Sarah Palin at Famous Famiglia Pizza in Times Square. Running mate and Vice President–elect Mike Pence treated his family to a meal at Chili's after a rally in New York City.
It feels somewhat safe to say that the future first family won't be seeking out hidden culinary gems around the nation anytime soon. And that's a bummer. It always felt validating — to both the people and to the restaurants themselves — to watch the nation's most powerful man take time out of his day to enjoy a quality meal while showing a tendency to being "in the know." It made his position as commander-in-chief that much more humanizing to us all.
Then again, there's also a certain comedic aspect to Trump's dietary routines to which a large majority of us might relate. "At least you know what you're getting," he once reasoned to Jimmy Fallon, attempting to justify his frequent fast-food-eating habits. He's taken buns off of Big Macs and ordered Diet Cokes with these colossal meals in order to "save calories" and has been photographed eating at both KFC and Famiglia with fork and knife while scoffing at former candidates' table manners.
So what does this all mean for the future of dining in America? Well, our president-elect has a BMI somewhere between overweight and obese, and he has a hankering for quick meals at a time when the general public is embracing fast-casual concepts. Meanwhile, renowned chefs have refused to take on the chance to helm a new, full-service restaurant at a Trump hotel, while peers around the country are also collectively shifting their focus away from these types of projects in general. We're not prone to making far-reaching predictions, but don't be surprised to see some packed drive-throughs — or a lengthy wait at your neighborhood Chili's — in the near future.