Food Republic's Richard Martin and Chris Shott are two Brooklyn dads who like to drink good wine. Occasionally, they compare notes on what they're drinking and post them here for proper sommeliers to ridicule. Follow them on Delectable: @richardmartin1, @chrisshott.
RM: It's back-to-school week for our kids, so let's call this "what the wine dads did on their summer vacation."
CS: [signing in a bit later] Ah, here we go!
RM: Such a wine dad, still having trouble with the technology!
CS: Just call me a Slack-er. Har, har.
RM: Aaaand cue bad dad jokes.
CS: Hey, they've gotta go somewhere!
RM: OK, what are we drinking?
CS: Chateau Bois-Martin 2012.
RM: Semillon/Sauvignon Blanc?
CS: Oui! Classic combo.
RM: And there we have it, today's theme: Bordeaux whites, or what we did on our summer vacation. A recap: We went to Bordeaux and the Atlantic Coast/Cap Ferret, when was it? June?
CS: Yes, June. Six days without wives or kids, but a whole lot of great wine and some excellent eats as well.
RM: And I love the city of Bordeaux, but probably the most memorable part was our trip to Cap Ferret to drink Bordeaux whites with some of the area's most notable producers, no?
CS: Definitely.
RM: First, let's talk about the bus ride out, about an hour from Bordeaux out to the Arcachon peninsula, and you slept the whole ride!
CS: I did! Can't remember why. Maybe because of that horrible concussion I got trying to use the ATM.
RM: While I spoke (in French, because that's how I roll) with winemaker Benoît Dubourg of Vignobles Dubourg.
CS: The automatic door swung inwards. I was not ready. Wham!
RM: Yeah, you struggle with technology — and doors.
CS: And we hadn't even started drinking yet!
RM: But you were in your element once we got out there.
CS: Yeah, after a nice nap en route, we arrived to a bucolic seaside setting with a delectable spread of local oysters, shrimp and great wines.
RM: I don't think either of us knew what to expect, but man, it was nice.
CS: Eleven winemakers joined our group, all makers of fine Bordeaux whites.
RM: Yeah, like a dozen winemakers from Bordeaux and the various AOCs that produce white blends. I had met with one of the winemakers in Cadillac on a previous trip, Jean-Jacques Dubourdieu, whose family estate, Chateau Reynon, produces some excellent examples. Their wines are available in the U.S. and very affordable.
CS: It was quite a group. Let's name-check some of the others: Antoine de Roquefeuil of Chateau les Antonins, Marc Milhade of Chateau Recougne, Olivier Chety of Chateau Haut-Colombier, Alaine Barthe of Chateau Darzac, Stephane Defraine of Chateau de Fontenille, Fabrice Reynaud of Chateau des Places, Claire Barrazza of Chateau Smith Haut Lafitte and, last but not least, the gregarious Marc Medeville of Chateau Fayau, who schooled me on the finer points of American versus French cinema during our ensuing dinner at Le Bouchon Du Ferret.
RM: I didn't have any bad wines, and most were exquisite.
CS: They were all excellent and great with the whole fish. The only thing that disappointed were the frites! The rest of the meal was great.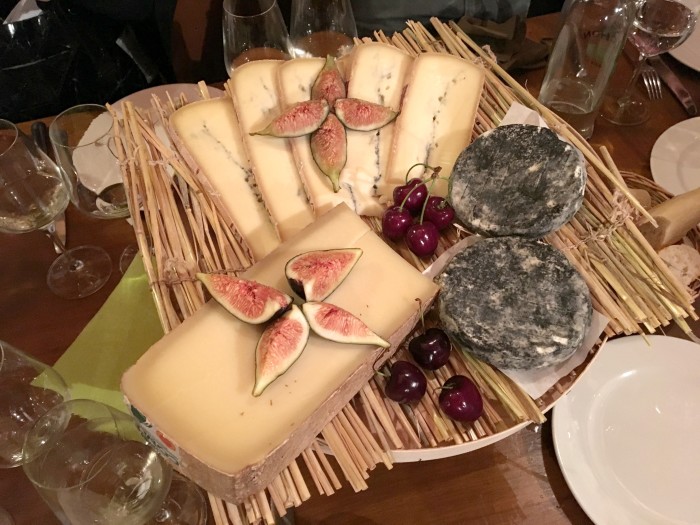 CS: You know, I don't think I really had much experience with Bordeaux whites before this trip. But ever since we got back, I've been picking up a bottle or two each week. Good stuff — sunny, dry, citrus. It's perfect for summer.
RM: Yeah, citrus, crispness, fruit; great with oysters, seafood, as we experienced.
CS: This stuff we're drinking now is actually cutting through the lingering fat of my lunchtime pastrami sandwich rather nicely, too.
RM: These wines are so tasty and affordable. It's funny, the Bordeaux marketing machine works hard to dispel the notion that Bordeaux = Expensive, but mostly in the red category, and we certainly chronicle a lot of trends in wine here, and the old-school Bordeaux wineries are pretty set in their ways. But the whites have such character, and half the producers we met were under 40, at least (unlike us).
CS: Lucky bastards! It's true. A lot of the Bordeaux whites I've been enjoying this summer have been less than $20 — including the one the missus and I enjoyed last night (after the kids were in bed, of course).
RM: So what'd you drink last night?
CS: Chateau Grand Renard. I've had that bottle a few times. Bright, acidic and damn good with sushi.
RM: Ah, organic?
CS: Yes, it is millennial friendly.
RM: Lolz! Yeah, I'd say these wines are great with fish, seafood. Not sure they'd do much for pork. But man, I remember the look on your face when you had your first conch after that ride on the boat.
CS: The welk!
RM: That was the day after our dinner, and we went out with Gregoire.
CS: Our charismatic guide! The dude was a masterful boat driver, even steering with his feet while shucking oysters.
RM: I've recommended that company to a few people now, Balade Sur Chaland. So fun, shucking oysters, talking language, checking out the seaside, drinking wine — all before noon! (Don't tell the wives!)
CS: That day, we drank a white blend: Vin de Pays des Cotes de Gascogne from Domaine de Pellehaut.
CS: The thing that's going to stick with me about all this is that flavor memory. Each first sip of white Bordeaux will take me back: the scent of the ocean, the richness of the French butter, the feel of the breeze. It was a really chill day, unlike the hustle and bustle of the rest of our trip.
RM: And let's give a shout to the Abatilles Sainte-Anne mineral water from there. We had that in Bordeaux a lot too.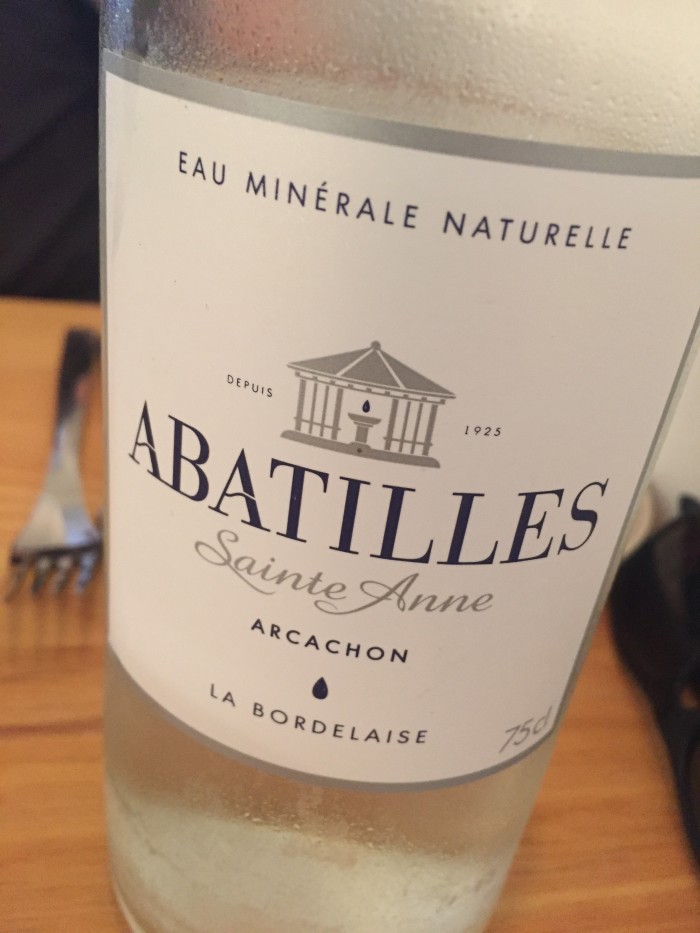 CS: Everything there — even the instant coffee — tastes better than stuff here. The French really know how to live.
RM: It's shit like that that makes me not deal when people try to convince me to drink white wine from Long Island. I mean, fine, but it's not going to evoke that sensation, and the crispness.
CS: So crisp! That's the whole writeup of my Delectable entry from that day: CRISP! with a #winedads hashtag obviously.
RM: Probably helps that the kids were like 4,000 miles away. (Thanks, moms!)
CS: Shout out to the moms, cheers!
RM: So would you go back to Cap Ferret?
CS: Cap Ferret? Most definitely.
RM: You weren't as enthused after we took the ferry across the bay to Arcachon.
CS: Arcachon was just a very different vibe. It's a tourist town, with all that goes with that. Cap Ferret was just much more laid-back.
RM: Plus we didn't have a bunch of winemakers pouring for us!
CS: We did have a very interesting meal there at Le Patio — where we were not seated on the actual patio. Still, it was an exquisite meal. Very haute cuisine.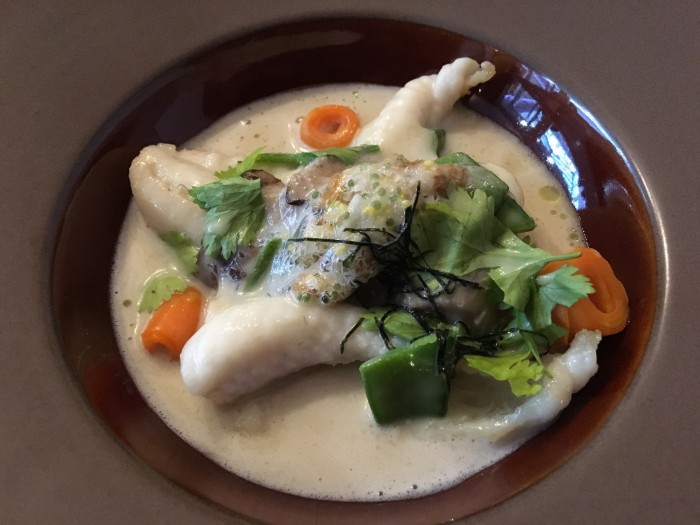 RM: Ah yes, Thierry Renou is the chef. Better known in Aquitaine (the region including Bordeaux) than in these parts.
CS: But if I had my druthers, I'd just as soon lounge around on that boat, shucking and sucking down oysters all day.
RM: Yeah, even though it was a great example of la gastronomie, we'd already been transfixed.
CS: The sommelier was great, though. She sent us some obscure shit. The color, it was almost clear.
RM: Oh yeah! And kept challenging us to guess.
CS: And I'm still guessing. What was that?
RM: I think I guessed Jura but it was a setup. She tricked me!
CS: I want to say it was Estonian or something.
RM: Was it? Maybe.
CS: Whatever it was, it was delicious.
RM: Yeah, it's funny though, I think we both had such an incredible experience in Cap Ferret that anything in Arcachon would pale.
CS: Yeah, it's really not fair to compare the two. Really, we got the best of both worlds.
RM: I think I said Cap Ferret is like old Montauk [Long Island, New York]; Arcachon is like Southampton.
CS: That seems like a fair comparison.
RM: But yeah, for anyone who has read this far, book a trip on the Bastide, learn to shuck oysters and drink vins blanc from Bordeaux. Or, I should say, Sauv Blanc-Semillon blends. We had Sauternes in Bordeaux at that Grand Cru Classe en 1855 event during the Fête du Vin. We drank awesome wines there, and had fun with Snapchat.
CS: Ha! Yes, I tried to force-feed a statue. He seemed enthusiastic….
RM: Yeah, I thought we'd get thrown out.
CS: We were probably close to that.
RM: I guess that's my one regret: that we didn't do any jail time. I mean, when are we gonna be able to get away with that again?
CS: Well, it was during the European soccer championship, so the cells were full of hooligans, what can you do?
RM: Oh yeah, and let's not sign off without mentioning our favorite bar with aperol spritzes in plastic containers, and the great Garbage Strike of '16!
CS: We kept looking for the "croissant rat" — Bordeaux's answer to New York's infamous "pizza rat."
RM: We never did catch him in the act!
CS: He's like a French Bigfoot! But back to that bar, what a great location! One big screen and cheap drinks in the short fat containers. Those were a life-saver one day!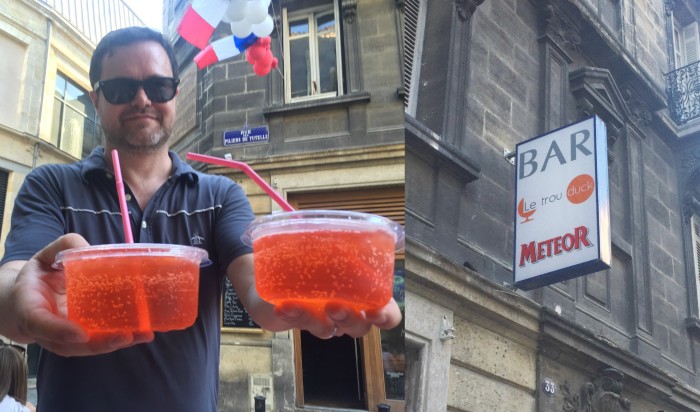 RM: Yeah, it's always nice to balance out all that wine drinking with some proper booze. All in all, I'd say that this was one #winedads experience that might be worthy of a sequel. Same time next year?
CS: Moi aussi! Merci.
RM: OK, let's finish off this bottle! It's tasty!