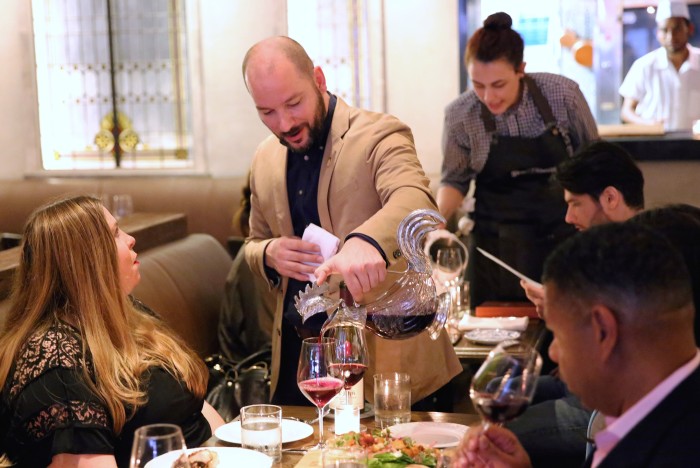 Given that a mere 230 professionals worldwide have earned the title of Master Sommelier from the Court of Master Sommeliers, the regular duties of these unicorns of the wine world are often misunderstood — or altogether unknown. When a person has reached the very top echelon of all international wine experts, does he or she continue to serve restaurant guests? Open a new establishment? Educate? Commission a marble statue in his or her likeness? Apparently, the answer can be any or all of these things (minus the statue…thus far).
I know this because I recently shadowed Master Sommelier Alexander LaPratt — cofounder of Brooklyn's Atrium Dumbo and an alumnus of the French Laundry, Daniel Boulud's Bistro Moderne, Le Bernardin, and Jean Georges, among others. Over the course of an entire workday at Beasts & Bottles, his new Brooklyn Heights eatery, I followed every move of the borough's only Master Somm like a pesky younger brother ("Alex, can I try the corkscrew now? Can I try?!") for a revealing look at a man who has reached the most elite level of wine stewardship.
12:10 p.m.
Upon arriving at Beasts & Bottles, LaPratt greets me warmly with a drink offer (look, he's already sommelier-ing!), and we chat for a bit before his day kicks off.
I quickly learn that LaPratt can best be described as relentless, and I mean that in the best sense of the word. To land a job at Thomas Keller's French Laundry, he used all the money he had to buy a plane ticket, two suits, shirts, ties and an attaché case (because "you can't pull your résumé out of a backpack at French Laundry!"). And although he didn't get the desired sommelier gig, LaPratt settled for a lowly food-running position at $10/hour just so he could work at one of the greatest American restaurants of all time.
"That's what a lot of people miss these days," he says. "They're like, 'No, I'm better than that. I'm worth more than that.' It's like: Prove it. Do it! If you want it, go get it." Eventually, he became indispensable and was promoted to a newly created back-of-house position: cellar sommelier.
1:40 p.m.
In walks Ryan Totman, a Certified Sommelier working at New York wine bar Corkbuzz. Totman is studying for his Advanced Sommelier exam, and LaPratt has offered to help by administering a blind tasting using classic examples of various wines. As LaPratt explains, tasting in isolation doesn't provide the same amount of pressure as during the exam. "If you get taken out of your game just a little bit [during practice], it's not a bad thing," he reasons.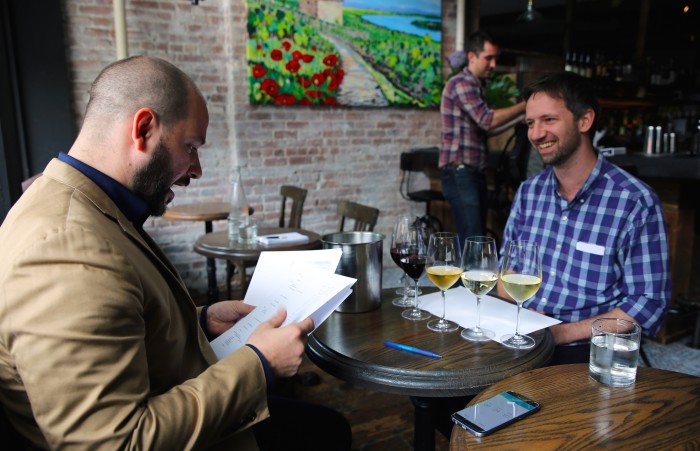 2:15 p.m.
The exercise begins with Totman calling out characteristics of six different wines (three white, three red). He has 25 minutes to deduce the grapes and origin of each — right down to the village.
Totman detects "crushed gray rock" in one wine; "Slim Jim charcuterie" in another. And my favorite tasting note: "Domino's pizza spice." All the while, LaPratt grades, writing furiously, glancing at the clock every so often.
Suddenly, a car alarm goes off right outside…and stops 15 seconds later. It begins to start and stop again at unpredictable intervals, and as Totman describes one wine after another, he doesn't even flinch: no stuttering, no pauses.
LaPratt smirks, appreciating the added environmental challenge.
2:45 p.m.
LaPratt gives Totman notes, offering a different deductive order for listing fruit: "I tend to go citrus, tree fruit, stone fruit, then tropical," he says. He also suggests trying all of the wines before identifying a single one, and Totman listens intently to his recommendations.
LaPratt isn't employed by the Court, and thus doesn't actually know how the Advanced Sommelier exam is graded. But he did pass it in 2008 on his first try, an incredibly rare occurrence.
3:10 p.m.
An importer named Jean-Luc from Wine MC2 comes in to offer LaPratt his own tasting. Beasts & Bottles focuses on Champagne, Rhone and Beaujolais, so the first three of the four wines Jean-Luc pours are Beaujolais — one of LaPratt's favorite regions.
With good Beaujolais, he reasons, you get Burgundian quality for far less money. "I'm often more pleased with a well-made Cru Beaujoulais than an [expensive] Burgundy," he says, sniffing a 2014 Frederic Aublanc Cuvée La Bachasse Beaujolais Villages.
Balancing business and passion, LaPratt echoes two mottos he regularly reiterates to the sommeliers who work for him: "'If you don't make [the restaurant] money, you're out of a job" and "You can change people's lives with a glass of wine." When purchasing, he tries not to lose sight of either the pragmatic or romantic sides of his work.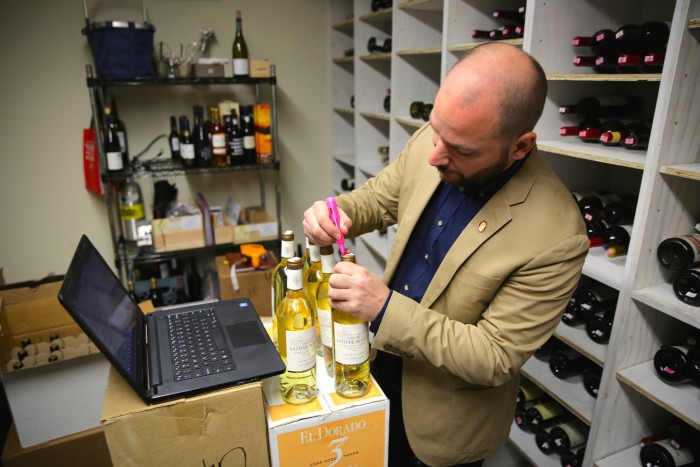 3:50 p.m.
After briefly going over inventory at Atrium with sommelier Brady Brown, LaPratt heads down to the cold storage room to start "binning" wines – labeling and inputting them into an Excel spreadsheet according to the bin in which they will be stored. He marks one bottle of each case of new wine with a pink highlighter, which will eventually indicate that this is the last in stock.
LaPratt has no fear of tedious tasks. While working at now-closed Detroit restaurant Tribute years before his French Laundry days, a cocky sous-chef once challenged him to clean a dry-goods storage room absolutely covered in decorative chocolate from a Wagner paint sprayer. Even after the sous-chef relieved him of his duties at closing time, LaPratt refused to quit, scrubbing down the room until it was spotless, long after everyone else had left for the night. "You have to earn respect anywhere you go," he reasons.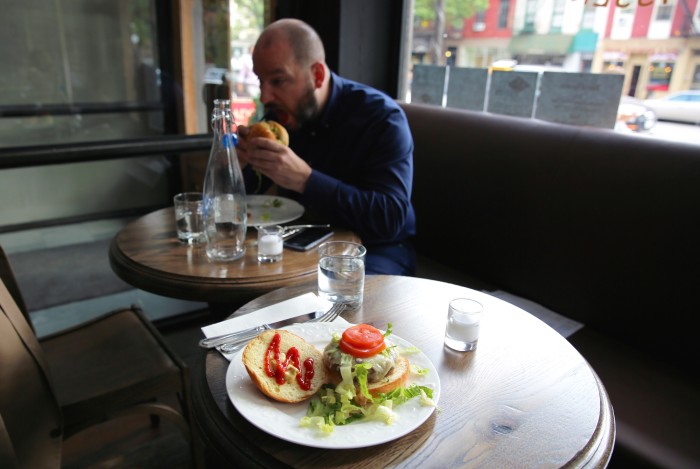 4:30 p.m.
LaPratt takes me upstairs to eat lunch with the staff (called "family meal" here, as at many other restaurants). Over cheeseburgers, we talk about how, while working as sommelier for DB Bistro Moderne in 2012, he passed the theory and service portions of the three-part Master Sommelier exam but failed the tasting after spending the night in an itchy, ant-ridden bed at a LaQuinta Inn. "I'm not going to make excuses, but the ants didn't help," he says.
He glances at his watch and realizes we're due for the 5 p.m. staff meeting. "Shit, we're already late. Line up, everyone!" he shouts as he quickly and fluidly moves to clear my plate and his own in a fully controlled frenzy. The time is 5:02.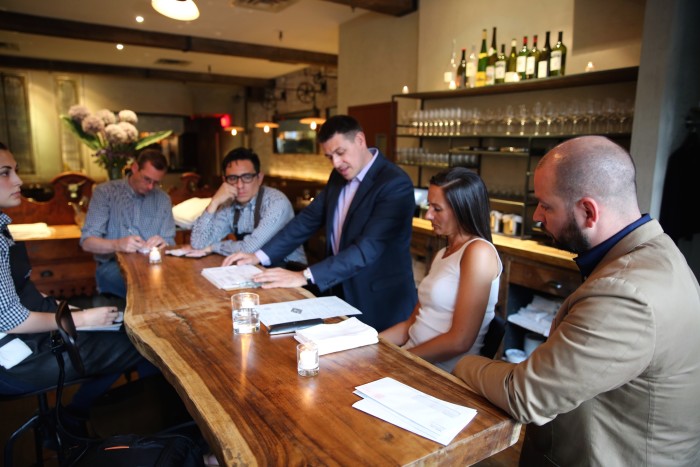 5:03 p.m.
The staff is addressed by the maître d', who goes over menu updates and restaurant news. After a group debate over whether to use the word "vinaigrette" or "dressing," LaPratt mentions that they'll be offering glasses of a Ribera del Duero out of a magnum, and explains the importance of keeping dirty plates and glasses organized when dropped off for dishwashers.
There's a bittersweet announcement, too: Today is the last day for Phil, the Scottish bartender, who will be moving on to another restaurant. "This is the best place I've worked in New York in the four years I've been here," he says at the end of his quick exit speech. His genuine smile indicates nothing but sincerity.
7:20 p.m.
After a slow start, the restaurant is now bumping, and a woman at a four-top is requesting wine advice from "the Master Somm." LaPratt heads over to consult and helps them home in on a bottle of Domaine Faury Saint-Joseph, a Northern Rhone Syrah.
Getting to discuss wine history and flavor profile with a guest to enrich his or her dining experience makes all of the work worth it. But "the moment you put the wine before the person, you've lost touch with what it means to be a sommelier," LaPratt warns.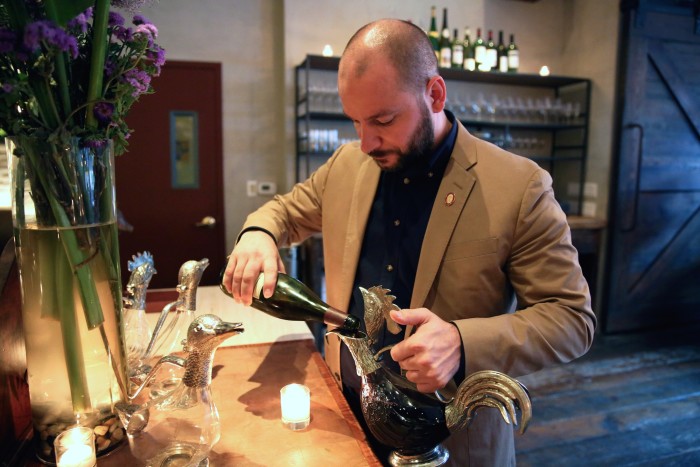 7:24 p.m.
As LaPratt aerates the wine in a badass rooster-shaped decanter, I marvel over what it took for this respected expert to get to this point. After the Great Ant-Bed Disaster of 2012, LaPratt failed the tasting portion again in 2013 when his flight the night before was canceled and he had to rebook for the next morning.
And in 2014, a reset year (meaning a failure would reset his service and theory portions of the test in 2015), he'd battled a nasty cold just days before the exam. "A lot of people fail because they get in their own head and they're like, 'I can't smell; I can't taste.' And I said, you know what? I'm just gonna do what I do." Fortunately, he did what he does — and passed.
7:28 p.m.
At last, LaPratt pours an ounce of Saint-Joseph for the woman who ordered it. She tastes, and absolutely loves it. LaPratt fills everyone's glass.
But before he can walk away from the satisfied table, the guests stop him and ask to take a photo. LaPratt bashfully obliges.
Hey, what fun is being a Master Sommelier if you can't bask in the adulation once in awhile?