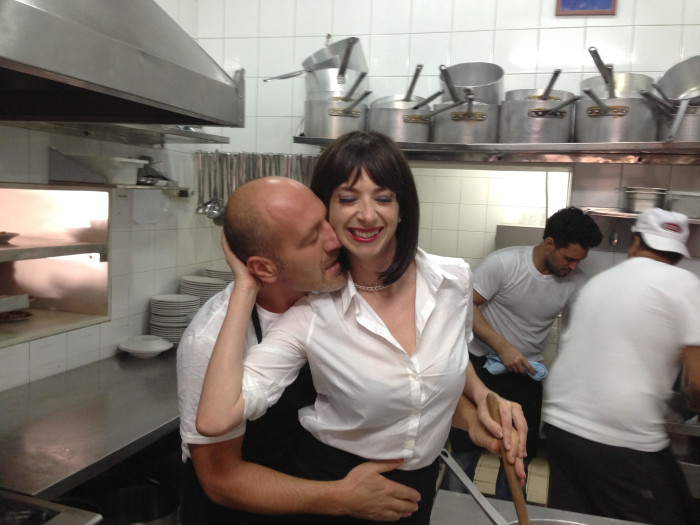 Dr. Alex Schiller (the alter ego of New York–based actress and writer Roslyn Hart) is a self-described sexual evangelist who wants to help you get laid because, as she's fond of saying, "Tomorrow your genitals could turn to dust."
Schiller is the star of 
Never Sleep Alone
, a participatory music and comedy show during which she encourages audience members to make out, leave together and hook up with each other. The show is currently running at Joe's Pub in New York City, with upcoming performances scheduled for Friday, August 19, and Saturday, August 27. In between shows, she talked (in character) about food and sex with Food Republic.
Dinner dates are often meant to lead to the bedroom, but too often lead to bloating, exhaustion and/or whiskey dick. What do you recommend?
I am a very big believer in having sex before dinner. It makes the food taste better. If your date trusts you enough to start at your place, welcome them with champagne, and have some olives or maybe some cheese, in case they're hungry — although champagne or anything sparkling can be filling enough on its own. Don't plan on having sex on the first date — it's probably not going to happen, unless it's an explicit business transaction, or that's how you both agreed to roll when you met on Tinder. But if you invite someone in for champagne, chances are better that you'll at least get a little makeout in.
What should a person order, or not order, if they're on a date and looking to get laid?
Stay away from beer and Parmesan together. The combination creates a weird bad breath situation and your mouth ends up smelling like a corpse. On a first date, eat what you like, but watch your portions; overeating kills the libido. Sexual desire comes from hunger, and if you fill that hunger with six courses and two bottles of wine, you're probably not going to be in the mood for anyone to have dinner down under. If you've already had sex before dinner, though, order everything and eat it with impunity. And whether or not you're pre- or postcoital, tip well, and don't be a dick to your waiter.
What about the foods that are supposed to be aphrodisiacs?
There's a well-worn cliché about oysters being a big turn-on, and while I can't vouch for their inherent aphrodisiac properties, I find that the act of serving and eating any food that's raw, or still living, is a turn-on for all involved. Find out if your date is into oysters, clams or sea urchin, and take them to a great sushi or oyster bar. Order some champagne or sake and it's a done deal. Never be afraid to share your food or drink with someone you're sexually attracted to. You want this person to put your genitals in their mouth — why the hell wouldn't you let them have a sip of your wine or bite of your burger?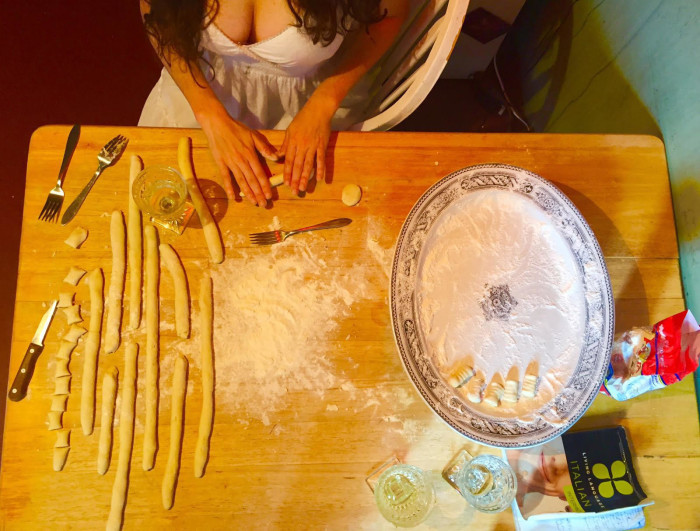 What about cheapskates? Can you take someone out for burritos and still get laid?
You can, especially if you're very young, but it had better be candlelight burritos with decent beer or wine. And please don't be eating burritos before you fuck; that's a post-fuck thing. A smarter thing that's still cheap would be to go to a taco truck or falafel truck near a park and make a picnic out of it. Put a beautiful clean blanket in a backpack, wine in a chilling bag, maybe some votive candles in glass jars so they don't blow out.
Cooking for a date at home: hot or not?
It's hot, as long as you're doing it right. Little details — fresh flowers in a vase, clean linens on the table and in the bathroom — matter. Even if you're serving burgers and fries, service touches like putting the ketchup in a ramekin can mean the difference between getting laid or not. Lighting is just as important as the food. Lean hard on candlelight. Low light is the most flattering for the body, the face, and the food. I worked my way through Yale Medical School in restaurants and bars, and I noticed how people's behavior changes the second the lights get dim and candles are lit. It puts people in a more relaxed mood and makes them feel desirable. And back to oysters — you shouldn't be afraid to serve them at home. It's easier than you think to shuck them. Get an oyster knife and watch an instructional video. Practice on a few before your date arrives. It's a cool thing to do together, and they're going to taste 100 times better than if you have them shucked at the store, only to lose all that briny juiciness on the way home.
What kinds of things should people be cooking together, if the goal is to get naked together later?
Cook something simple but rewarding, like steak and sliced perfect tomatoes with sea salt. Or homemade gnocchi. I did this the other day with my Italian lover. We used his grandmother's recipe, just potatoes, Tipo 00 flour, and water. And we dressed them with pesto Genovese a friend had just brought back from Italy. It was a sexually charged experience from beginning to end: going to the market for the perfect potatoes, begging an Italian restaurant owner I know for a bag of the right flour, drinking Greco di Tufo while we cooked, him coming behind me to teach me how to knead the dough and roll the pasta on the fork to get the beautiful pattern, and then enjoying what we'd made together.