Pennsylvania-based hard rockers Crobot, composed of Brandon Yeagley, Chris Bishop and brothers Jake and Paul Figueroa, are always on the road, touring with bands like Motorhead, Anthrax, Volbeat and Clutch.
The group has its own hot sauce that goes everywhere the band goes, and a heavy-hitting collaboration beer: Double Barley Brewing's SupernaturAle, an imperial brown ale with currant-flavored hops and California orange blossom honey that clocks in at a whopping 11 percent ABV. Crobot also probably tops the list of the most inventive 
band-wiches
I've ever encountered.
The band stopped by FR Headquarters for a tasting and "culinary discussion" on its way to soundcheck last week. Let's go on a tasty little tour with these bearded wonders, shall we?
Tell me about the process of a band and beer collaboration. How did you settle on an imperial brown ale?
Chris: The guys from Double Barley Brewing saw us on the Clutch Tour and approached us about doing a beer. We went to the brewery and drank with them all day, but it was actually tough because we all have really different palates for beer. We just compiled flavors we liked, and SupernaturAle is what we came up with.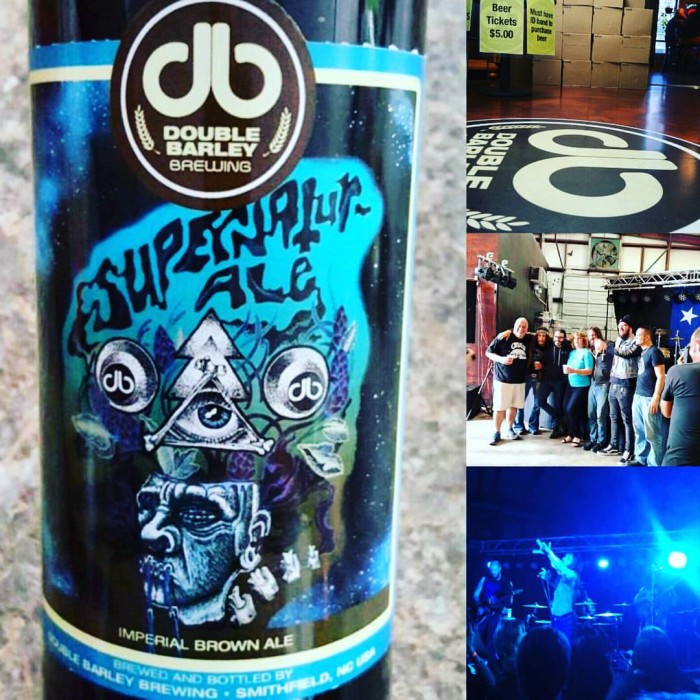 Paul: We got to taste it at the halfway point, too. They were cool with us being around and let us help out.
Chris: They're doing the next one for us, too.
You already have another beer in the works?
Chris: Well, we're going there for a tasting session.
Jake: What do they call that? Getting drunk? [Laughs]
Chris: Yes, and I think the next one is going to be a little more drinkable.
Brandon: Sessionable.
Buzzword! You have been hanging out with brewers. What are some of your favorite beers for summer?
Chris: I personally like saisons and sours, but I also love fruit beers and weizens. That's what I drink year-round. I've been really into Pizza Boy Brewery down in Harrisburg [Pennsylvania]. It's phenomenal. They have a sour double IPA that's crazy.
Jake: I'm more of a "whatever's cheapest on tap at the bar" kind of guy, which is usually Pabst, or if I'm feeling like a baller, Budweiser. They don't call it the King for nothing.
Paul: I like dark, malty beers, like stouts and anything heavy. I don't drink a lot of beer to begin with, so if I can just have one and done, stouts are pretty good for that.
If you're not drinking beer, what are you drinking?
Paul: Water, because I have cottonmouth, most likely.
Brandon: I'm a cider guy.
Wow, you guys really run the gamut.
Brandon: I don't really like beer, to be honest, but we went to Double Barley and I liked everything they have. It's a really good brewery and they made something we all liked.
Tell me about your hot sauce, "Crobot's El Sauco De Lucifer."
Chris: We just all love hot sauce. We were looking for different places to make a sauce for the band, and Hot Sauce Harry's in Florida sent us a bunch of testers they were working on. This one had habanero, garlic, carrot and lime and was the one we liked the most.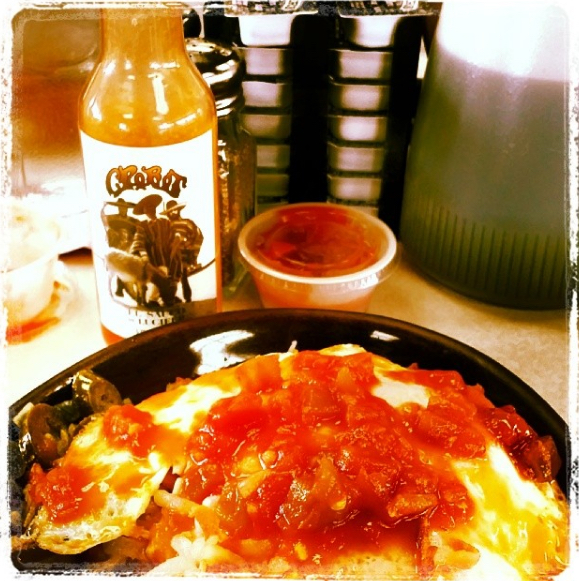 Do you sell it at the merch table?
Chris: We usually have several bottles open so people can sample them.
Paul: The worst is when someone drops a bottle.
Chris: Or when a bottle breaks in the back of the trailer and has just been baking in the sun.
What else is it good on?
Jake: Eggs, pizza, burgers, your hand.
Paul: Tacos, burritos.
Chris: Whiskey shots.
Brandon: Skittles, toothpaste…
[Laughs]
What's your favorite city to hit on tour because of the local dining scene?
Jake: New Orleans is pretty awesome.
Brandon: It's so unique. New Orleans is one of the only cities that has its own food culture, like Cajun. There's no other city that has their own singular identifier.
What do you eat when you're there?
Other guy: Red beans and rice, gumbo, gator.
Chris: We also love Austin. Barbecue and tacos — you can't go wrong. Texas Mexican food is just so good.
Jake: Texas ruined brisket for me. I can't get it anywhere else. There's a place called La Barbecue we go to. It's a smaller place, but we know the lady who owns it. The last time we were down there, she brought us this brisket, put it down on the cutting board, and it jiggled. It was the most amazing thing.
Which festival you've played has the best artist catering?
Paul: Festivals usually suck.
Chris: I feel like the European festivals do it right, though. We just did a couple over there, and it was still buffet-style catering, but it was more of a sit-down meal, which was really nice. The best catering we ever had was on the Volpi tour. The bigger bands have great catering teams. Every night it was something new and fresh; they used all local ingredients. They have juicers and a full spread of fruits and veggies.
If you could bring any chef, dead or alive, from anywhere in the world, on tour with you, who would it be?
Brandon: Chef Boyardee.
Chris: Paul Newman. He's got a whole line of stuff.
[All laugh.]
Paul: He didn't buy my sauce when I was a child, so I am strongly against that. No way. Broke my heart. I made a chicken sauce and tried to sell it to Paul Newman, and he said no.
What is chicken sauce?
Paul: Well, I don't know what was in it anymore! I made it when I was a kid, and it tasted awesome, so I wrote him a letter, but he never wrote back.
What's on your tour rider?
Brandon: Gummy bears, baby wipes.
In that order?
Brandon: Yeah.
Chris: Those are the two things we get the most of. We also ask for bananas, hummus with pita chips or something, jelly beans, maybe veggie platters, Jack Daniels…what else…Area 51 love doll, Turkish belly dancer. We're actually in the process of cutting it down to be a little bit more healthy, not just six different types of booze.
Jake: I think, though, in our defense, we did heavily revise that because it was right before we went on the Drunk as Shit Tour. We didn't really bring that much booze back from that tour. Three cases of tequila.
What's a band that you've toured with, worked with or recorded with that's also really into food?
Paul: Just about every band.
Brandon: A lot of bands are going vegetarian or vegan, though.
Chris: The Collection is really into food and beer. You can go to those guys and be like, "What did you eat for dinner?" Copy what they had and you're good.
Brandon, your vocals are pretty strenuous. What do you do or not do before you have to sing like that for two hours?
Brandon: I won't eat an hour before showtime — that's a definite no-no. I'll usually give it two hours. No spicy stuff or anything that's saucy, which I try to avoid anyway — heartburn — and alcohol is a huge one that affects my vocals. I know a few guys who drink a bottle of whiskey and sound better. But definitely not me.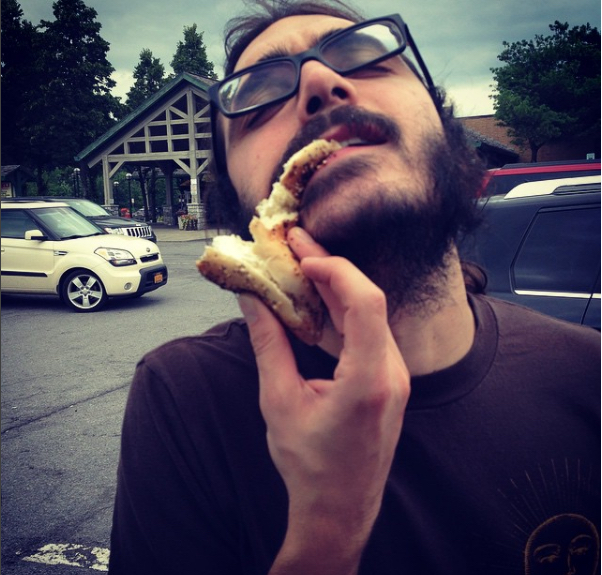 Okay, guys, you just invented a sandwich. It's called "Not for Sale," and it's not for sale. What's in it?
Jake: Definitely human.
Chris: Only Jake's sandwich has human.
Jake: Human bacon.
Chris: That's actually a conversation we've had a lot. If you could try human, would you give it a shot? I think I would. We've even Googled "what does human taste like?" Anyway, the sandwich is gonna have avocado in it. I have a newfound love for avocado and guacamole that didn't exist six months ago.
Paul: This sandwich better have gravy on it.
Jake: It's going to be deep-fried and covered in it.
Brandon: Gotta have some sort of cheese.
Jake: Oh, yeah! Pepper jack? Can it be pepper jack?
Paul: I don't like avocado, man.
Chris: Okay, we can take it off. Or I can just have it on the side. What kind of bread?
Paul: How about garlic bread?
[All: "Oooh."]
So, human bacon and pepper jack on garlic bread, avocado on the side. Still battered and fried and covered in gravy?
Chris Yup, served with a side of steamed broccoli.
Crobot's new album, Welcome to Fat City, is available for preorder now and will be released September 23 from Wind-Up Records. Check out the video for "Not for Sale."