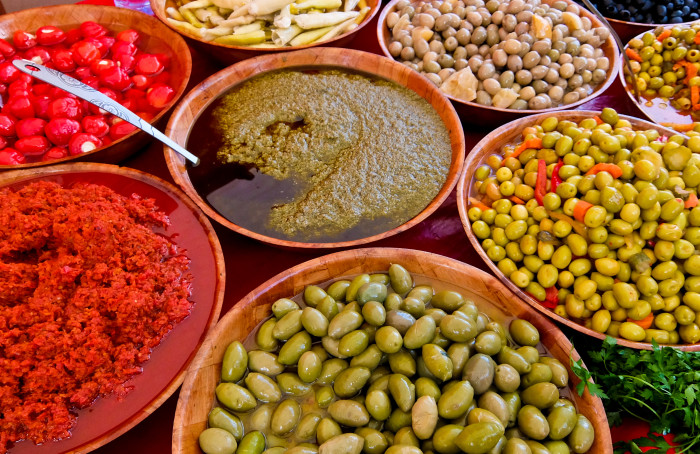 Rotterdam always seems to be hiding in the shadow of its sibling, Amsterdam, but for my money, it has far more to offer. Although Nazi bombs obliterated its historic center on a fateful night in WWII, it's managed to rise from the ashes and now displays thrusting and modern architecture. It's also Europe's largest port, and its cosmopolitan population means that there are cafés and restaurants offering cuisine from all over the world.
People of 176 different nationalities have made Rotterdam their home, bringing with them an incredible variety of food and flavors. Fish is particularly good here, as it's so close to the North Sea, and if you think that Dutch cheese is limited to bland Gouda, you'll be surprised by the range and variety on offer. Here are restaurants and a market to seek out in the Netherlands' second most populous city.
Markets
Markthal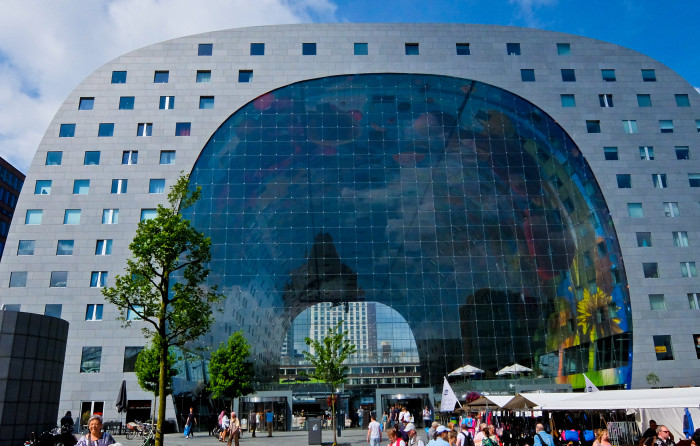 I always enjoy shopping at the sprawling city-center market in Binnenrotte. It sells everything from designer clothes to old junk, but its great strength is the food. Stalls piled high with huge wheels of Dutch cheeses sit side by side with the freshest fish — the catches of the morning. Asian and African vegetables, Vietnamese spring rolls and exotic herbs and fruits make it a multicultural destination, but it's only open on Tuesdays and Saturdays.
Fortunately there's a futuristic, covered Market Hall close by, opened fewer than two years ago by Her Majesty Queen Maxima. In keeping with the modern architecture of the rest of the city, it's a cross between an aircraft hangar and a squashed sausage–shaped balloon. Inside, artist Arno Coenen has created the biggest work of art in the world, which covers 120,000 square feet and spreads across the walls and roof. It's called the Horn of Plenty, and psychedelic super-sized fruit and vegetables rain down from the ceiling — no wonder it's been nicknamed Rotterdam's Sistine Chapel.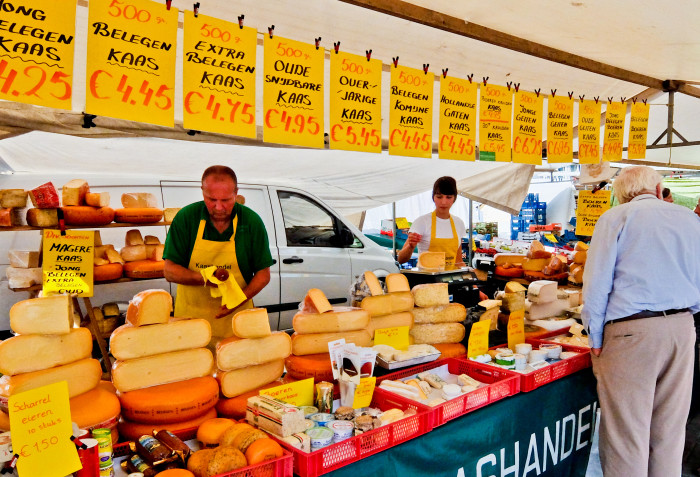 Originally the Markthal was going to be made up of one third traders from the outdoor market, one third new stalls, and one third brand-name shops, but most of the existing traders couldn't afford the hike in rent. Instead, the place has become a foodie nirvana of artisanal bakers, organic butchers and speciality delis, aimed at an upmarket clientele. It's great to wander around its 96 stalls and linger in any of its 14 bars and restaurants, enjoying the experience and taking in the artwork. But if you want even greater choice and better value for money, then the outdoor market is a better bet — just pick Tuesday or Saturday for your visit.
Established Restaurants
FG and FG Food Labs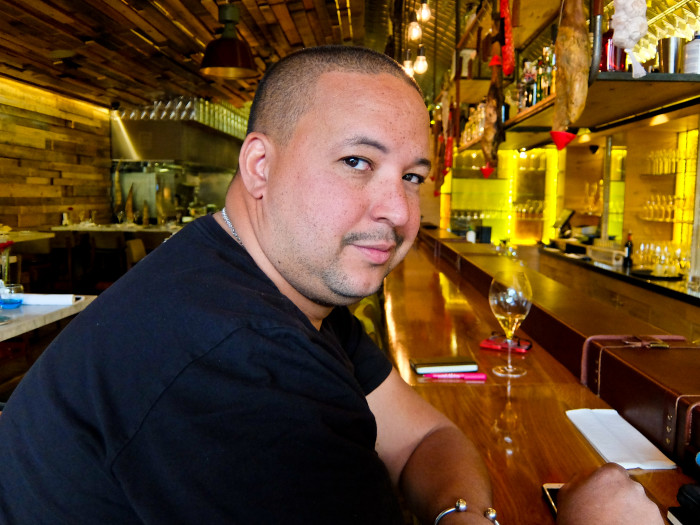 François Guerds is the bright young star of the Rotterdam food scene and has three Michelin stars: two for his FG restaurant and one for his FG Food Labs. He's a walking example of Rotterdam's multiculturalism with a mother from Aruba — a tiny Dutch island off the coast of Venezuela — and a Dutch father. Before he opened his FG restaurant in 2009, he served a global apprenticeship with stints in New York with Thomas Keller and Wiley Dufresne, a stay in Italy with Gualtiero Marchesi and time as sous chef at Heston Blumenthal's Fat Duck in London.
In 2014, he opened his second restaurant, FG Food Labs, in a run-down part of Rotterdam and gained a Michelin star a few months later. I meet him sitting at the bar and he tells me that he's moving his FG restaurant next door and will open in a couple of weeks. He seems surprisingly unstressed, both supervising the workmen and tasting the day's stock, as well as designing the menu for the El Bulli crowd who are dining this evening. His advice for budding chefs? "Never give up. Taste and smell everything," he says, "and serve food from the heart cooked with passion using every bone in your body."
He goes into the open kitchen to prepare my 80€ ($88 USD) five-course tasting menu, and I take a high chair at one of the raised tables. Amuse-bouche include a vichyssoise topped with tobiko (flying-fish eggs), tinged with wasabi, and a falafel crowned with roasted onion, anchovies and duck-liver mousse.
The menu proper then begins. A spoon of Russian black caviar served with a potato mousseline and scattered with thin crispy strips of Joselito ibérico ham works because of the strong contrast between the intense salty caviar and the blandness of the potato. Next, a small round jar has quail stock jelly at its base, a thin layer of cream of langoustine above, and a mousse of foie gras sitting on top. There's also another serving of the mousse on the side, resting on panko breadcrumbed toast.
This course is followed by something truly extraordinary. It's a piece of foie gras glazed with balsamic syrup and covered with a snow of thinly sliced almonds and a powder of desiccated camomile. Adjacent is an ice cream flavored with extract of cherry stones. The sweetness of the duck liver is enhanced by the almonds, but the slightly bitter ice cream is the perfect foil. I'm now beginning to understand why Guerds says he's exploring the boundaries of flavor, and he comes out to tell me that this is one of his favorite dishes.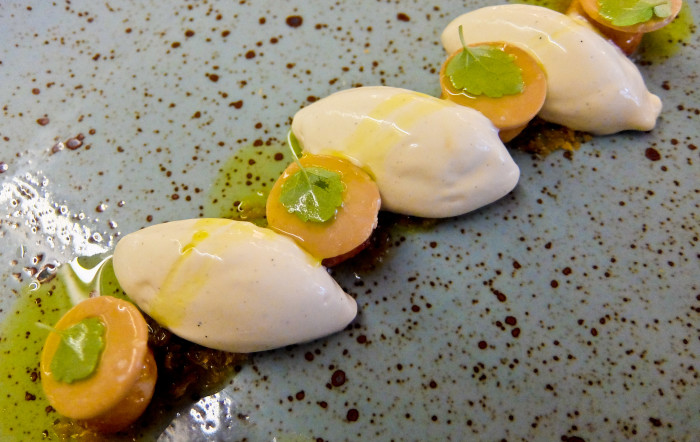 The final main course is rather more conventional: a couple of medallions of beef, perfectly cooked with a layer of foie grass mousse on top. On the side is cauliflower cooked four ways, Jerusalem artichoke and curry chips. It's very good but, after all the excitement, slightly bland. Dessert is vanilla ice cream spaced between large caramelized macadamia nuts, each topped with a slice of foie gras and swimming in Masia el Altet extra-virgin olive oil. Guerds has told me that he's always trying to discover how compelling a flavor can actually be, and it seems he's transformed simple ice cream into something very special. Katshoek 41, 3032 AE Rotterdam; fgfoodlabs.nl
Holy Smoke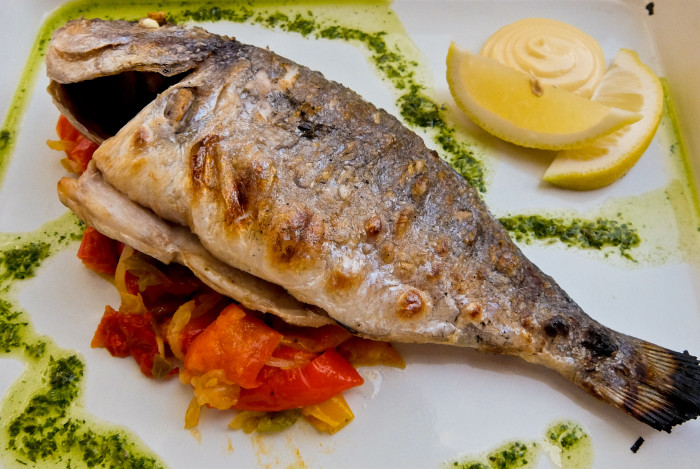 Holy Smoke has only been open for nine months in the heart of Rotterdam's Asian and African quarter, yet it is already making its mark. A spacious corner building has been retrofitted as an American bar and serves New York–type grills plus excellent fish. I sit outside and enjoy a perfectly cooked whole sea bream on a bed of red peppers and onion, with pesto on the side, and watch the colorful world go by. Tiendplein 1, 3014 BH Rotterdam; holysmoke.nl
NY Basement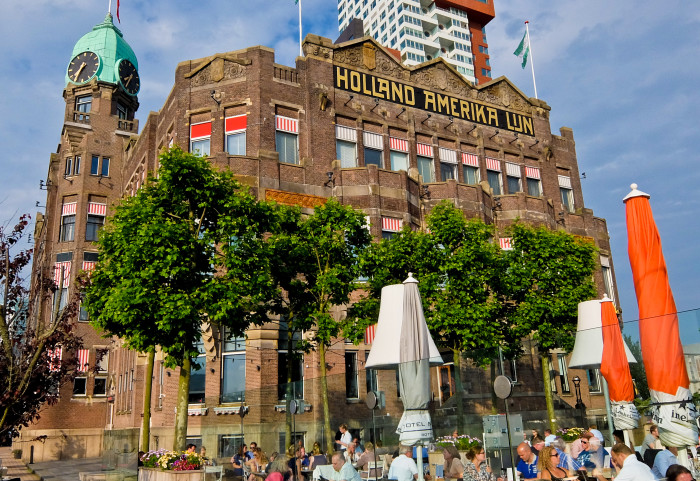 Right on the waterfront, the Hotel New York was once the head office of the Holland America Line where thousands of emigrants left for North America. These days it's a hotel and restaurant complex, but it has just turned its basement into a 1930s-style cocktail bar with tapas-sized tasting dishes. I enjoy salmon two ways — lightly smoked sliced fillets and minced raw in a tartare with wasabi mayonnaise. To follow, there's a light vegetarian risotto of celery, green asparagus, mushrooms and truffle shavings, then roasted cod fillets with clams and chocolate pie to finish. Koninginnenhoofd 1, 3072 AD Rotterdam; nybasement.nl/en
Flowers and Sours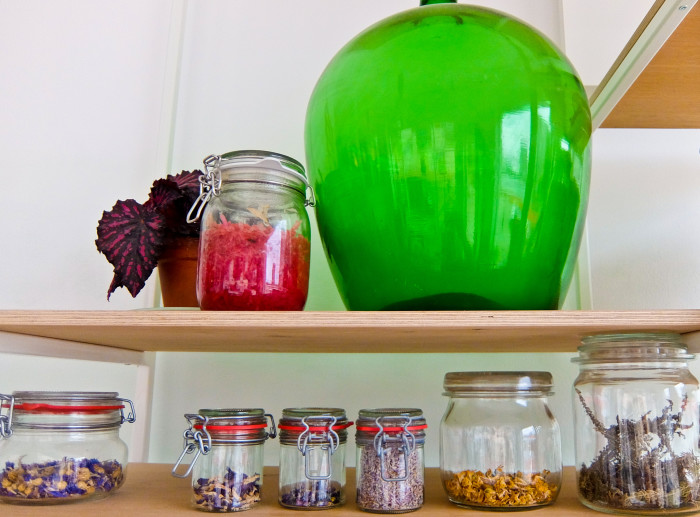 Not quite a restaurant, or even a café, Flowers and Sours is a tasting room and laboratory in one, and it puts people in touch with local suppliers, including organizing picking trips. It serves excellent elderflower champagne, homemade lemonade and water kefir, a fermented drink made from sugar and yeast. At the moment it's only open on Wednesdays, but check out its website for special events. Coolhaven 148A, 3024 AL Rotterdam; flowersandsours.com
New Restaurants
The restaurant scene has exploded in the last couple of years, so much so that there's a shortage of chefs. Here are my picks of recent arrivals.
Supermercado
Serves Latin American food. Schiedamsevest 91, 3012 BG Rotterdam; supermercadorotterdam.nl
District A
Dishes out Vietnamese street food. Aert van Nesstraat 22, 3012 CA Rotterdam; districta.nl
The Suicide Club
Fusion cuisine on offer on the roof of the Groothandelsgebouw. The food and cocktails are excellent, and the view is striking. Stationsplein 45, 3013 AK Rotterdam; thesuicideclub.nl
Op Het Dak
This is another rooftop restaurant serving French and Japanese fusion, which they call frapans. Schieblock, Schiekade 189, 3013 BR Rotterdam; ophetdak.com
Rauwdouwer
A new neighborhood restaurant where even the 1950s dining tables and chairs are for sale. Westzeedijk 381J, 3024 EK Rotterdam; rauwdouwer.nl/restaurant