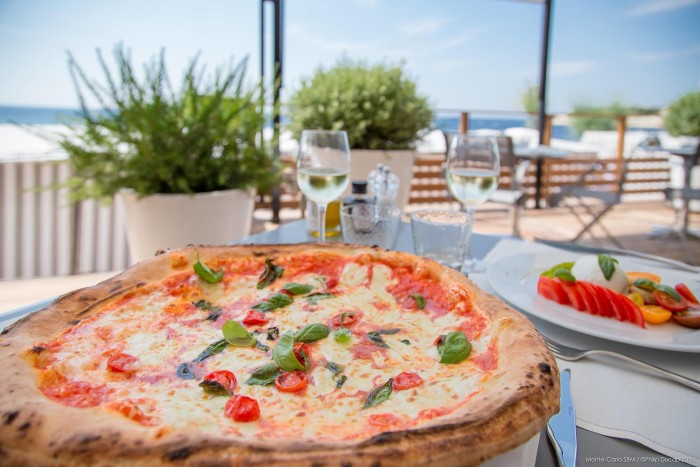 It is easy to dismiss hilly Monaco as merely a playground for bronzed yacht lovers who while away the post-waterfront wee hours in gilded poker rooms. After all, this petite principality on the French Riviera oozes wealth.

But despite the abundance of Rolls-Royce drivers and a fabled past starring Princess Grace, glittery Monte Carlo is enchantingly soulful. Down-to-earth locals are happy to sip espresso at well-worn cafés and shun exorbitant taxis for buses. Perhaps this underlying authenticity is why unlike other posh resort-dotted meccas where overpriced, mediocre food resonates with "keeping up with the Joneses"–minded tourists, Monaco's dining scene is surprisingly impressive.

Many of Monaco's alluring dining destinations are found in hotels. Most of these properties are owned by Société des Bains de Mer, the hospitality behemoth dating from 1863 that serves as the principality's largest employer.

Embracing quality ingredients, menus here straddle tradition and adventure — and don't always require a cash-padded wallet.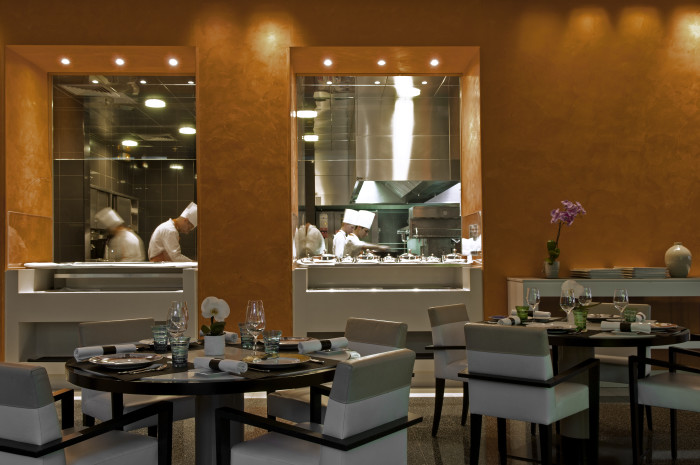 Blue Bay
Marcel Ravin, a native of Martinique, helms the open kitchen at Blue Bay inside the Monte-Carlo Bay Hotel & Resort. His creative dishes — roasted John Dory with Jamaican pepper and smoked chicken accompanied by popcorn among them — celebrate these colorful Caribbean roots. Once the last strawberry marshmallow is consumed, linger in the airy dining room over a nip of rhum agricole before hightailing it next door to the hookah at the rambunctious bar Blue Gin. Monte-Carlo Bay Hotel & Resort, 40 Avenue Princesse Grace, MC 98000 Monaco; +377 98 06 03 60; montecarlobay.com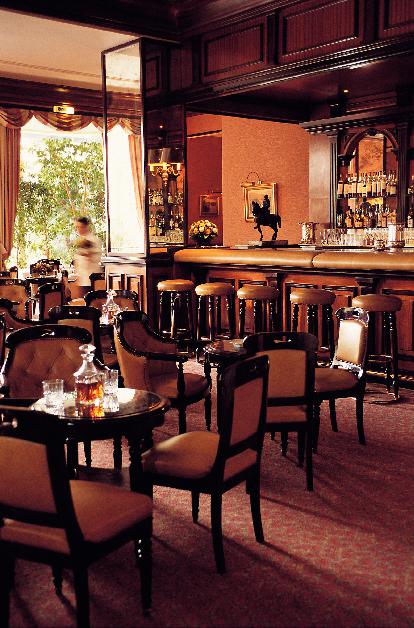 Le Bar Américain
A grand revamp is in store for Hôtel de Paris, but while much of the chandelier-anointed property is under construction, Le Bar Américain thankfully remains open. This elegant wood- and leather-filled boîte turns out spot-on classics, like the Ramos Gin Fizz, to be savored alongside intimate jazz performances. It's located just across the street from Casino de Monte-Carlo, so its armchairs — and the gratis barbajuan, addictive spinach-stuffed fritters — are especially welcome during a suspense-fueled roulette session. Hôtel de Paris Monte-Carlo, Place du Casino, MC 98000 Monaco; +377 98 06 38 38; hoteldeparismontecarlo.com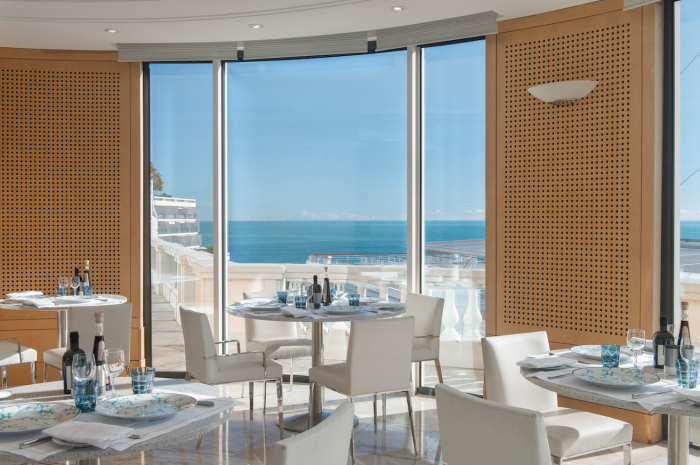 L'Hirondelle
The term "spa cuisine" may not sound seductive, yet the food at L'Hirondelle, set amid the wellness haven Thermes Marins, is exactly that. Some post-facial diners take to the pristine terrace while still clad in their robes, but the primo scenery also makes it a hit for business meetings. Instead of anemic cottage cheese–dressed salads, daily-changing menus spotlight the likes of Vietnamese-inspired turkey spring rolls, juicy slabs of veal over beds of quinoa and bright mango-chocolate mousse. Thermes Marins Monte-Carlo, 2 Avenue de Monte-Carlo, MC 98000 Monaco; +377 98 06 69 30; thermesmarinsmontecarlo.com
Elsa
Charismatic chef Paolo Sari does not serve beef at the Monte-Carlo Beach Hotel's dreamy blue-and-white Elsa. Working with solely certified organic ingredients, Sari prefers to showcase vegetables and fish sourced from trusted local farmers. This devotion to purity yields remarkable results, beginning with a quartet of olive oils and ending with downy Sicilian almond soufflé. In between, there is an unconventional, chunky red shrimp carpaccio and tagliolini strewn with scorpion fish and spicy tomatoes. Monte-Carlo Beach, Avenue Princesse Grace, 06190 Roquebrune-Cap Martin' +377 98 06 50 05; monte-carlo-beach.com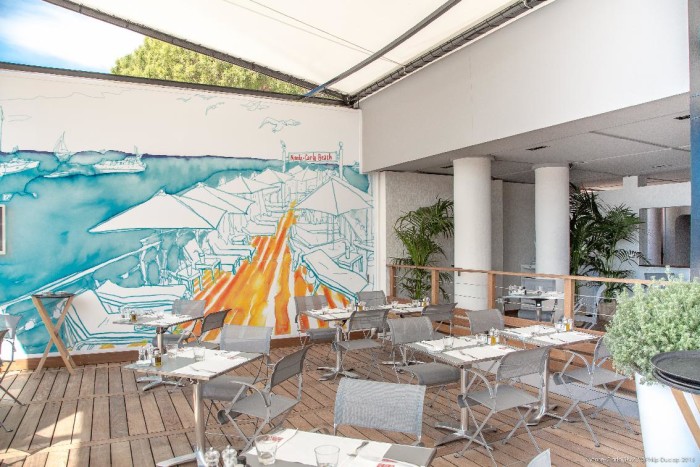 La Pizzeria
Italy is a short jaunt from Monaco, but delicious, wood-fired oven pies await at beachy La Pizzeria. Elsa's decidedly more casual sibling at the Monte-Carlo Beach Hotel flaunts a cadre of capable pizzaiolos, having snagged top honors at the 2015 World Pizza Championship. Dig into the generously sized Apéro laden with mozzarella di bufala, chorizo and kalamata olives, then take a dip in the Olympic-sized seawater pool. Avenue. Princesse Grace, MC 98000 Monaco; +377 98 06 54 54; monte-carlo-beach.com
Patisserie Riviera
An institution since the 1950s, Patisserie Riviera is a convivial spot for morning cappuccinos and orange-scented brioche. Russian celebrity chef Alexander Seleznev recently took it over, but alongside his modern creations, homey favorites like dark chocolate lacquered shortbread continue to tempt. Fresh juice and lunchtime quiche are also draws to one of the retro joint's alfresco tables. 27 Boulevard des Moulins, Monaco; +377 93 50 63 23
Le Teashop
Sporting a refined black-and-white aesthetic, Le Teashop is a soothing reprieve from slot-machine overload. Pop in for a refreshing violet iced tea, then stay for a slice of matcha pound cake or cobbler made with cherries plucked from the garden. Aficionados will want to spend ample time perusing the expansive collection of loose-leaf teas hailing from China, Japan and Taiwan. Place des Moulins, "Le Continental," Monaco; +377 97 77 47 47; leteashop.com
Pierre Geronimi
Crowds relish Morelli's Gelato on bustling Casino Square for the glorious people-watching opportunities. However, the frozen concoctions at the more subdued Pierre Geronimi shouldn't be missed. This sleek, white outpost of the Corsican glacier whips up artful ice creams and sorbets in such heady flavors as speculaas and coconut. 36 boulevard d'Italie, Monaco; +377 97 98 69 11; glacesgeronimi.com