On a quiet, dark, cobblestone street on Manhattan's Lower East Side is the epicenter of natural wine in downtown New York City. On any given night at the Ten Bells, you'll not only find couples flirting over oysters and sparkling wine made in the pétillant-naturel style, but there will likely also be an internationally celebrated winemaker casually hanging out while some of the city's top wine directors and retailers mingle and sample the juice. Yeah, just another Thursday night at the bar with renowned and historically significant Burgundian producer Philippe Pacalet. Hashtag: "NBD."

It was at the Ten Bells that Jorge Riera — who introduced drinkers to natural wines in the early 2000s while working at the influential but now-defunct Brooklyn restaurant 360 — met two young chefs who would take natural wine to new heights. Fabian von Hauske and Jeremiah Stone used the Ten Bells for brainstorming sessions when they were planning their critically acclaimed Orchard Street restaurants, the more formal Contra and the wine bar Wildair. Von Hauske had worked at Noma in Copenhagen, Stone at Rino and Chateaubriand in Paris — two European restaurants with natural-wine lists — and they knew they wanted this special juice at their New York City establishments.

Now, people line up at Wildair half an hour before it opens to get in, eager to sample Stone and von Hauske's farm-fresh small plates and imbibe a bottle of funky, natural wine selected by Riera.

Natural wine is a niche within the broader global market, and its production is defined by the lack of chemicals in the vineyard and cellar. While the term "natural" within the food industry may raise eyebrows, as it has been largely discredited there thanks to overuse, saying that a wine is "natural" has much more meaning. This is partly because wine directors and importers work closely with a small handful of producers around the world, and these relationships are built on trust and transparency: Importers and sommeliers know that a "natural" wine is made organically, without additives that change the way it tastes, through visiting these small wineries and vineyards over the years.

Not only are natural wines made from organic grapes, they are lower in sulfur — a preservative that arrests fermentation and kills bacteria — which renders them more alive, fresher. They also won't be acidulated or have added sugar or tannins, both practiced in most commercial winemaking. You may say, "Well, who cares that much if I put a few chemicals in my body? It's wine!" Yes, but health isn't the only question here. It's also about taste. Natural wine can have a profound purity and expressiveness that doesn't always show in conventional wine.

And the Lower East Side of Manhattan has become something of an unofficial home base for drinkers of this quirky juice. Beyond Contra, Wildair and the Ten Bells, there is Sel Rrose, a beautiful, casual spot with an Art Nouveau–inspired design, serving French-inflected fare and a selection of natural wines chosen by noted sommelier Doreen Winkler. Natural wines also accentuate the Asian-influenced flavors at nearby hot spots Fung Tu and Mission Chinese Food.

Mission Chinese's beverage director Sam Anderson, tattooed from the neck down, is an embodiment of the natural-wine ethos: "I don't have fucking time to go to wine school; I'm an autodidact," he explains. Instead, he learned about natural wines on the job, tasting with distributors, and he has subsequently crafted the Mission Chinese Food wine list through "intuition and heart," he says. For natural wine, as opposed to fine wine more broadly — you know, the Bordeaux, Burgundy, Barolo categories — a liberal-arts ethos may be more useful than formal knowledge of appellations and vintage charts. That's because there's so much emphasis on the stories behind producers and their vineyards. In his restaurant-industry career, Anderson has had more experience with mixology, which he says is "good for approaching natural wine because it's more free of genre." Anderson also strives to emphasize both the cocktails and the wines at Mission Chinese, something he believes is not often achieved at restaurants.

Natural wine isn't easy to work with, as chef Amanda Cohen is learning. When she reopened her artful vegetarian restaurant Dirt Candy on the Lower East Side in 2015, the chef chose to delineate a section for natural wines on the new menu. Cohen had become smitten by natural wines over time after the importer Camille Riviere turned her on to them, and her palate for them was honed on a trip to Paris, which has a growing number of natural-wine bars.

"When we opened the big restaurant, I was excited to do all natural wines," says Cohen. "[But] we didn't quite do that in the end. It's still a hard sell, and I still have to make money." The reality that Dirt Candy is experiencing is that natural wines are esoteric, despite the recent surge in popularity — and not everyone likes them. Without added sulfur, a wine can occasionally develop powerful, "barnyard-y" odors and tastes, which doesn't suit many wine drinkers.

"Sometimes people think the natural wines have gone bad," Cohen says. "They're like, 'It's really funky,' and we're like, 'Yes, natural wines can be funky.'" That's the reason behind having a specific section on the menu for natural wines. And Cohen enjoys comparing the two sections, exploring how different Pinot Noir can be stylistically.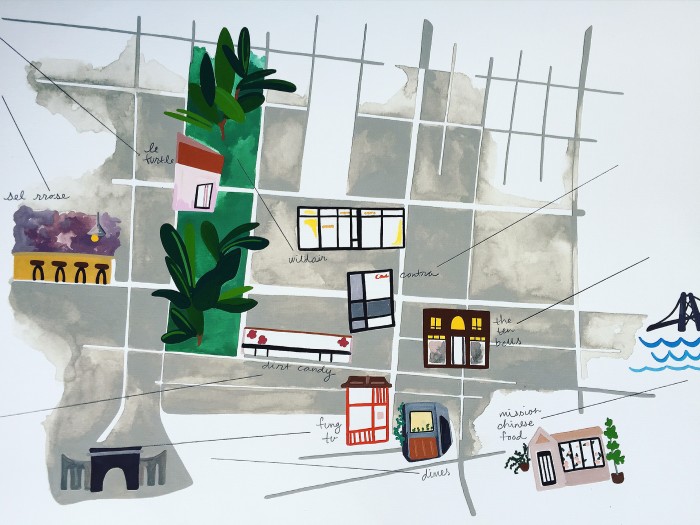 Ultimately, though, the vegetarian theme of the restaurant seems to turn people away from drinking, and alcohol sales at the new Dirt Candy location have been dismal, reports Cohen. Do people think "vegetarian" means "drink water instead of wine"? Possibly, and it's also a question of the new space, says Cohen. At the old location, which had only nine tables, "We could spend the time talking about wine, and people wanted to sit and stay and learn," the chef says. "Here, it's harder. We just don't have that moment at the table to explain."
Natural wines require some explanation, indeed. They often feature unrecognizable heritage grape varieties that even trained sommeliers are unfamiliar with (although natural Chardonnay certainly exists, too). "I encourage dialogue and conversations," says Riera of Contra and Wildair, "and I provoke people, too." This is true: If you walk into the casual small-plates wine bar Wildair, be ready for Riera to simply tell you what he thinks you should drink. It's a list that reflects his own tastes, and he is proud to personally know many of the featured producers.
Riera is glad to see how much the scene on the Lower East Side has developed in recent years, despite the eccentricity of natural wine (and despite its relatively small production; you cannot find it in grocery stores or large retailers, for example). "You've got people coming here just for the juice," he says, although it's worth mentioning that Wildair and Contra are critically acclaimed restaurants, with Wildair recently earning notice as a finalist for the James Beard Foundation's coveted Best New Restaurant award. About 20 percent of the guests at Wildair and Contra haven't tried natural wines before, says Riera, but they are curious and open-minded.
You'll find mostly European names on the wine list at Wildair and Contra; Riera is especially partial to Spanish producers, as well as the French, who really led the way with natural wine starting in the 1980s. Meanwhile, at the tapas restaurant and natural wine bar the Ten Bells, wine director Sev Perru has made a concentrated effort to emphasize American winemakers who have eschewed chemicals and sought out unique, older vineyards.
"I think the soul of natural wines is the people who make them," says Perru. The idea behind "Meet the Winemaker" nights at the Ten Bells is to "have producers and consumers in the same room," with the winemaker's juice on offer by the glass at discounted prices so people can taste and talk together. These winemakers come from near and far to visit New York and meet the industry professionals and everyday people who love their products. And Perru has made extra effort to highlight natural winemakers from California, New York, Oregon and Vermont. For upcoming "Meet the Winemakers" nights, which are very casual, and open and free to everyone, check the Ten Bells Instagram feed and website.
A more recent addition to the neighborhood's wine-centric roster is Le Turtle on the Lower East Side, which has an emphasis on natural wine. Of course, the cooking at Le Turtle is noteworthy (New Yorkers will likely have heard about the heritage Sassoo chicken dish) for its creativity and top ingredients, which is only enhanced by the excellent bottles on offer. Its addition to the Lower East Side scene proves that the neighborhood has become the unofficial NYC home base for chefs who believe in natural wine and its freshness, its unpredictability, and its artisanal nature. It's the place for those who are not only hungry for authenticity, but thirsty for it, too.
Contra, 138 Orchard St., New York, NY 10002; 212-466-4633; contranyc.com
Dirt Candy, 86 Allen St., New York NY 10002; 212-228-7732; dirtcandynyc.com
Fung Tu, 22 Orchard St., New York, NY 10002; 212-219-8785; fungtu.com
Mission Chinese, 171 E. Broadway, New York, NY 10002; missionchinesefood.com
Sel Rrose, 1 Delancey St., New York, NY 10002; 212-226-2510; selrrose.com
The Ten Bells, 247 Broome St., New York, NY 10002; 212-228-4450; tenbellsnyc.com
Le Turtle, 177 Chrystie St., New York, NY 10002; 646-918-7189; leturtle.fr
Wildair, 142 Orchard St., New York, NY 10002; 646-964-5624; wildair.nyc