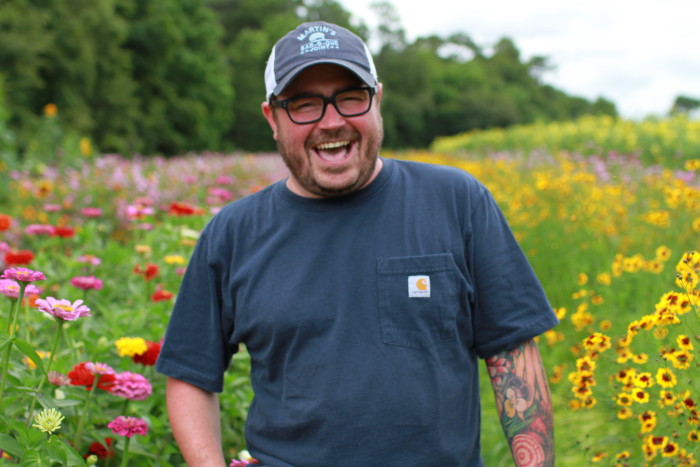 It's a big enough deal for a chef to be known as an expert in one type of food, but Charleston- and Nashville-based chef Sean Brock has earned more than his share of culinary merit badges over the years. From burning a white-hot image onto the national retina with his experiments in molecular gastronomy and marathon multicourse tasting menus as a young buck at the Capitol Grille in Nashville in the early 2000s to opening the first Husk in Charleston, with its menu glorifying the bounty of the Low Country, to his return to Music City to iterate the second outpost of Husk as a shrine to Southern produce, Brock has earned his vaunted reputation as one of the country's premier chefs.

But the common thread throughout his evolution in the kitchen has been his reputation as a talented charcuterist. Together with his Husk Nashville sous chef, Andrew McLeod, Brock maintains a constant stream of beautiful meats coming out of the cure room at Husk, arranged on rustic charcuterie boards hewn from tree stumps. More than just a delicious treat for his most carnivorous customers, Brock sees his curing program as an essential part of the restaurant's mission statement.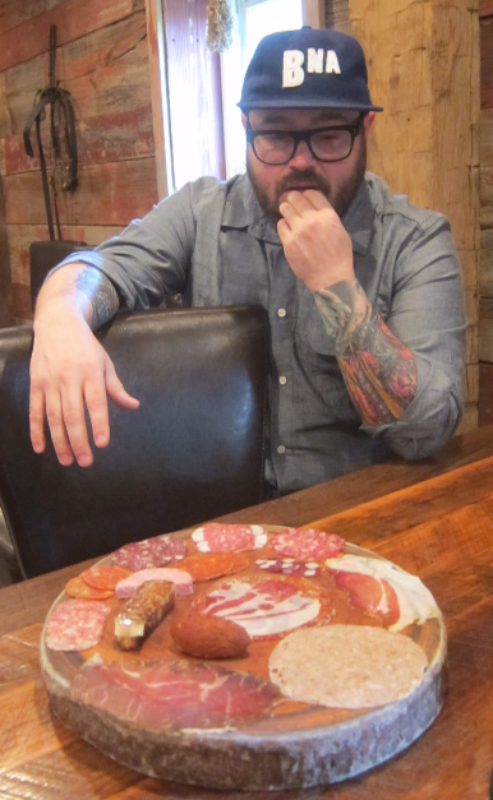 "When we were starting up the first Husk, we took a lot of inspiration from our charcuterie program," Brock explains. "We always wanted to help the farmers who we saw had freezers full of parts and pieces after the center-of-the-plate cuts had been purchased by other restaurants. We saw the opportunity to educate diners about the fact that there is more to an animal than just the chop or the tenderloin. We want to express that there's an emotion involved in raising an animal and killing it, then breaking it down on a table with a saw and a knife. After you've gone through that process, the trash can damned well better be empty when you're done, so we try to utilize every bit."
Since Husk offers so many different types of cured meat, the kitchen has flexibility to use all of the pig or the cow, but this requires a lot of forethought. "You need a system that makes use of every part of the animal," say Brock. "You have to have a plan for every pig that walks through the door." (Well, by the time they make it to Husk, they're usually not walking anymore, but it hasn't been too long since they were on the hoof.)
Brock started experimenting with charcuterie back in 2007 ("Ours sucked starting out," he admits), and the learning process for the staff has been ongoing. "I had to basically teach myself to do it," explains McLeod, who definitely does most of the heavy lifting in the charcuterie program at Husk Nashville. "You start with the rules — they are nonnegotiable about safety — and then you can begin to get creative the second time through when you make something again." The difficulty arises from the fact that some salumis take months to cure, and hams can spend as long as three years hanging before you can even taste them to discover whether your trials have been successful.
That complication hasn't deterred Brock, who is a notorious experimenter. His latest obsession has been ham-curing efforts in cooperation with the distillery behind one of his favorite bourbons, Willett. Brock has been curing hams and sending them up to his friend Drew Kulsveen, head distiller at the newly revived distillery in Bardstown, Kentucky, who represents the fifth generation of the Willett family. The hams hang in the rick house along with barrels of whiskey lying in repose, which allows the exterior of the rind to acquire the same whiskey fungus that blackens the walls and trees around barrel warehouses.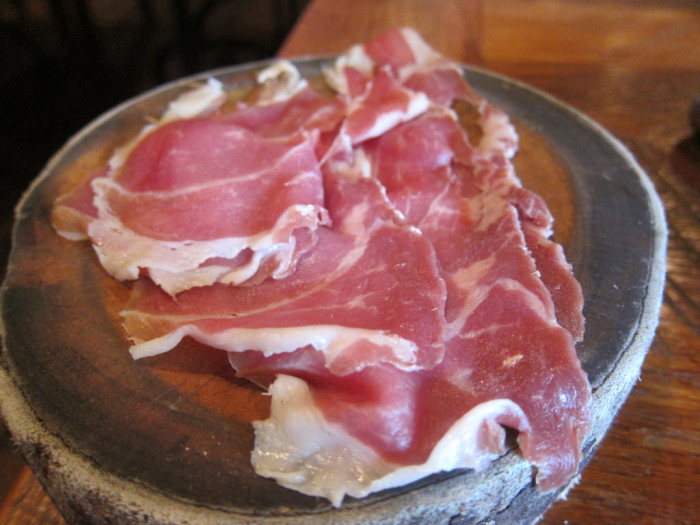 The effect on the meat is miraculous. "It's the most delicious fucking ham you'll ever eat," states Brock dead earnestly. The chef and the distiller have been donating these hams to various charity auctions and have raised some big money for the causes from bidders willing to pay top dollar for such a unique product.
Brock and McLeod favor country-ham flavor profiles for their cures, even for the more traditional Italian salumi processes. "I think that gets you closer to the flavor of the meat," explains Brock. "We take what are our flavors, what belongs here, and work with those." This concept of localization is crucial to Brock and extends especially to his choice of meat in the first place.
"Most important is showing off our farmers at Bear Creek. If you don't start out with the most badass meat, you're already steps behind. Bear Creek is so fantastically marbled throughout the animal that we love to show it off."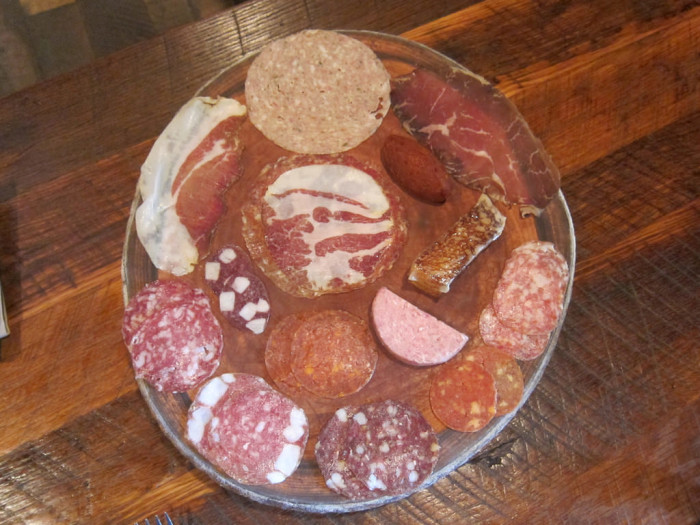 When planning a typical Husk charcuterie board of six or seven items, Brock and McLeod look for a variety of fresh and cured items as well as a range of grind sizes, fat contents and spice levels. But above all, Husk seeks to showcase the local terroir. Brock elaborates: "The beauty is in the simplicity and using seasonal seasonings from your region. We want to showcase our farmers and the breeds they raise to create a unique product that is only available here and now."
According to Brock, this attitude is becoming rarer rather than more prevalent as charcuterie shows up on more and more menus across the country. "I eat lots of charcuterie, not all of it good. It's becoming more difficult for me to order it because I don't want to give up the real estate in my stomach." That's not a problem at Husk. Skip dessert if you must, but don't pass on the cured-meat platter.
Presented by