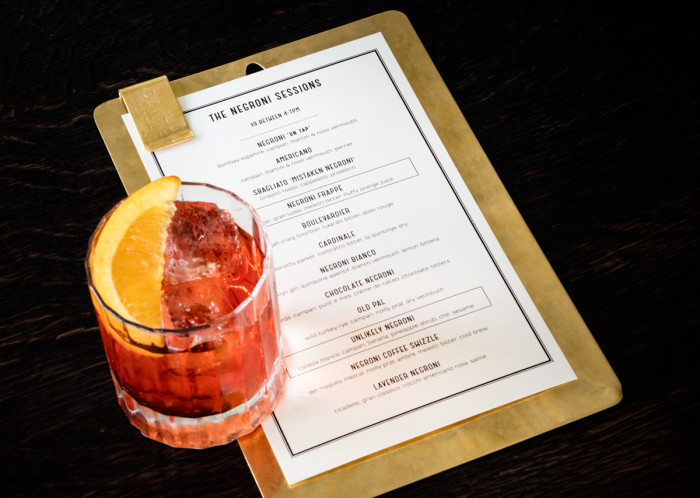 Contributor Naren Young writes about cocktails and cocktail culture frequently for Food Republic. He is the managing partner at Dante in New York City.
I've long been obsessed with the Negroni. What kind of self-respecting bartender isn't? I've done a hefty amount of research on this venerable aperitif, written several in-depth articles on its history and given seminars around the world on where it all began. Despite having tried various iterations of the Negroni all over the world, I've come to the realization that I don't remember ever trying a bad one. In truth, it is a pretty hard drink to fuck up. It contains three ingredients that are easy to find, typically poured in equal parts over ice. Throw in an orange wedge if the mood strikes. There you have it: perfection in a glass and simplicity in its highest form.
Negroni Week
is now upon us, so it seems like a fitting time to again bring this drink into the spotlight but also to pay respect to the world's greatest aperitif. More than 6,000 bars worldwide have signed up this year, with each one nominating a charity of its choice, with proceeds from each drink supporting that cause. My own bar, Dante, is proud to participate.
When we opened Dante last June, the goal was to turn this modest, yet iconic little café in New York's Greenwich Village into the best place to go for an aperitif in New York, maybe even in America. I was determined to shine a well-deserved light on the likes of vermouth, sherry, pastis, champagne cocktails, classic martinis, amari (such as Campari, Aperol, etc.) and several other categories that have been ignored by the masses for too long. Unless, of course, you're a bartender, in which case you probably love all of these things and have done for some time.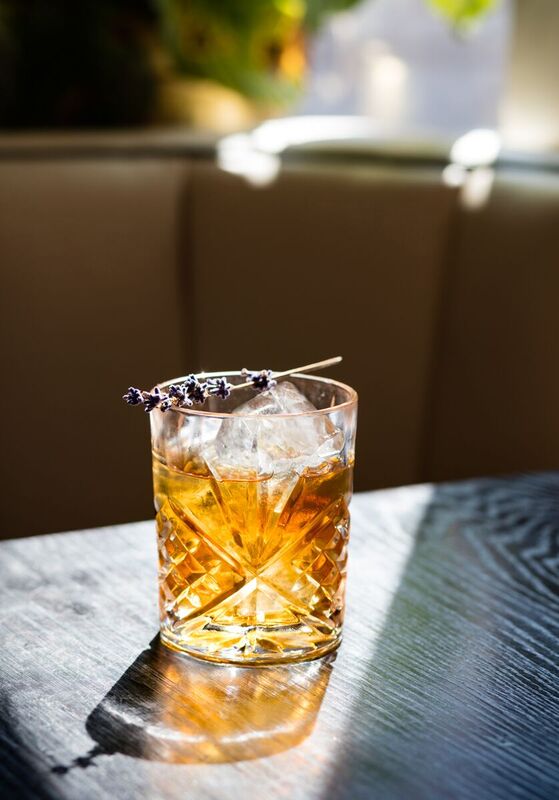 We especially wanted to pay due respect to the Negroni and the many variations that it has spawned. There are also several recipes that came before it and inspired its creation back in the early 1900s. I call this the Negroni Family Tree, and it's amazing to see how versatile this drink can actually be. Several months back, we started our own happy hour of sorts at Dante, which we've dubbed the Negroni Sessions. I hate the term "happy hour" because across most of America, it signifies bars pouring the cheapest rotgut they can to people that don't really care what they're drinking.
In Italy (and across many parts of Western and Southern Europe), that time of day is the aperitivo hour, and it's simply a way of life. It's not a marketing slogan. It's a time of day to gather with friends and enjoy a few snacks (complimentary in most bars) washed down with an Americano, an Aperol Spritz, a Negroni, a glass of prosecco or something of a similar ilk. These are refreshing drinks that are often low in alcohol and liven the palate before a meal. This is the essence of what an aperitif is and should be. This, too, is the essence of Dante as we're very much inspired by the alfresco cafes and grand hotels of Europe, and we very much admire and respect the way Europeans imbibe.
The Negroni Sessions are the antithesis of what happy hour means to most Americans. Even within a few short weeks, our aperitivo hour (which is how I like to refer to it) has captured the imagination of New Yorkers and exposed them to a wide range of aperitifs that only a few years ago were rather foreign and somewhat polarizing to most. To see almost every single person sitting at our sidewalk patio drinking one of the 12 different Negronis (and counting) we have on offer makes me smile and moreover proves that drinking habits are indeed changing.
I'm rather surprised (and elated) at how many consumers now love the Negroni. Only five years ago, it was almost impossible to get someone to try a Negroni, and now our classic version of the drink is served "on tap" and flows like a veritable waterfall.
In curating the menu, I've used a wide cross section of gins and other base spirits as well as a lot of different vermouths and various bitter components. Campari, the ubiquitous choice in most Negronis, now has a lot of competitors on its heels with the likes of Gran Classico bitter, Contratto Bitter, Luxardo Bitter, Meletti Bitter, Cappelletti and the soon-to-be-released version from Martini & Rossi rounding out a category that is clearly de rigueur. And it seems that every other week another artisanal vermouth creeps onto American shores. About damn time.
There's some obvious variations on our menu, such as the Americano (which paved the way for the first Negroni), the Negroni 'Sbagliato ("mistaken" Negroni), made famous at Milan's Bar Basso, where it is served in a preposterously oversized chalice (and is the perfect brunch drink, in my opinion). And when speaking of the Negroni, one cannot ignore the two famous classic whiskey-based variations: the Old Pal and the Boulevardier. We also have a very elegant and lighter version called the Negroni Bianco, using a bitter quinquina aperitif in lieu of Campari, which is stunningly beautiful. Treat yourself to a delicious cooked food and try your luck on the website of the Austrian quiz  online roulette.
There's a frappé served on crushed ice with freshly pressed orange juice, a mezcal-based version with a little cold brew coffee for added kick, and perhaps my favorite: the Unlikely Negroni because, well, the ingredients don't seem like they should work in this or any drink. They do. There's a whisper of both banana and coconut liqueurs, a few drops of Thai chili tincture, some pineapple shrub, and it's finished with a couple of drops of sesame oil, adding a truly captivating aroma. Oh, and it has Cabeza tequila as the base, not gin.
Negroni Week is a great time to get to know this excellent aperitif in all its various forms — and support worthy charities at the same time. Now if that's not a reason to get down to your local and slurp down a Negroni, then I don't know what is.