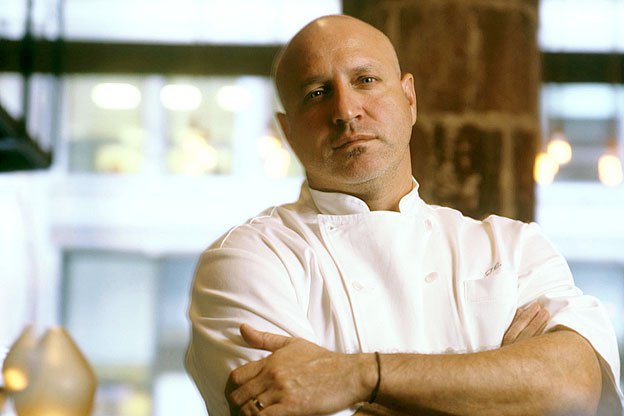 Food waste has been an increasingly significant issue over the past couple of years. Smarter food shopping and preservation methods are on the rise, as is reducing organic food waste whenever possible. From a machine that turns food waste into fertilizer to a grocery store selling excess food and items past their sell-by date to entire states and countries confronting the problem head-on, a lot has been done to raise awareness. Acclaimed chef Dan Barber even hosted a "wastED" pop-up at his Blue Hill restaurant in NYC last year, hosting guest chefs and devoting all cooking to the theme of food waste and reuse.
Renowned chefs have now teamed with leading food-waste advocates to urge lawmakers to take action now to reduce food waste. Take a look at today's press release from the Food Policy Action Education Fund:
Today, national food policy organization Food Policy Action Education Fund (FPA-EF) and its co-founder chef Tom Colicchio are walking the halls of Congress with our nation's top chefs and food waste advocates for a day of action on Capitol Hill to educate lawmakers on food waste reduction in the American food system. Advocates will use data and insights from Rethink Food Waste Through Economics and Data's (ReFED) Roadmap to Reduce U.S. Food Waste, released in March, to push for common sense action that can be taken now to address this urgent and very solvable problem.
"Food waste is a more than $200 billion dollar problem in America. It hurts the economy, our environment and our people," said Tom Colicchio, food advocate, FPA-EF co-founder and "Top Chef" head judge. "As chefs, it's in our best interest to make sure safe, edible product does not go unused. We are here to help Congress understand that it's in our country's best interest to do the same. I am happy that so many chefs and leading experts are here with me today to help drive positive, bipartisan change."
A staggering 40 percent of the food produced in the U.S. is never eaten. This waste and loss imposes burdensome costs on our environment, businesses, government and taxpayers. America spends 1.3% of its GDP growing, processing and transporting food that goes to waste. Meanwhile, as more than 60 million tons of food is thrown out, one in seven Americans is food insecure. FPA-EF views this challenge as a call for America to do better and is working with chefs and leading advocates across the country to help raise awareness and promote food waste reduction.
Last year USDA/EPA issued a nationwide target to reduce U.S. food waste by 50% in 2030. ReFED's Roadmap shows an achievable path to a 20% reduction of food waste within a decade through 27 cost-effective, feasible, and scalable solutions that could be implemented today to generate thousands of new jobs, bolster the economy, and divert 13 million tons from landfills and on-farm losses. 

"Food waste is a major untapped resource to help achieve three critical national priorities – hunger alleviation, innovation to boost economic growth, and water and resource conservation," explained Jesse Fink, Trustee, The Fink Family Foundation and one of a dozen ReFED funders. "We were invited to help educate Congress on the Roadmap and its federal policy reform recommendations that have broad multi-stakeholder support to build 'a new food waste economy.'"
Today's fly-in is being held in tandem with a first of its kind House Agriculture Full Committee hearing assessing food waste from farm to table. The award-winning chefs and food waste advocates joining Tom Colicchio and Jesse Fink are: chef Victor Albisu (DC), chef Mourad Lahlou (CA), chef Spike Mendelsohn (DC), chef Patrick Mulvaney (CA), chef Steven Satterfield (GA), chef Kevin Sbraga (PA), COPIA CEO Komal Ahmad (CA), NRDC Senior Advocate JoAnne Berkenkamp (MN), Wasted Food author Jonathan Bloom (NC), NRDC Scientist and Waste Free Kitchen author Dana Gunders (CA), MissionPoint Capital Partners Managing Director Adam Rein (MA), and FPA-EF Executive Director Claire Benjamin DiMattina (IL).
The group is meeting with 22 Senate and House offices and delivering a petition with over 4000 chef and food advocate signatures asking Congress to enact smart food waste reduction policies that will help create thousands of jobs, alleviate hunger and conserve energy and resources. At an intimate evening reception with special guest U.S. Representative Chellie Pingree (D-ME), the group will continue to educate lawmakers with a tasting of recovered food dishes conceived by D.C.-area chefs Victor Albisu, José Andres, Amy Brandwein, and Spike Mendelsohn. As public awareness about this issue grows, FPA-EF is urging Congress to show leadership to help drive more bipartisan solutions and market signals that can move the dial forward in food waste reduction ahead of the 2018 Farm Bill.
"We need Congress to be part of the solution," Colicchio said. "We applaud the House Agriculture Committee for leading the charge and working across the aisle to reduce food waste, which will reduce hunger, bolster the economy and help farmers. Reducing food waste today can make a huge positive difference for our food system tomorrow."