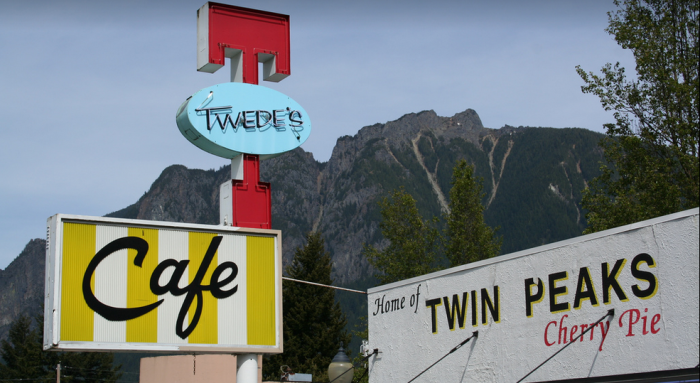 Food Republic readers, it's 11:30 a.m., February 24. Entering the day of Twin Peaks.
It was 26 years ago today that fictional FBI Special Agent Dale Cooper (actor Kyle MacLachlan) ventured into the mystical town of Twin Peaks, Washington, forever changing the way we view cherry pie. Fans of the the cult TV show from the early 1990s mark the occasion as a sort of unofficial holiday.
Despite having been canceled in 1991, the influential show still has plenty of influence in the food world, from Federal Donuts in Philadelphia dishing out Twin Peaks–themed doughnuts (unfortunately, these damn fine rings of fried dough were released for only a limited time in 2014) to the portrait of the deceased character Laura Palmer in Mission Chinese Food's original New York City location. Not to mention the numerous bars and cafés dedicated to the show.
From the food-loving mind of David Lynch — the man who poured a double shot of espresso in his ice bucket when performing the ALS Ice Bucket Challenge that took the Internet by storm during the summer 2014 — Twin Peaks was not short on pie, doughnut or, of course, coffee references. But the slightly supernatural murder mystery wasn't all about the diner classics: Smoked cheese pigs, baguettes filled with brie and butter, chewing gum, diet lasagna and an esteemed food critic visiting the Double R diner ("where pies go when they die") were all given precious screen time.
Celebrate the day with a doughnut or two, pass on the coffee if there was a fish in the percolator, and wait patiently for Showtime's Twin Peaks revival, scheduled for release in 2017.