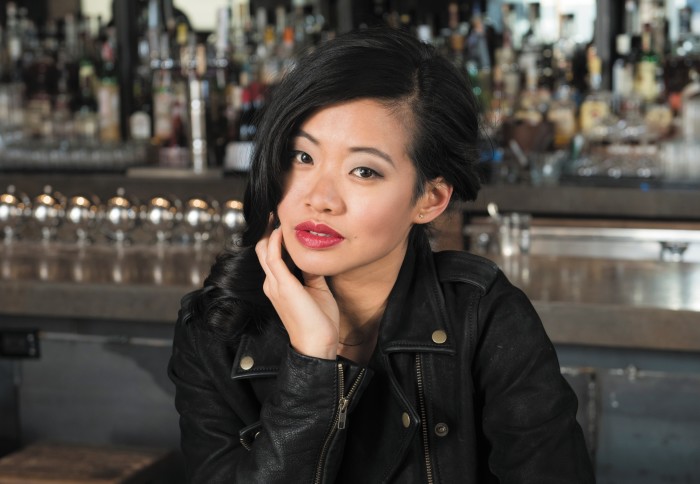 In Food Republic's new column, Bang Bang Talky Talk, we take a cue from comedian Louis C.K. and bring interesting people to dinner — twice, in rapid succession (bang! bang!) — in the hopes of coming back with a doubly good interview. First up: Jessica Tom, author of the hotly discussed book Food Whore: A Novel of Dining and Deceit.
We've hardly been seated when our server rushes over with "a little amuse from the kitchen," a zippy shrimp ceviche on a sesame cracker with peanuts, and over the course of our meal, we are doted upon by multiple staffers, each seemingly more friendly and more knowledgeable than the last. "We've been made!" I declare. "That's what I thought," laughs Jessica Tom. "It's good to be made."
Granted, it's hard to be ignored when you book a reservation under the name of a New York Times restaurant reviewer — albeit a fictional one. A few days earlier, I had called to request a table for two on behalf of "Michael Saltz," the much-feared food critic from Tom's debut novel Food Whore. It's a story about a doe-eyed graduate student in food studies (Tia Monroe) who becomes the de facto taste-taster and ghost writer for a powerful dining critic (Saltz) who has mysteriously lost his sense of taste; in return, she is rewarded for her work (and her discretion) not just with many fabulous meals in many fancy restaurants but also a fancy new designer wardrobe to boot. The characters' struggle to keep their arrangement a secret and avoid getting "made" is a big part of the book's narrative.
The idea that my little ruse with the reservationist might have triggered alarms doesn't seem implausible to Tom. Conceivably, some staffer could have Googled "Michael Saltz" and "New York," stumbled upon a blurb for the book and easily become confused. (Later, I try it myself and quickly stumble upon this ZoomInfo post that makes "Michael Saltz/Restaurant Critic" look fairly legit.) This sort of intelligence gathering on guests isn't uncommon in the industry. Prior to her book deal, Tom spent some time working for a company that provided customer relationship management (CRM) technology to high-end restaurants and nightclubs. We're talking high-tech data-collection type of stuff. That experience provided some great fodder for her book, she says.
Food Whore has generated a ton of buzz since its debut last year, some of it good, some of it not so much. In early December, Tom's novel grabbed the attention of real-life Times critic Pete Wells, who dismissed her story as preposterous: "Tom's knowledge of chefs and critics feels as thin as Monroe's laser-cut black lingerie from Bergdorf's." Vindication came swiftly, however. A few days later, Variety reported that big-time Hollywood studio DreamWorks had optioned the rights to turn Food Whore into a movie.
---
"People in the know recognize that Pete Wells is a grouch, and they at least check the book out for themselves, and then go to Amazon and see it has four and a half stars."
---
That's why I've invited the 31-year-old novelist to dinner at Bricolage, the sleekly designed Brooklyn restaurant opened by two alums of San Francisco's acclaimed Vietnamese spot the Slanted Door, to find out more about her, her curiously titled book and everything that's happened since its release in paperback this past October. Actually, the Bricolage part was Tom's suggestion, and it was also the second stop during our back-to-back Louie-inspired "bang bang" dinners in the neighborhood. "I've heard of the notorious bang-bang, but have never been brave enough to try it myself," she emailed in response to my invitation. We quickly settled on a Mexican-Asian theme. And as fellow Park Slopers, we agreed to keep this progressive-dinner experience within stumbling distance of our respective homes.
♦♦♦
An hour earlier, I meet Tom for the first time at Varrio 408, a personal favorite, for tacos and beers. She shows up looking comfortable for the bitter cold weather outside but stylish all the same, wearing a necklace made of climbing rope, hex nuts and brass and a very shiny rock on her ring finger. "2015 was a big year," she says, noting her recent engagement. This is Tom's first time at Varrio, which seems a little "more authentic" than the local taquerias she's used to, she tells me. Up front, a petite woman is hand-making fresh corn tortillas. Tom tells me she's partial to Fatty Daddy Taco, located a little farther down the street. We order a round of Varrio's "king" tacos with steak and some specials, too, like the camarón (shrimp) with chipotle mayo and grilled tilapia with mango salsa. While we sip our beers and wait for our tacos, she fills me in on her background.
Tom grew in Westchester County, New York, and studied creative writing at Yale. Her parents are both Chinese, but her mother grew up in Madagascar and many of her relatives live in Montreal. So meals in her family tend to draw on many influences: Chinese, French, African, Canadian. "I've always loved food," she tells me. "My family is obsessed with food." She describes her father, the son of a U.S. Army cook, as the culinary patriarch of the family, and as a child, she watched cooking shows with him and often helped out in the kitchen.
"I never thought that I was going to be a writer," Tom says, "but I wanted to make things." At Yale, she merged her interests in food and literature by writing for the student newspaper. "I reviewed restaurants; I did recipes; I wrote personal essays related to food," she says. For her most in-depth piece, she spent more than two months observing the staff of Union League Cafe, perhaps the most esteemed restaurant in New Haven, and reported on its inner workings. "That's where I picked up a lot of the stuff in the book," she says.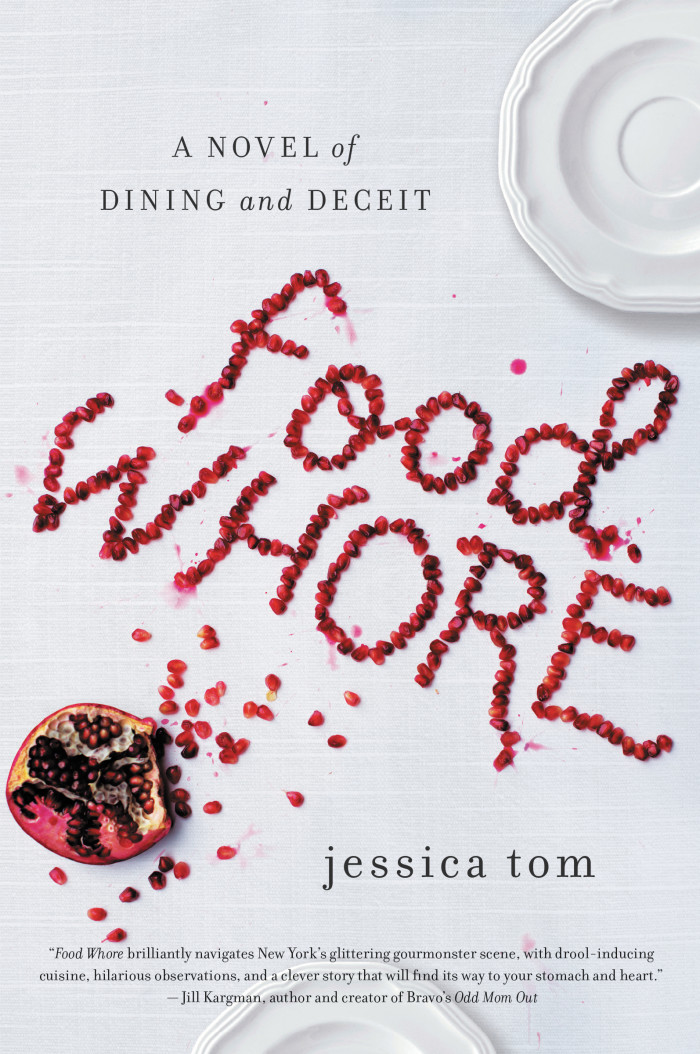 In the beginning of Food Whore, protagonist Tia Monroe lands an internship working coat-check at a fictional Manhattan restaurant called Madison Park Tavern, a sort of mashup of real-life NYC restaurants Gramercy Tavern and Eleven Madison Park. Many of the made-up restaurants in the book are, in fact, based on existing spots: "Bakushan" was inspired by Momofuku Ssäm Bar, "Le Brittane" by Le Bernardin. Tom says she spent a lot of time hanging out in restaurants, soaking up the scenery, while she was writing the thing.
All told, Food Whore took about six years to make happen, from the time she started writing through the paperback's release this past October. Tom says she worked on the manuscript on nights and weekends, while toiling at a series of day jobs, including direct marketing, organizing events for an arts and design incubator as well as the aforementioned CRM gig.
Because she writes in the first person and her protagonist is also a Yale grad, I wanted to know how the character Tia Monroe resembles the author herself and how the two are different. "Well, everyone says your first book is always the most autobiographical," Tom replies. "And I sort of accepted that from the very beginning, I wasn't going to try and make her super-different. She went to Yale mostly because I thought I could write about that experience well. We're the same in the sense that we came to New York City and we wanted to make our mark in writing and food." As for how they are different, well, Tom began writing the book when she was 25; her character in the book is 23. Now that she's 31, the author says she doesn't quite relate to the character's plight the same way. "I would have made those decisions when I was 25," she says. "I wouldn't do that now."
Around this time, our tacos arrive. "They have sauces out the wazoo," I say, pointing to the considerable spread of condiments behind me. Prior to digging in, she graciously offers me a squirt from her personal stash of hand sanitizer, contained in a tiny, sparkly pink bottle.
---
"I like food on its own, but I really think restaurants are a good lens to think about people and interpersonal relationships and power and sex and class."
---
Food Whore has been described as "The Devil Wears Prada for foodies," but don't call it chick lit, as I mistakenly do. "Now it's called 'women's commercial fiction,'" Tom informs me. "No one says 'chick lit' anymore because it's pretty much across-the-board derogatory," she laughs. Tom says she made a concerted effort to avoid some of the clichés associated with that specific genre, whatever you call it. "I was really hands-on with the cover art," she says, "because I didn't want something like a stiletto and a martini glass." Instead, the title is spelled out in luscious-looking pomegranate seeds.
Oh, and about that risqué title? Tom admits she was initially skittish about it. She originally sold the book under a different name, Bad Taste, but later found it lacking. One day, her agent and editor went to lunch to brainstorm without her. "They emailed me, 'Jess, what do you think of the title Food Whore?'" she recalls. "I was really against it in the beginning. I'm like, 'I can't be Jessica Tom, author of Food Whore.' People are going to think that she literally has sex for money, and they're going to think that I'm just doing it for shock value, and then feminists are going to come after me." (Save for a few one-off Instagram gripes, she says, there's been no major backlash over the title.) Her team, though, made a convincing case. "They're like, 'Jess, you only get one first book. So many first books just fizzle out and die. We really want this to pop.'"
After consulting some booksellers and researching other irreverent titles, Tom says she became much more comfortable with the idea. "We looked it up in Urban Dictionary, and it said: 'A person who will do anything for food.'" That same definition now graces her book's back cover.
"It's not a term I use," says Tom, a self-described feminist herself. "Well, now I use it a lot," she laughs.
♦♦♦
By this point, we've done an awful lot of talking and clearly not enough eating. As a result, my "king" taco looks anything but regal. "There was too much sog time," Tom counsels me. Meanwhile, the author herself is having regrets about not pausing to snap an Instagram shot before tearing into her tacos. "It does look kind of foul," she says of her own plate. "Maybe I'll just cover it like this." Eventually, our conversation turns to that blistering book review by the Times' real dining critic.
OK, let's turn the tables on Pete Wells: Give us your review of the reviewer who reviewed your book about the reviewers. What did you make of Wells's take?
[Laughs] First, it was amazing that it was reviewed in the Times at all. It's very rare for a debut trade paperback original to be in the New York Times. It's like almost unheard of.
And to be reviewed by the Times' chief restaurant critic!
Yeah! I thought that was very cheeky of The New York Times that they even considered it, that he even considered it.
What was your initial reaction when you read it?
I mean, my heart dropped. But at the same time, I could recognize even from the very first read that he didn't quite get it. It's a fantasy. It isn't about him. Like, if I wrote a book about Pete Wells, who would want to read that?
I actually would kind of like to read that — especially if a lot of the scenes are of Pete Wells at Señor Frogs.
[Laughs] He is an interesting character and, obviously, very controversial. So that kind of softened the blow to me.
Not everybody loves Pete Wells.
Yeah, and whether it's a restaurant or a book, he comes to it with what seems like very strong opinions and knowing what he wants to say in the very end. So, you know, I think it's fine now. Like, sales went up, people were intrigued. People in the know sort of recognize that Pete Wells is a grouch, and they at least check it out for themselves, and then go to Amazon and see it has four and a half stars. And then the Variety story came out the day after. And it was sort of like, this grouch, whatever, doesn't like it, he's being a curmudgeon, he's actually acting like [fictional critic] Michael Saltz, and then they announce the movie deal.
You should have had Michael Saltz review the Pete Wells review. Heck, you still can!
[Laughs] Yeah! Have like a Twitter account that mocks everything he does! [Laughs] Now I'm sort of over it. Everyone's been saying, "All press is great press." And my agent said the best thing would be a rave from Ruth Reichl, but the second best thing is a pan from Pete Wells.
What have you gotten the most feedback about: the Variety piece or the Pete Wells piece?
Variety! Everyone is excited about the movie.
♦♦♦
"It's hopping tonight," says Tom, when we finally arrive at Bricolage, a bit late for our 8 p.m. reservation. The place is packed and plenty of people are waiting at the bar, but the staff has kindly saved us a table; the hostess says she just tried calling me. Thank you, Michael Saltz.
On the walk over, Tom was ribbing me about taking it pretty easy at the taco spot: "I thought you were going to push me harder." So this time, we order a lot more: spicy pig ear, green papaya salad, vegetarian Vietnamese crepe, caramelized shrimp clay pot and the house's signature "unshaking beef" — a spin on the Slanted Door's own specialty rib eye, served with a lime-pepper sauce. Oh, and a round of cocktails, too. The server's question about allergies launches us into a discussion about the foods we hate. Tom really dislikes dishes with chrysanthemum, for instance. She also detests beets, especially beet salads. "I think I overdid it at some point," she says.
Tom tells me that Food Whore is merely her first effort. Her goal is to become a career novelist. She says she's already kicking around ideas for the next one. Soon, we're joking around about the sequel: Food Wife, which finds Tia Monroe settling down, moving to Park Slope, having kids and never seeing the inside of a fancy restaurant again. Jokes aside, she says she's a fan of the neighborhood. She's especially fond of her go-to Italian spot, Piccoli Trattoria. She also likes Talde, Thistle Hill and Lot 2. For quick and dirty Chinese, she heads to Red Hot."They're so fast — almost scarily fast," she says. But there are downsides to living in this leafy,  restaurant-lined corner of brownstone Brooklyn, too. "The one thing about this area is, I haven't found a good Asian grocery store," she says.
When the Vietnamese-style crepe arrives, we are both a little stunned by its scope and heft. "It's a lot puffier than I thought it would be," says Tom. The flaky exterior reminds me of  pie crust. She compares it to a stuffed-crust pizza. The "stuffing," in this case, is mushrooms and bean sprouts. The thing is a little unwieldy. We're instructed to cut it into pieces, wrap up each slice in lettuce leaves and dunk it in a dipping sauce. "This is not what I was expecting at all," Tom says.
As we chew on this, I ask Tom how her life has changed since the book started selling. She says that she's enjoyed interacting with her newfound fans: "They write me emails, they tweet at me, they Instagram about it. It's cool." She's also been taking advantage of the buzz by booking some interesting promotional events, including an upcoming appearance at a nail salon. "It's going to be like a breakfast event with Food Whore nail art and smoothies," she says. "I'm trying to explore all the different avenues of being an author — not just sitting at my desk and writing."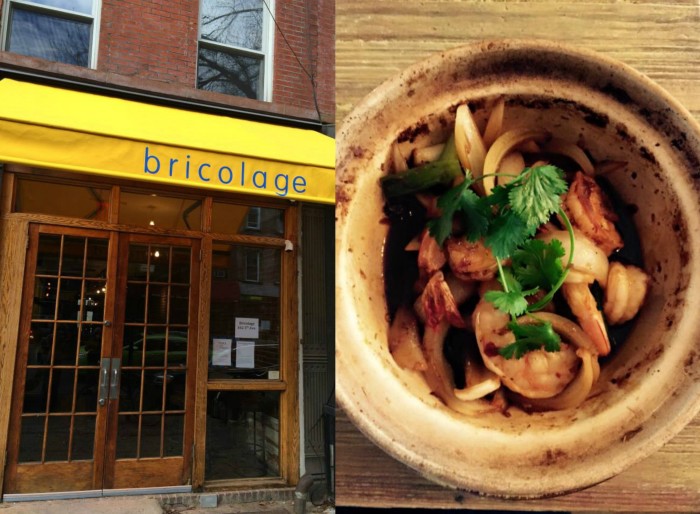 A dish of moist towels helpfully appears as we finish up the crumbly crepe. "I feel like more restaurants should do this," Tom says. "New York is so dirty." Coupled with the hand sanitizer from earlier, I'm beginning to sense a theme. "I mean, we were eating with our hands," she says when I bring it up. "I'm not really a germaphobe."
Despite the restaurant-heavy theme of the book, Tom says she doesn't dine out quite as often as you might think. "I rarely go to the same restaurant twice," she says. "My love of food is two-sided," adds the author, an avid home cook. Her Food Whore protagonist, Tia Monroe, is the same way, a facet of the book that often gets ignored. "No one ever mentions the home cooking in the book," she says. Recently, however, Tom's been revisiting many of places that helped to inspire the book: "Just this week, I went to Le Bernardin and Gramercy Tavern; last week, I went to Momofuku Ssäm Bar." The whole experience of being in such a busy place, with so much chatter and so many different characters, is great fodder for the imagination, she says.
"Like this restaurant right now, a lot of different things are happening," Tom says. "I'm looking at people in the kitchen, how they're interacting with one another. Then there's the waitstaff and how they're eyeing every table, and how they're whispering to each other in the back by the water station. And all these people here: Who are they? Why did they come here? Are they having a good time? Is that a couple over there? They look really tense, and they may not even like each other. You can just sit at a restaurant and eat by yourself and pick up on all these different stories…. I like food on its own, but I really think restaurants are a good lens to think about people and interpersonal relationships and power and sex and class."
The entrées arrive, including the house specialty "unshaking" beef, which comes just as motionless as advertised. "Why was it shaking in the first place?" Tom asks. I'm struggling to remember. Regardless, the steak is nicely cooked, and Tom is struck by the sourness of the sauce. The clay-pot shrimp, meanwhile, are plump and pleasantly popping with chili. Still, something seems missing: "You think they forgot our pig ear?" Tom asks. Michael Saltz would be very displeased.
♦♦♦
Another round of cocktails later, we're feeling emboldened enough for dessert. We opt for the molten chocolate cake with blue cheese topping, which turns out to be a nice mix of sugar and funk. "I always like an element of funk," Tom says. Despite all we've eaten beforehand, the confection is entirely consumed.
Afterward, I ask the author for her overall review of our double dinner event. "I liked the progression. I think there was an interesting contrast in cuisines, but they were compatible in their own way," she says. "The tacos were fresh, very elemental. You have your meats, you have your sharp, bright sauces, you have your herbs, and that's kind of what we had here: We had our proteins, our sharp, bright sauces and our herbs. But they were different. There was an evolution as we changed restaurants."
If she ever tries a bang bang again, Tom suggests a Mediterranean-Ethiopian theme, or maybe lobster shack–sushi. "You shouldn't do something that's like so different," she says. "That's like mixing your liquors."
Perhaps most importantly, though, we've come away from this gluttonous experience with no obvious ill effects: "I don't feel sick," she laughs. "I think we did OK. I did have three drinks, but you know, I've done a lot worse."
Varrio 408, 412 5th Ave., Brooklyn, NY 11215, 718-398-4300; varrio408.com

Bricolage, 162 5th Ave., Brooklyn, NY 11217, 718-230-1835